Through Giorgio's Eyes
Dynamic, streamlined, and a real head-turner, the new resident on Corso Venezia 14 in Milan – a gateway to the city's world-famous fashion district – is unmistakably of Armani heritage. The largest Armani/Casa store in the world, which opened its doors in April this year, is instantly recognisable by its many windows (sixteen at street level alone), and discreet platinum metal mesh screens. Visible as a motif on every window is The Logo Lamp – the designer's much-beloved 1982 creation, and a symbol of Armani/Casa – which you'll also find carved into the wood panels of the walls on the ground floor.
'Design is an essential part of my ideal lifestyle, and this new store gives me the opportunity of showing my entire collection for the home,' Giorgio Armani says of his new flagship. 'It's an imposing, though not monumental, property, which I envisaged as a studio – flexible, versatile and constantly evolving.' To celebrate the four-floor showroom and atelier, which replicates the spirit of a large design studio, Armani/Casa has released a new collection that embodies the elegance, fluidity, and freshness woven tightly into the DNA of the brand. New pieces and reinterpreted classics from previous years merge elements of the past and today, expressing the creative energy drawn from the arrival of Armani/Casa in Milan.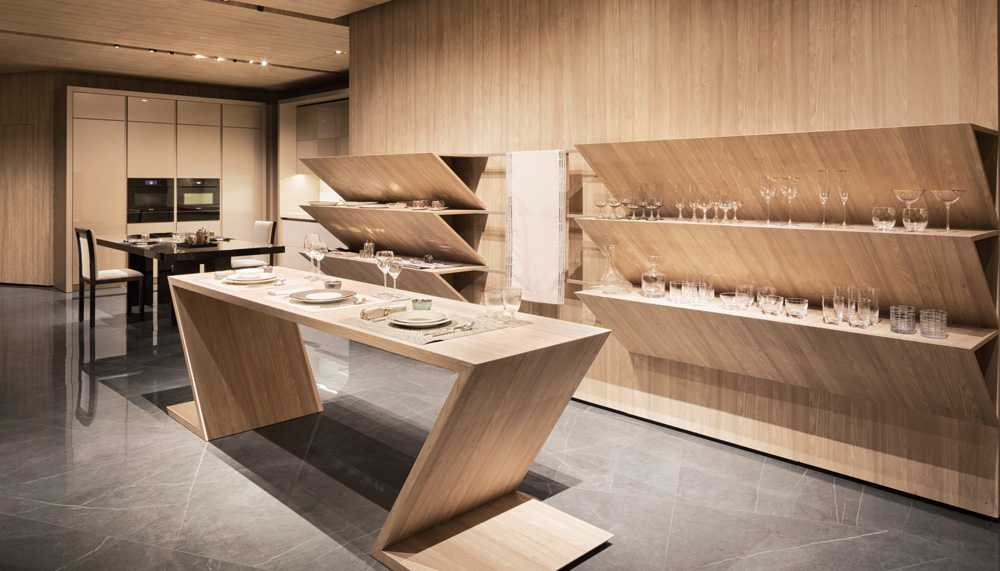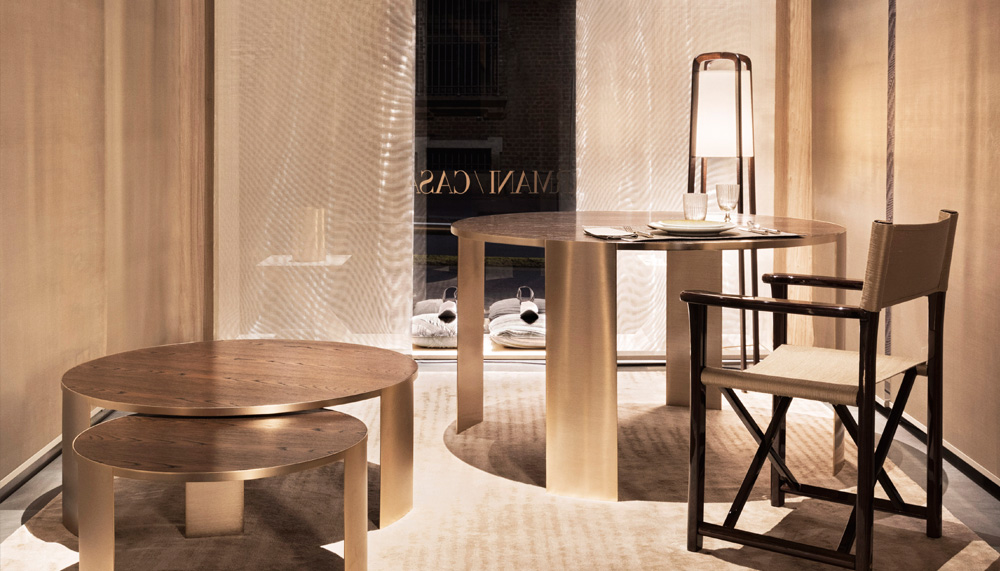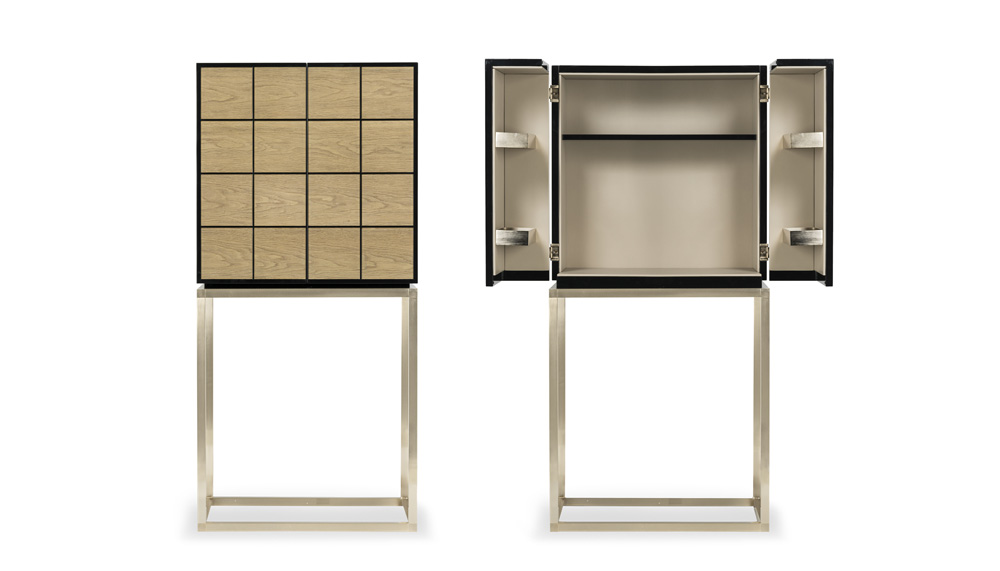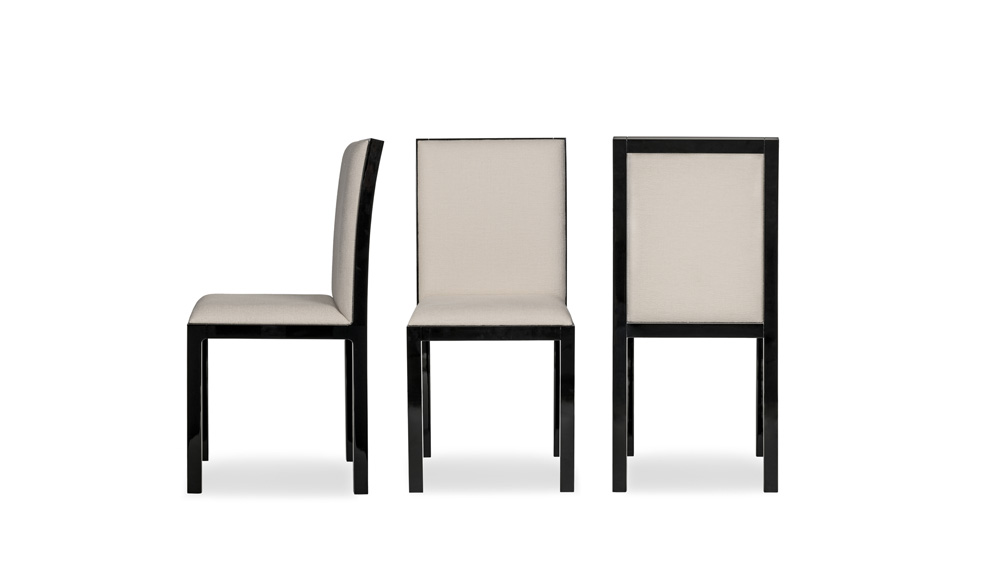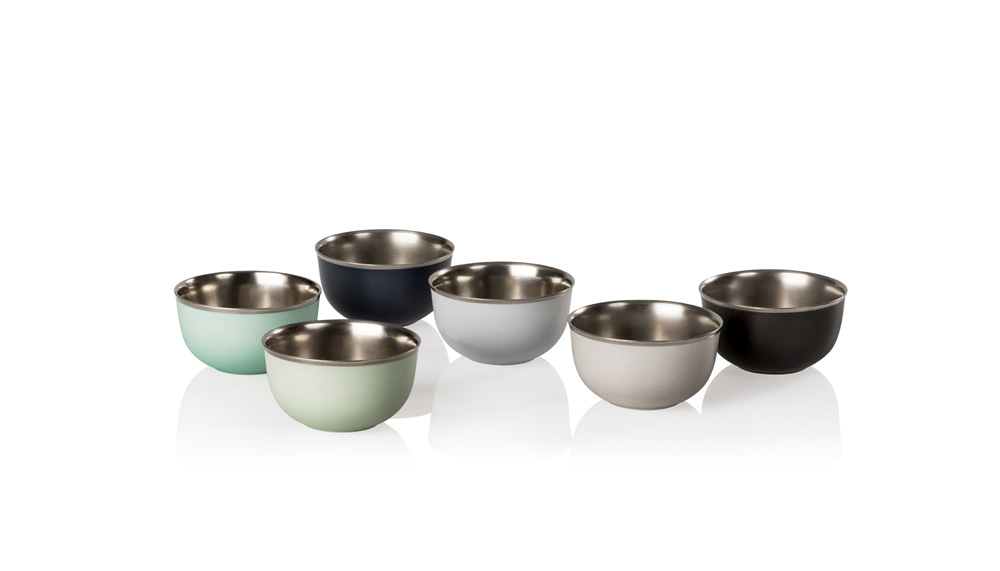 Besides the aforementioned Logo Lamp, established pieces such as the Levante screen, the Jazz and Riesling bar cabinets, the Danzica low table, and the Seine tables in their new Matrix rendition now appear with playful, experimental twists. Beige and brown wood are alternated with rare fabrics, for instance, while metals and lacquered surfaces are masterfully combined with natural materials to enhance their elegance. A reimagining of contours and structures, delivering an airy, weightless quality with ultra-thin layers, seamless lines and enveloping shapes, speaks volumes about Armani's quest for perfection, as well as his achievements in cultivating a refined, luxurious aesthetic.
A closer look at the Musa bookshelf in Canalettto walnut with its unusual leather-clad shelves reveals Armani's sleek design technique, just like the Morfeo bed's seamless curve from headboard to footboard and the Madison sofa's soft essential lines. From the wide selection of luxury objects to the rich textile options also available within the collection, the purity of Armani/Casa's lines point to a secret luxury aesthetic for connoisseurs. In Armani's eyes, exclusive details make all the difference to a living environment that speaks of a constantly evolving project and bold, unflinching creativity.