designers More design Office create an immersive piece of architecture

Immersive theatre has mostly enjoyed two speeds: the dark psychological odyssey of Sleep No More, or the messy marshmallow antics of Blue Man Group. Shanghai-based architectural firm More Design Office (MDO) has another take. The award-winning studio helmed by Justin Bridgland and Jaycee Chui created a design for the Jian Li Ju Theatre Company that shatters any separation between actors and audience. The integrative concept emboldened MDO to deploy light, shadow, volume, and space to dramatic effect, opening up the notion of architecture not only as a third player, but the main agent of this emotionally charged environment. Echoing the evocative tenets of film noir, the designers constructed a space that unfolds, snakes, and meanders like a tense fun house to inspire an immediate reaction from visitors. Tony and Tina's Wedding this is not, but it provides a brilliant and haunting adaption of the living arts.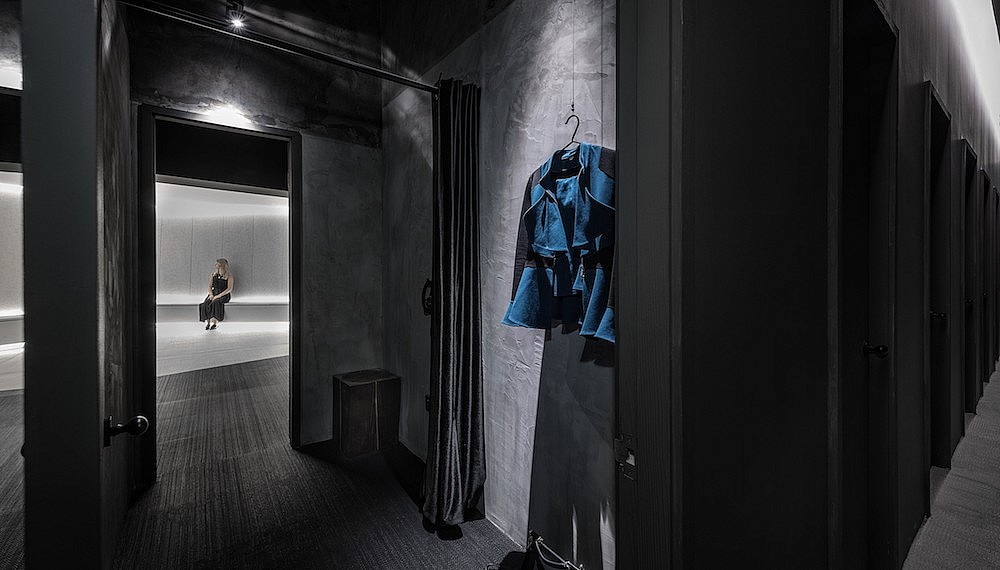 In the entry, audience members feel the instant impact of a dark, foreboding passage guided by thin streams of light. Even arriving at the theatre requires some work, as visitors enter from a furniture emporium off a side-street in central Shanghai. The curved cut of a corridor appears to narrow the space, and alters the journey of audience members. One of the firm noir elements the architects borrowed was a sense of distortion — this particular area does so effectively. For a clever light show in a small changing area, MDO deployed a film technique, projecting numbers from a pinhole aperture onto the floor.
As a reprieve from all the dimness, the theater's waiting room is brighter and less intimidating than the preceding spaces. Guests are presented with costumes to change into — a part of the production that encourages total immersion. The plaster treatment on the walls feels less luxurious and more subterranean, even with the contrast of chic costumes. MDO again creates a sense of urgency with their layout of each pathway. Audience members are forced to choose their path — the fractured pattern on the floors is a deliberate provocative touch. In a final sequence, guests enter ahall of mirrors, an elegant acknowledgement of the cinematic precedence set forth by directors and auters of earlier generations. The brightness can either be a comforting or a nerve-wracking presence, depending on the individual experience.
---