The porsche 911 GT3 proves why it is A sharpened track weapon
The Porsche 911 GT3 (from RM1.7 million) has always been adored by auto enthusiasts. It's a paragon that is born and bred with a touch of racing pedigree, primed to tackle the sharpest of bends and the most challenging circuits in absolute dynamic precision. It is, without a doubt, a track weapon targeted purely at cognoscentes, and not for the faint-hearted.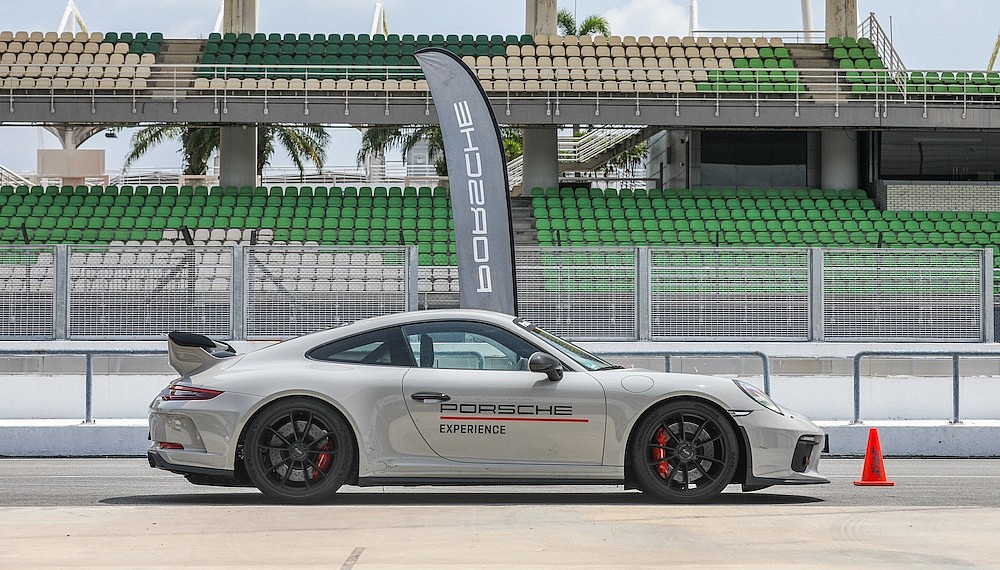 Surprisingly, the 911 GT3 also appeals to the affluent crowd of collectors, making it a worthwhile investment that led it to be an instant showroom sellout. This goes to show that one can't simply disregard its substantial existence in the world of fast and exquisite supercars.

Unlike its immediate turbocharged siblings, the 911 GT3 is equipped with a naturally-aspirated 4.0-litre flat-six mill that redlines at a screaming 9000rpm — even surpassing the sportier 911 GT3 RS's 8250rpm limit. Also, it pushes out all of its 493bhp and 460Nm of juice straight to the rear wheels.
Stepping inside, the 911 GT3 RS boasts a pair of body-hugging sport seats, a semi-roll cage tucked behind (replacing the rear passenger section) and swathes of alcantara trim. Getting into a desired driving position is surprisingly easy; despite it seating the driver a smidgen lower in comparison to any of its more conventional cousins.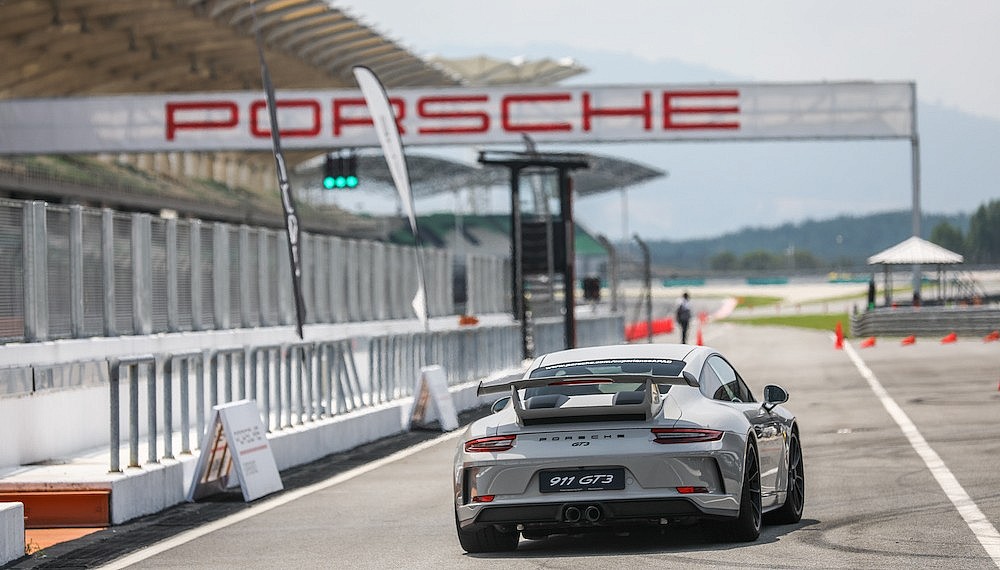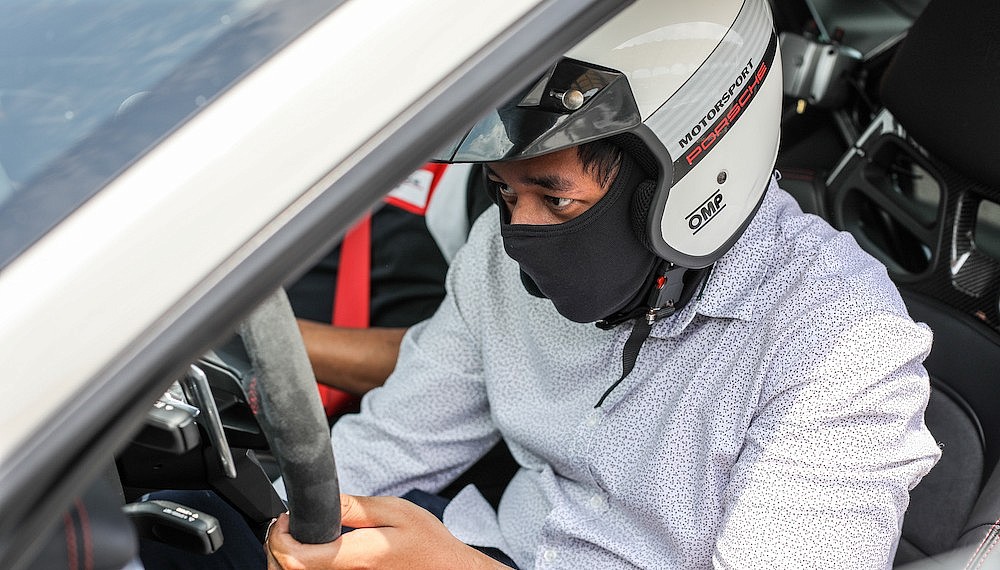 Out on the track, there is no surprise the 911 GT3 feels right at home. On both the Sepang circuit's straight lines, it surpasses the 200km/h mark instantaneously, and it still begs to be pushed further. On top of that, it uses a set of lightweight yet robust steel brakes to bring velocity down to a desired pace before entering a bend.
The 911 GT3 is best experienced with revs maintained within 5000 to 6000rpm, where power is always on tap to unleash more momentum after completing a corner. It feels immensely planted when carrying speeds through the sweeping curves of turn three, five and six — and exceptionally composed at the sharper apexes of four, nine, 11 and 14.
Furthermore, its sleek seven-speed dual-clutch PDK transmission is a gem to down or upshift, too. It's a significant pairing to its unhesitating nature, given that the slightest power loss could affect its formidable performance. There's even a manual transmission offered as an option for those wanting more control, or simply to relieve the good old days of pure driving excitement.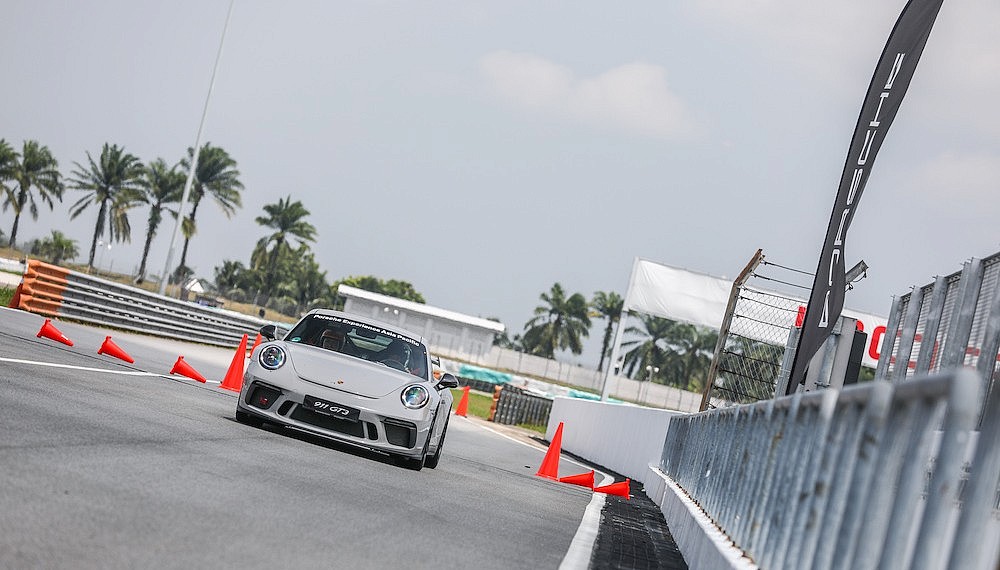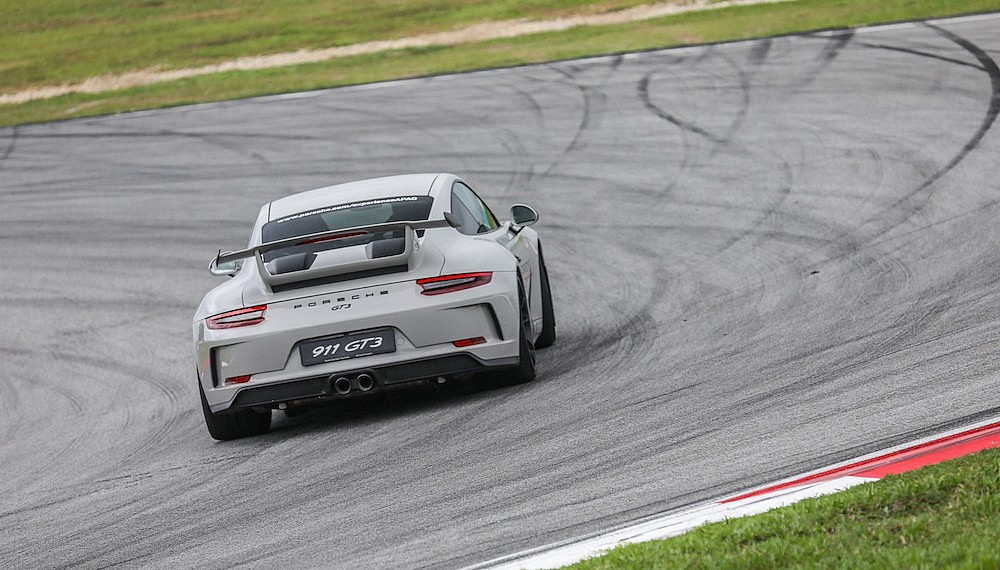 Now with the red flag up, it was time to take a short cruise back to the paddock. And at this very moment, I was flabbergasted on how refined and undemanding it was to drive the 911 GT3 at a civilised pace. It's a surreal phenomenon, coming especially from a track-honed supercar sitting on a chassis tweaked with four low-travel dampers at each corner.
To put it, the 911 GT3 is indeed one of Zuffenhausen's (or Stuttgart's) greatest hits. It's something that many of its rivals will find it hard to beat — or let alone match its transcendent nature. Not only it's a track weapon, but a supercar that many can easily live with on a day-to-day basis.