Amidst the disruption of the Covid-19 pandemic, fans and followers of chef Darren Chin's DC Restaurant, Bref, and Café-Bistro David have delighted in his MCO menu, which features a DIY Wagyu burger that customers can cook and assemble at home. As might be expected of a chef of Chin's calibre, he's been able to whip up sumptuous delivery meals from his residential 'mini-DC kitchen', as he describes it. Expect to see more of his signature Croll burger buns – a hybrid of brioche and croissant dough – popping up on social media as the lockdown stretches on.
When the MCO was first implemented, my first step was to get rid of expensive, perishable luxury items like caviar, uni and seafood, which some of our customers purchased. As the weeks went on, I formulated certain dishes to utilise what we had in storage, and something good came out of it.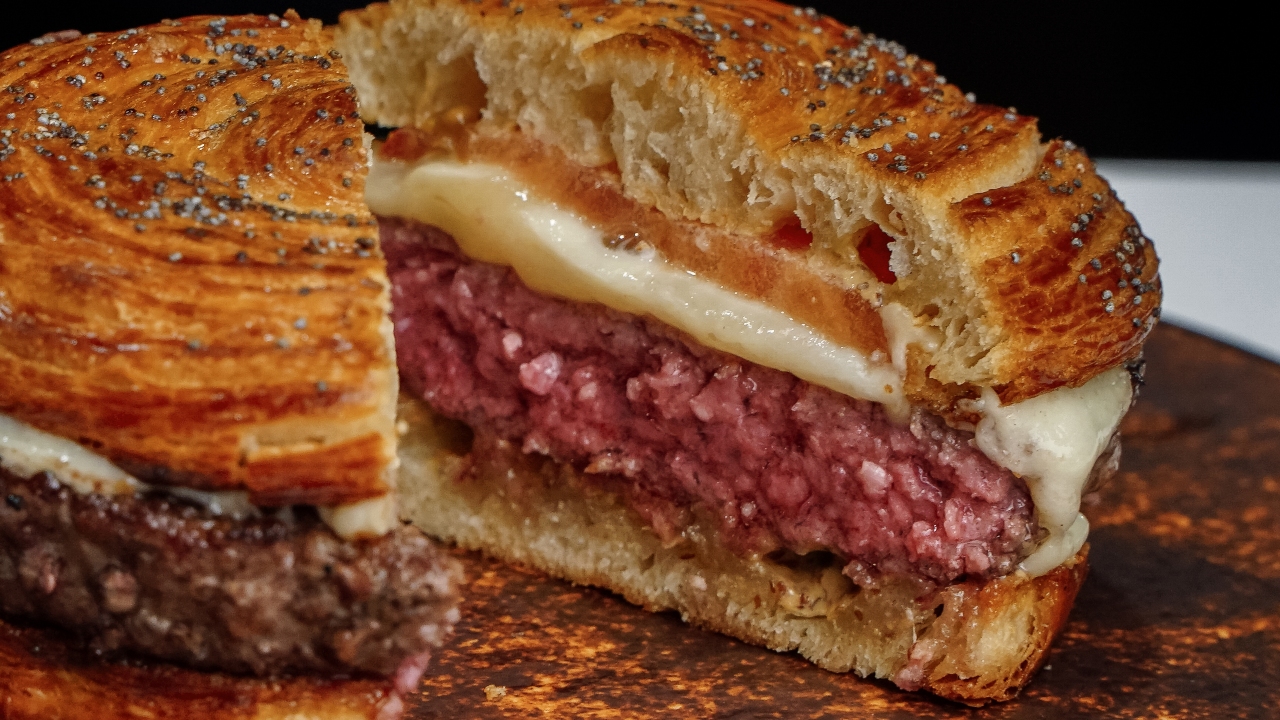 The wagyu burger was totally accidental. It wasn't intentionally created to be this popular, but a month-plus into the MCO, it's already become iconic for us. There's a lot of interaction involved between us, as the purveyors, and the consumers: it's very interesting seeing how people create their own wagyu burger rendition while attaching themselves to our brand and enjoying a great product. It's extremely unique—enough to guide us toward the light at the end of the tunnel.
The MCO has forced people to grow out of their comfort zone and out of the mental block they've had for years. Business owners and restaurant operators need to adapt and reinvent. It should be about bringing things back to basics by cooking well and delivering a quality product to the consumer in the comfort of their home. 
Things are not going to be business as usual once the lockdown ends. It'll be more than a year before we return to normal and enjoy the benefits of working as we did before. Takeaway menus will be an integral part of the business structure for all of our three restaurants, constituting 30 to 40 percent of the business.
I don't think people will go out of their way to have a gastronomic experience based on a narrative anymore.  It won't be the name of the game. Now, it'll be about going back to basics: to the provenance of ingredients, the techniques we implement, and letting the customer decide the quality of the product. The less complicated you make the dish, the more appreciative they'll be.
My fantasy wine list under quarantine would consist of Dom Pérignon 2008; Francois Gaunoux Meursault Le Clos de Tavaux Monopole 2014; Francois Gaunoux Pommard Les Grands Epenots 1995, Tignanello 2015;  Château de la Tour Clos de Vougeot Grand Cru 1998; and a Chateau Figeac Saint-Émilion 1974.
---
If you've done the Wagyu Burger and want a new challenge, try chef Darren Chin's recipe for fresh uni pasta with roasted fumet de poisson sauce
Ingredients: 
Roasted fish fumet
Roasted garoupa fish bones (garoupa bones are preferred because of their heavy, gelatinous texture), 1.5 kilograms 
Aromatics for the fumet
Fennel tops, 100 grams
The rind of one lemon
One white onion
Parsley stalk, 50 grams
Celery stalk, 100 grams
Dry white wine, 300 millilitres
Water (enough to cover the contents of the ingredients in the pot)
White peppercorns, 15 kernels
Finish for the sauce
Heavy cream, 300 millilitres
Salt and white pepper, to taste
Finely sliced shallots, 50 grams
Dry white wine, 150 millilitres
Whole parsley stalks, 50 grams
Method:
Roast the fish bones in a tray at 170 degrees Centigrade in a convection oven for 30-40 minutes, constantly stirring the items around for even browning.
Transfer bones and aromatics to a 5 litre stockpot. Fill with water and white wine.
Bring to the boil, then bring down to a simmer. Keep skimming any impurities that arise at the top. 
Continue to simmer for 30-40 minutes. 
Drain stock and discard bones.
Set aside.
To finish 
Heat a clean casserole pan, add some butter, and sweat the shallots without browning. 
Add white wine and deglaze. 
Continue to reduce and add in the drained fish fumet, parsley stalks, salt, and pepper, then reduce to a glaze. 
Stir in cream, and emulsify.
Taste and do final adjustments, then pass through a fine sieve and set aside. 
Uni pasta
Ingredients:
Fresh egg pappardelle, 450gms (for 4pax)
Roasted fumet sauce, 300 millilitres
Fresh uni, 100 grams
Kombu shio, to taste
Method:
Bring to boil water for cooking pasta.
In a pan, heat up fumet sauce and cook pasta according to desired timing. 
Add a little pasta water to thin the sauce down.
Add cooked pasta to sauce.
Add kombu shio for taste, and once you've achieved the desired taste, turn off fire, add a knob of butter, and fold in fresh uni. 
Garnish with finely sliced chives and (optional) top up with tobiko/flying fish roe.
Serve with freshly grated wasabi on the side.
Serves 4