"Enfin by James Won is not dead, unlike what most people think," says James Won as we begin to talk about Enfin X, the chef's latest venture which has gotten the food scene talking due to its aggressively affordable prices. For the unfamiliar, Enfin X is James Won's new luxury comfort food delivery service with a simple mission – to continue serving delicious food to people who aren't able to dine at his restaurant without comprising the integrity Enfin has established over the years.
"People don't want to eat something they can cook at home. My team and I understand that our customers are looking for the comfort and security simple yet delicious food can bring during this difficult period," says Won. "What is the point of me trying to send you an expensive wagyu burger when it could arrive cold and loses its taste? I need to send you something that still needs to be flavourful when it reaches you."
To do this, Won and his team created an entirely new takeaway and delivery menu for Enfin X, marrying the luxuries of Enfin with that of one of Won's past restaurants – Bad Boy Cooks – an American-style diner known for its American and Japanese fusion comfort foods.
Items such as truffle roasted chicken (RM108), lamb shank (RM98), wagyu pie (RM138), and peach fold-over (RM10) take cues from Enfin's colourful interpretation of modern French gastronomy. So popular has the chicken and wagyu pie become that they now need to be ordered 48 hours in advance to ensure they arrive at your doorstep without any compromise.
Other dishes, such as the classic cheeseburger (RM18), sloppy cheeseburger (RM28), nam yue chicken karaage (RM10), mash potatoes with truffle gravy (RM14), and nachos with beef chilli and cheese (RM18), carry the hallmarks of Bad Boy Cooks.
Nothing is spared; Enfin X's burgers use 150-gram top-grade Australian beef patties, only real truffles are used for all truffle-related items, the beef pie uses 60-grams of marble 6 wagyu and gravy made from slow roasted bone jus, and even the nachos are hand-cut and seasoned in-house, something Won picked up from spending time in Mexico as a Krug ambassador.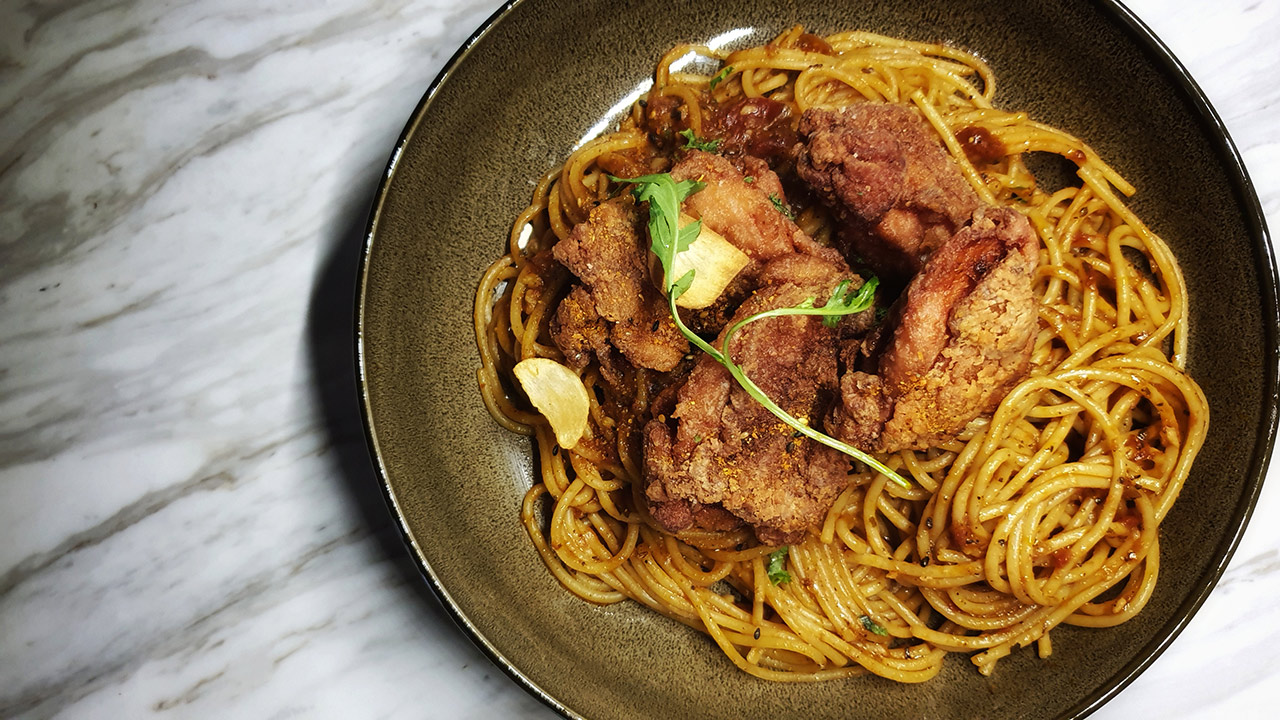 "If food isn't delicious it wouldn't be worth my while no matter the price. That's why we designed the menu to focus on three aspects – affordability, accessibility and most importantly taste," says Won. Ambitious plans are also in the works, with Enfin X soon unveiling snack-based corporate package deals which will also include a bottle of wine to pair with selected dishes to aid with adjusting to the "new normal" workplace.
For those eager to once again dine at Enfin by James Won, the restaurant is planning to re-open its doors to the public from June 16 onwards.