Wagyu, Black Angus and Hereford have been heralded premium breeds of beef with the price tag to vouch for it and found in the best restaurants around the world. True Aussie Beef underscores Australia's reputation for producing and supplying some of the highest quality meat across the globe including Wagyu, Black Angus and Hereford.
With more than two centuries of wisdom in the production of beef, True Aussie Beef has created an impressive meat and livestock industry that's rich with tradition, raising cattle in the most pristine environments Australia has to offer. The company's fine replication of the original Japan and British-bred beef makes them the best guide to differentiating and understanding what you need to know about these exclusive meats.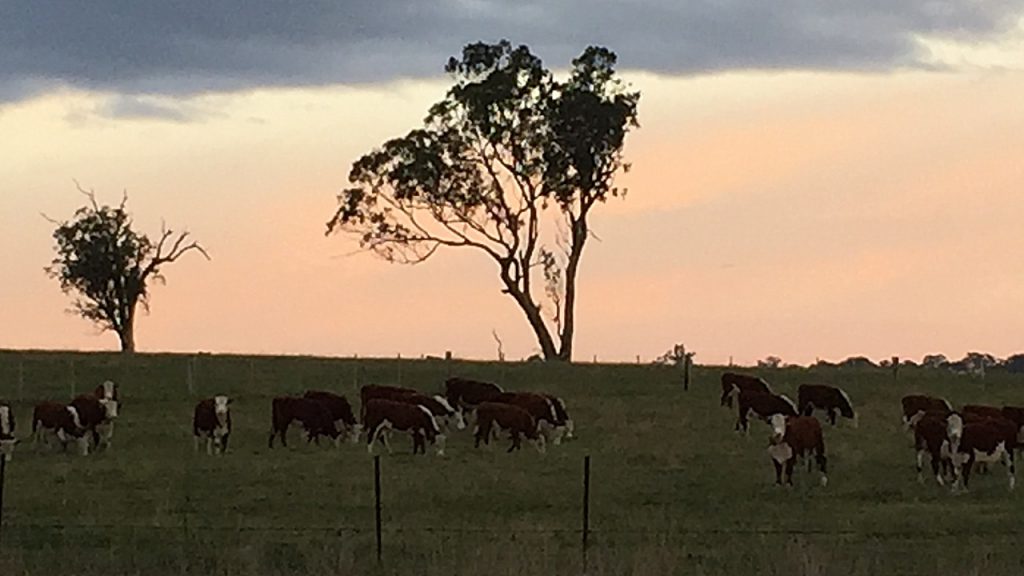 In the luxury world, Wagyu has dominated the menus of Michelin-starred and fine dining restaurants. The name Wagyu itself simply stands for Japanese cow but its name is associated to a specific breed. Outside of Japan, the largest population of Wagyu cattle is produced in Australia. Although the Wagyu Down-Under is produced through crossbreeding programs, they are known to recreate and elevate that ultra-fatty taste experience that pure Japanese beef is known for. Its increased flavour, along with a finer meat texture for that melt-in-your-mouth experience, is the result of the intense marbling that Wagyu is famous for.
View this post on Instagram

Although the Black Angus and Hereford breeds don't get as much spotlight as Wagyu, they are just as indulgent. These breeds are particularly popular in Australia for their ability to adapt to the country's temperate climate. Both Black Angus and Hereford are also well known to produce a high and consistent marbling, allowing for an extremely succulent and flavourful bite. The differences between the two breeds aren't very noticeable but there certainly is a difference in texture and juiciness. The Hereford has a slightly beefier flavour and a lighter feel in the mouth whereas the Black Angus is more tender. Either way, they are equally brilliant meats.
Despite the fact that these meats have been tried and tested for quality, the grading system of True Aussie Beef makes sure that you get to experience the true satisfaction from every bite.
Enter Chef Victor Chow, a trained professional chef of more than 35 years with a globe-trotting culinary career which includes many parts of the world including Australia. He takes us through three of his favourite recipes that you can try at home when cooking any of these three types of beef.
Air Fried Steak Salad Nicoise Style
Serves 1-2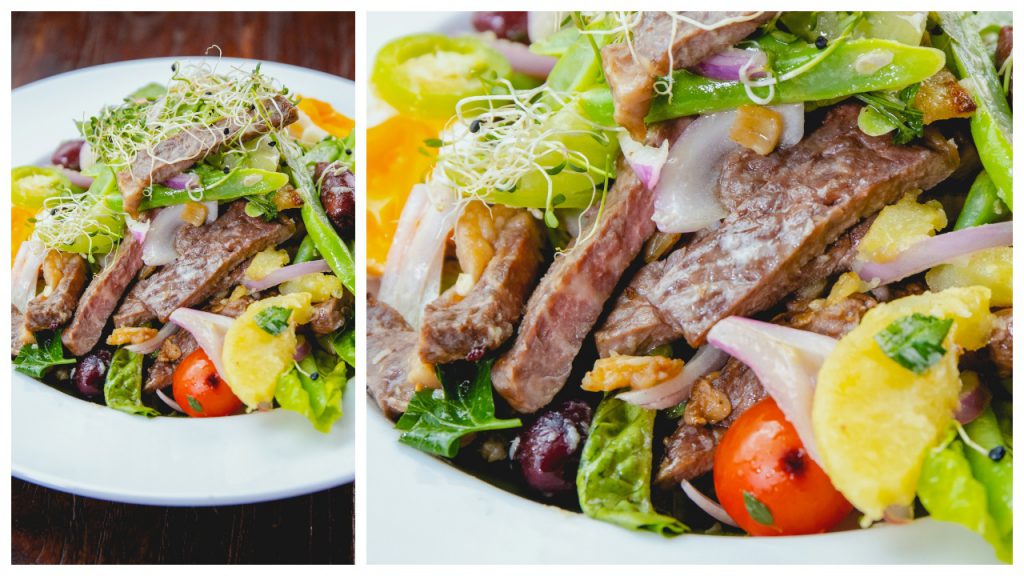 Ingredients
150 gm Chilled steak cut ½ inch thickness
120 gm New potatoes, sliced thick
2 Eggs, soft boiled, sliced thick
50 gm French Beans, boiled
20 gm Cherry tomatoes, quick seared
20 gm Kalamata olives
2 cloves Garlic
5 gm Fresh Italian parsley
2 gm Fresh thyme
2 gm Black pepper
8 gm Dijon mustard
1 tbsp Lemon juice
15 gm Red onion, sliced
20 ml Extra virgin olive oil
+ Salt and pepper to taste
Method
1. Set the air fryer to 180°C for 5-7 minutes
2. Season beef and potatoes with salt and pepper
3. Place the beef steak evenly into the air fryer basket, drizzle some olive oil and air fry for 5-7 minutes on one side and repeat for the other side. Remove cooked steak and let rest for at least 10 minutes
4. Repeat the process for the potatoes
5. In a mixing bowl, add olive oil, lemon juice, mustard and black pepper. Mix until well combined.
6. Add in all the salad components and toss to mix. Season with salt and pepper to taste.
7. Slice the beef into 1 cm thickness and add to the salad.
8. Serve with the soft boiled eggs.
---
Stir-fried Beef with Leafy Greens and Black Bean Chili
Serves 1-2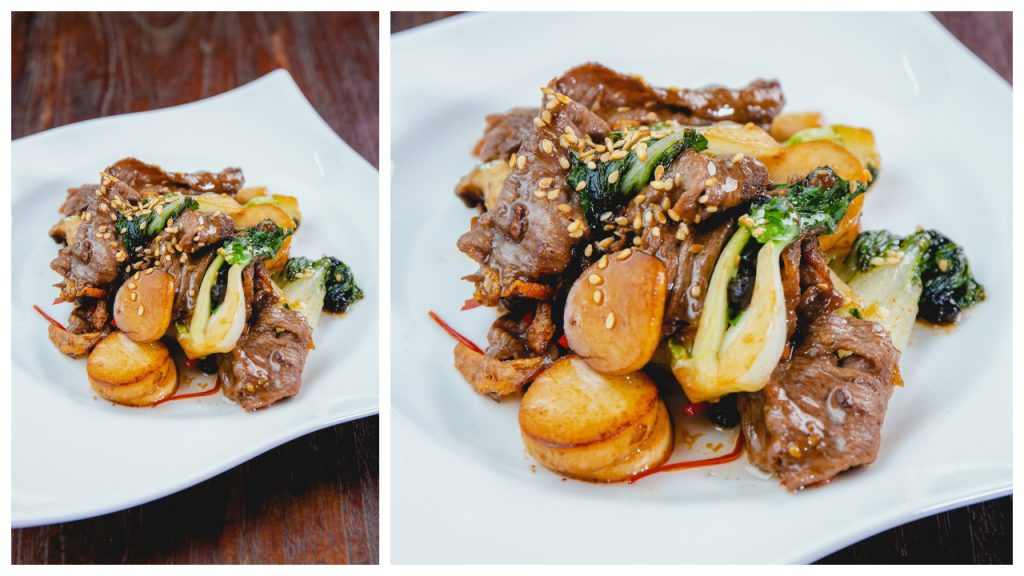 Ingredients
160 gm Sliced beef
20 gm Preserved black beans
3 gm Tapioca starch
2 ml Light soy sauce
10 ml Canola oil
2 cloves Garlic
10 gm Red chili, deseeded, julienne
120 gm Any green leafy vegetable of your choice (ie. Lai Pak, Kai Lan, etc.)
5 ml Sesame oil
8 gm Granulated sugar
0.5 gm White pepper powder
0.2 gm Fine salt
2 gm Toasted white sesame seeds
5 gm Crispy fried shallots
Method
1. In a bowl, mix tapioca starch with soy sauce and beef slice and marinade for about 10 minutes
2. Heat up the canola oil in a wok or frying pan on high heat. Add the preserved black beans and the marinated beef slices. Stir fry for about 2 minutes until all sides are seared. Lower the heat and transfer the beef onto a plate to rest
3. In the same wok or frying pan, using medium heat, add the remaining oil and garlic to fry. Stir fry the preserved black beans and add in the vegetables and red chili. Stir fry for about a minute.
4. Add a teaspoon of water to the vegetables and cover to allow it to steam.
5. Add in the beef slices and the sesame oil to the cooked vegetables and toss the stir fry quickly.
6. Season to taste with sugar, salt and white pepper
7. Serve with a sprinkle of toasted sesame seeds and fried shallots on top.
---
Pan-seared Striploin and Broccoli Salad with Black Pepper Garlic Teriyaki Sauce
Serves 1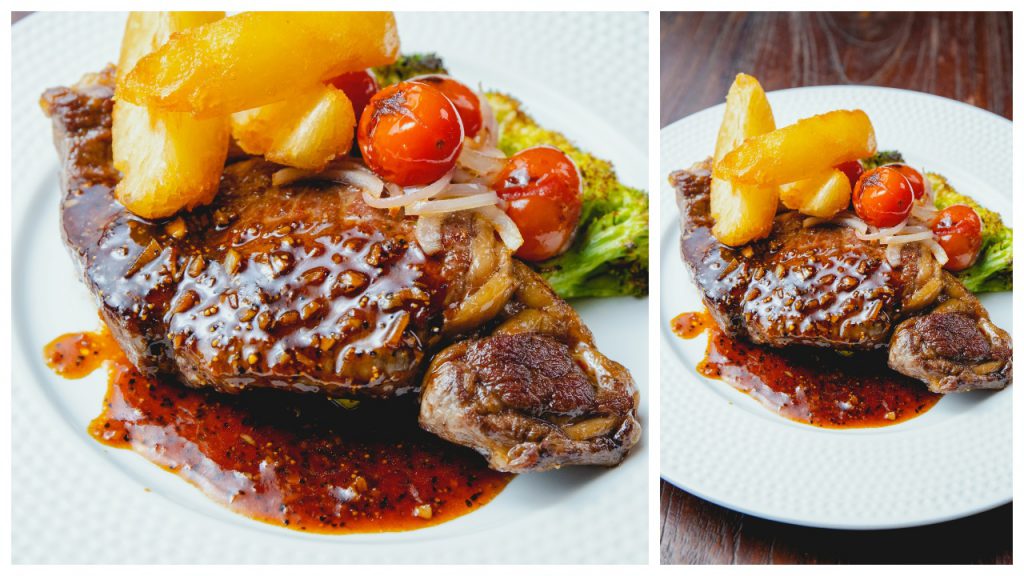 Ingredients
150 gm Sirloin steak of your choice
½ gm Sea salt flakes
0.2 gm Paprika powder
80 gm Steak cut broccoli
30 gm Cherry tomatoes
15 ml Canola oil
60 gm Russet potato, peeled and cut into wedges
1 L Oil for deep frying
+ Salt and pepper to taste
Garlic Black Pepper Teriyaki Sauce
20 ml Kikkoman black pepper Teriyaki sauce
5 gm Garlic
2 gm Cracked black pepper
8 ml Water
Method
1. Steam the potato wedges, making sure that it still retains some firmness, and the put into the freezer for about 30 minutes.
2. For the sauce: Sauté the garlic in the oil, add in the Teriyaki sauce. Add the water to dilute the mixture and stir till combined.
3. Season the steak with salt, pepper and paprika powder.
4. In a medium hot pan with oil, panfry the broccoli, adding the cherry tomatoes midway. Season to taste.
5. Take out the potato wedges from the freezer and deep fry at 170 °C until golden. Remove from the oil, pat dry and season with salt.
6. In a medium hot pan, add some oil and place the steak to sear on one side for 3 minutes. Turn over to sear the other side for another 3 minutes.
7. Remove the steak from the pan and allow it to rest for 5 minutes.
8. To serve, plate all the components, and serve with the sauce over the steak.