With the Mid-Autumn Festival approaching, confectioneries, restaurants and hotels have started offering their unique and diverse range to these festive delicacies. From classic styles to delightful new recipes, here are the top places to get your mooncakes this year. 
Shangri-La Kuala Lumpur
Spread the festive cheer this mooncake season with Shangri-La's selection of luxurious gift boxes. Sample traditional flavours that includes matcha and yuzu by ordering their signature Celebrity Michelin Starred Chef Recipe gift box for RM258. You can also send along your best wishes to family and friends with Shangri-La's Bird's Nest Chang-Er's Blooms NestBloom gift box for RM528. This gift box comes with nine pieces of mini custard with bird's nest and a NestBloom custard almond cream with bird's nest mooncake. For more delicate flavours, explore their snow skin collection with a variety of delicious fillings including mango, passionfruit and coconut, and chocolate orange and nuts. Each box comes with its own unique and colourful design. You can even customise your own box to make it all the more special. The mooncakes are priced individually starting from RM35.
Order Now:  Visit their website.
---
Le Meridien Kuala Lumpur
Nestled comfortably in an elegant mid-century European, turquoise jewellery box lies Le Meridien's ensemble of locally-inspired snow skin mooncakes. From a delightful, caramelised banana 'Emas' with sea salt, to an exotic grapefruit filling soaked with 'Tualang' honey, a toasty rendition of the signature illy Caffe mooncake with a Macchiato or roasted hazelnut paste. For a more sophisticated route this Mid-Autumn festival, sample a mooncake rendition of a Prosecco-Raspberry Limoncello, their VSOP cognca filling infused with 'Ying Tao' Red Cherries, or the Bacardi rum-flavoured chocolate ganache mooncake speckled with dried strawberries. There's also their Absolut Vodka with illy espresso-filled mooncake that's sure to jolt your senses. Each individual mooncake is priced at RM34 apiece.
Order Now: Visit their online store or Whatsapp here.
---
EQ Hotel Kuala Lumpur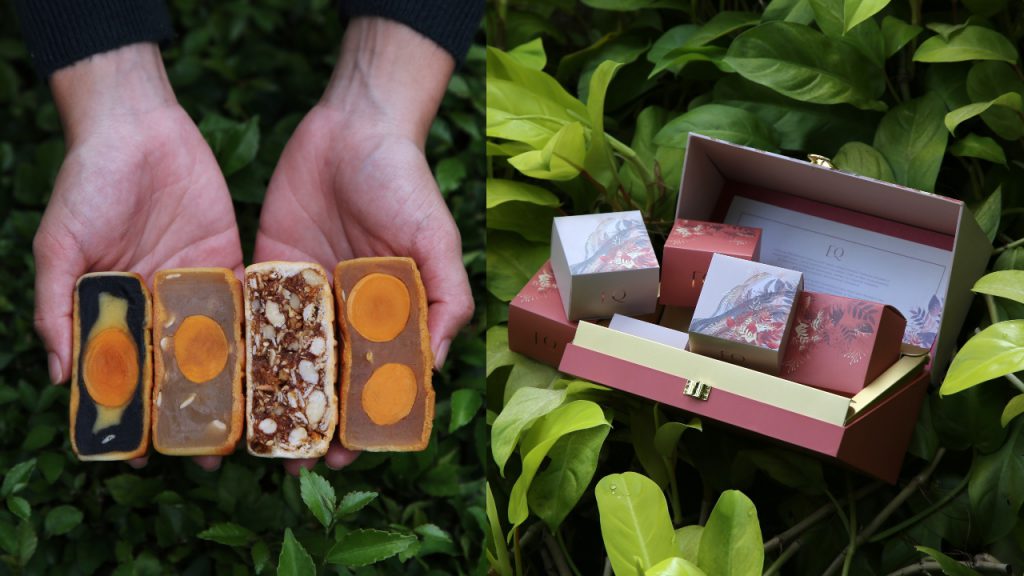 EQ pays homage to the Jade Rabbit and the natural festive autumnal season with their festive mooncake boxes. Their traditional baked mooncakes include the beloved pure lotus with double yolk, Cantonese mixed nuts filling, as well as their Signature Pearl of Harmony made of black sesame and salted egg yolk. EQ has also introduced a new addition to their snow skin line-up with an interesting combination of taro and sugar winter melon filling paired with Chinese pickles. This is featured alongside their award-winning Yuzu Pandan mooncake and other crowd favourites. Even better, one can add a personalised touch to the boxes, making gifts for loved ones or friends all the more special. You can even pair a bottle of cognac and balloon glasses, wine or even a tea set, with the mooncakes by purchasing EQ's Mid-Autumn Mooncake Hampers. The Traditional Baked Mooncake Set is priced at RM188 and the Snow Skin Mooncake Set are RM228.
Order Now: Visit their website, email [email protected], or Whatsapp here.
---
Li Yen at The Ritz Carlton, Kuala Lumpur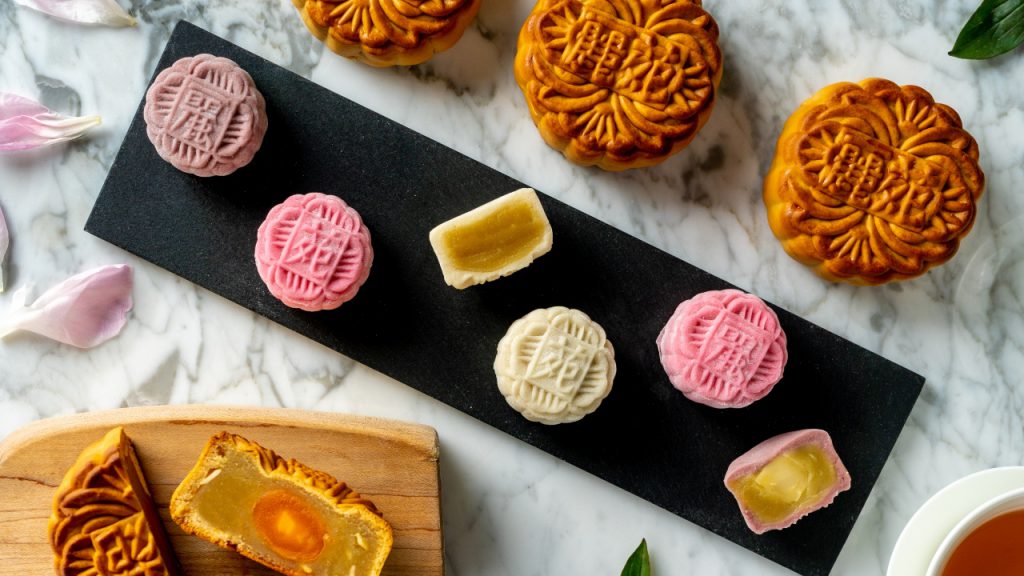 Ever artistic and adventurous, Li Yen's Chef Tan Tiong Guan presents The Ritz-Carlton's signature classics including the traditional lineup of flavours but also their highly anticipated Moët & Chandon Champagne Snow Skin series. The exclusive Rosé Imperial Champagne selection is a must-try. Expect a light boozy concoction of velvet filling enveloped in a fine layer of snow skin. Li Yen mooncakes are priced starting from RM30 each with discounts available.
Order Now: Whatsapp here or WeChat @LiYenKL.
---
Sheraton Petaling Jaya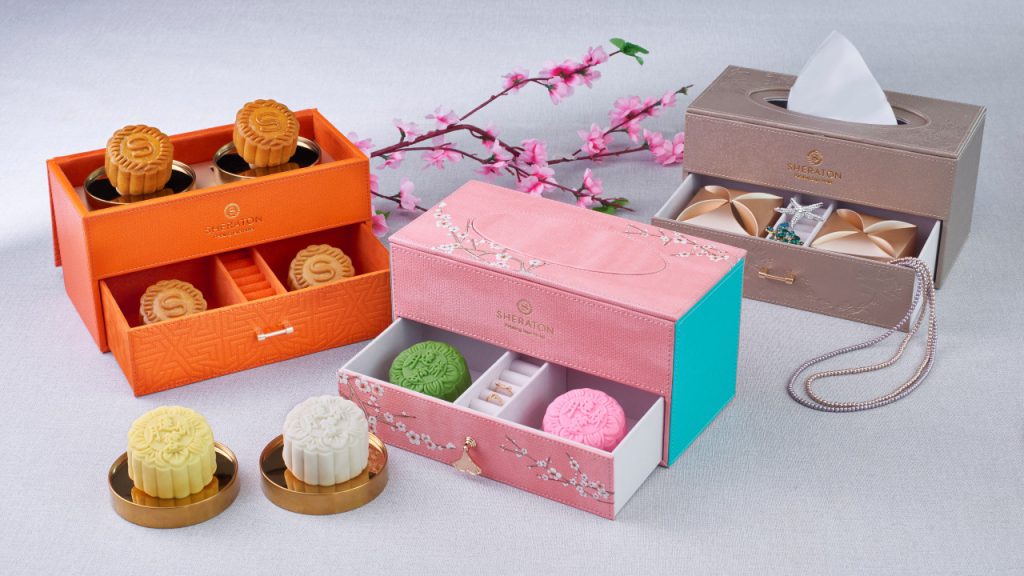 Sheraton Petaling Jaya's limited edition snow skin series this year makes a stunning visual bouquet of pastels. The selection opens with a decadent Valrhona chocolate ganache with ginger, followed by a Chitose strawberry and white chocolate combination, a hearty green tea paste, and yuzu for a citrus-filled finale. If you prefer the more traditional flavours of black sesame and red bean, those are available among their baked mooncakes as well. Each set comes in a stylish bright orange, baby pink or cool grey box, that doubles as a jewellery box afterwards. A box of four retails for RM148 with early bird discounts available.
Order Now: Call +603 7622 8888 or Email: [email protected]
---
Banyan Tree Kuala Lumpur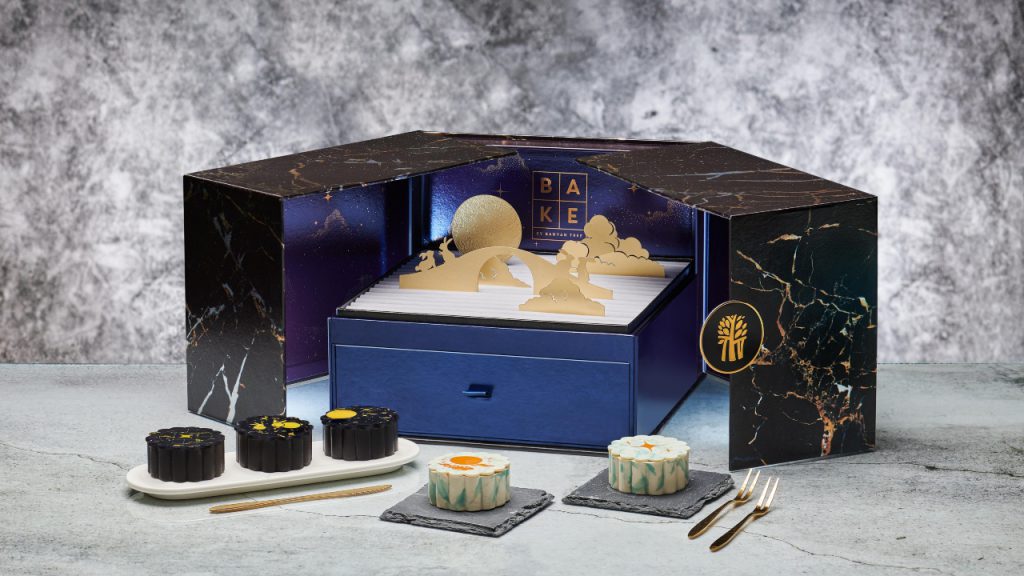 The Banyan Tree Kuala Lumpur's Bijoux Clair De Lune box puts a French spin on the legendary mid-autumn tale of the moon goddess and her rabbit companion with Claude Debussy's famous piano melody. The box reveals the moon gazing warmly at the rabbits playing below amidst the starry night sky. Each mooncake is coated in a shell made from premium Belgian chocolate and is uniquely decorated with enchanting scenery inspired by the mid-autumn tale. The Bijoux Clair De Lune Box features a unique lineup of six flavours including a fruity mango durian cheese, and raspberry lychee rose, alongside a warm selection of coffee caramel, walnut, white chocolate with mixed nuts, and green tea red bean and lotus paste. This gorgeous box is available at RM288 with early-bird discounts on offer.
Order Now: Email [email protected].com or Whatsapp here.
---
The RuMa Hotel and Residences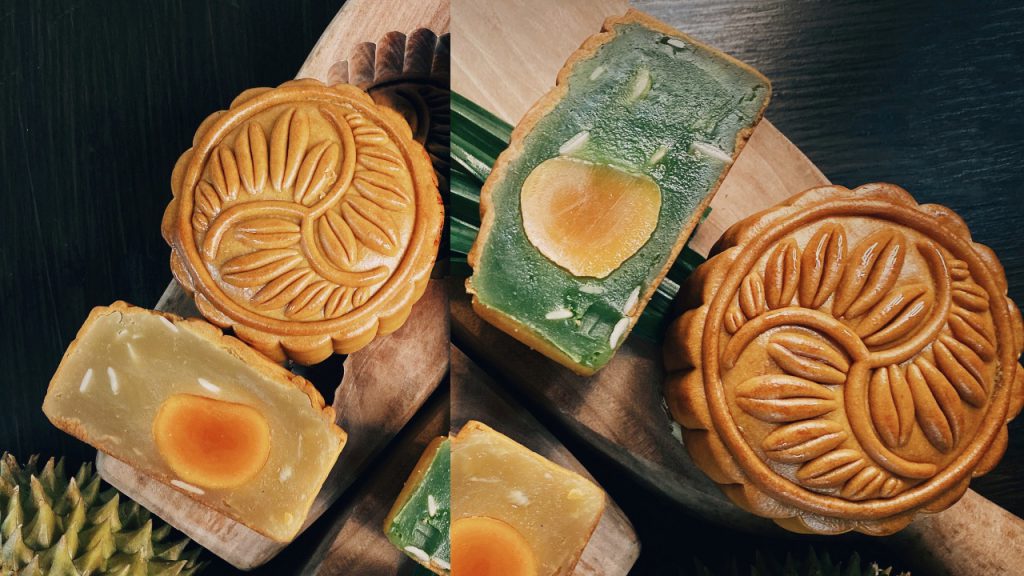 Crafted to perfection, The RuMa have managed to capture and enhance the fragrant notes of durian and pandan in their limited edition mooncake duo. Each mooncake pastry is meticulously handcrafted with The RuMa's signature emblem on top and baked with a single yolk in the centre. With its two options on offer this year, the hotel has managed to perfectly utilise the best of what the ingredients have to offer – resulting in a rich and flavourful bite for both fillings. A box holds one of each mooncake and is priced at RM98.
Order Now: Call +603 2778 0888 or Email [email protected]
---
Jade Pavilion, Pavilion Hotel Kuala Lumpur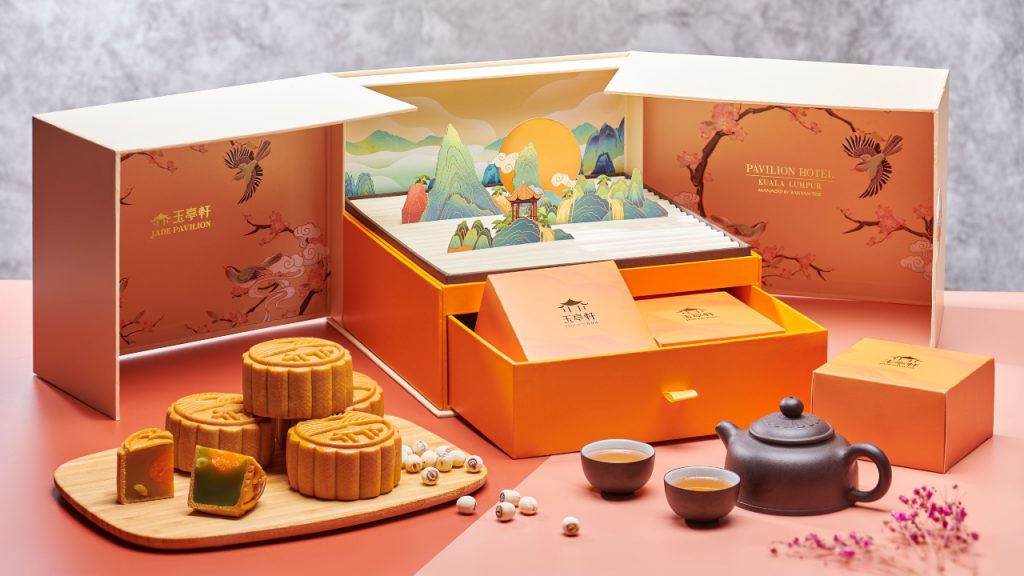 Pavilion Hotel's Jade Pavilion presents an opulent selection of authentic mooncakes with their latest Imperial Garden Treasure box. Inspired by the Imperial garden retreats, the box opens up to reveal a bright moon overlooking the colourful hillside and gardens, sitting on top of the drawer that holds the mooncakes. Among the classic traditional flavours on offer are their unique sweet corn lotus paste and yam lotus paste that go perfectly with a hot cup of tea. Priced at RM208 per box with early-bird discounts on offer.
Order Now: Email [email protected] or Whatsapp here.
---
The Westin Kuala Lumpur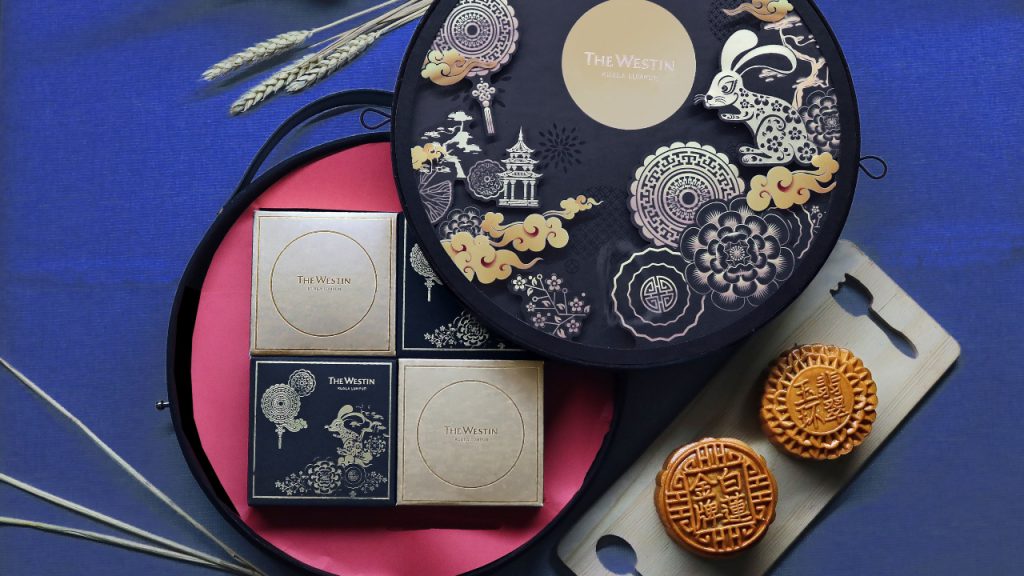 The Westin Kuala Lumpur's YUÈ mooncake gift box, entitled Celestial Moon, features a beautiful illustration of the beloved mid-autumn legend on its elegant case. The mooncakes are packaged in a circular quilted leather box in a black and gold colourway, depicting the moon rabbit travelling through its celestial-like palace against the night sky. Flavours include a tempting milk tea filling, a rich chocolate ganache and, of course, the assorted classics such as their flavourful Goldern Emerald, and Shanghai mooncakes. Each box comes with a selection of four mooncakes for RM188.
Order Now: Call +603 2773 8495, Whatsapp here, or Email [email protected]