The action-spy film franchise Kingsman is all about the best of traditional British practices, and this would of course include Scotch whisky. The GlenDronach has once again stepped up to provide it, in the form of a limited-edition release aged nearly 30 years. Revealed late last year, it celebrates the third film of the series, The King's Man, a prequel set during World War I. Originally set for release in early 2021, its debut was instead pushed to the 22nd of this month after several pandemic-induced delays.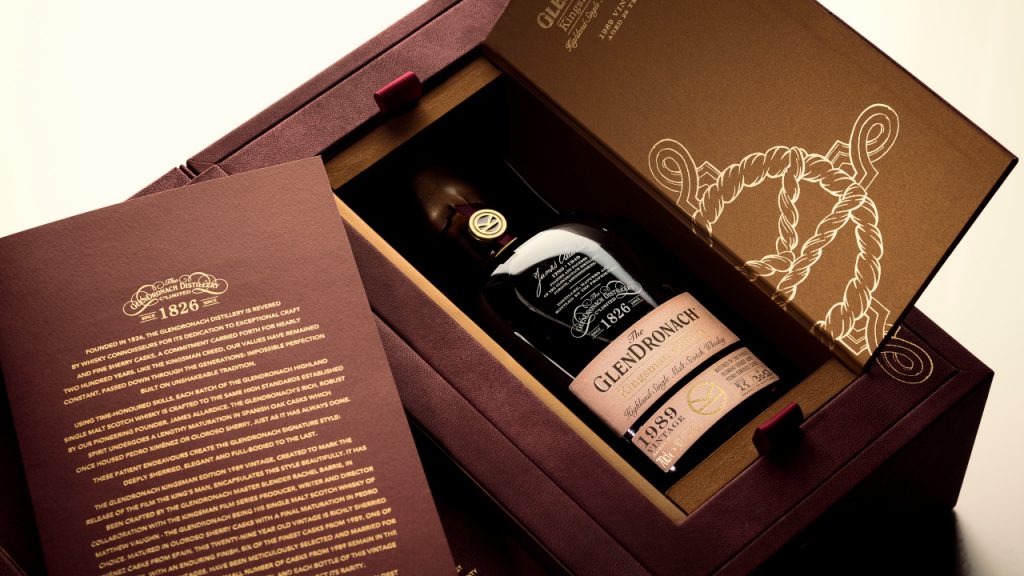 The GlenDronach came to be involved with this big-budget Hollywood production somewhat by chance. A major setting for the second film, Kingsman: The Golden Circle (2017) was an American bourbon distillery. For this, the producers worked with drinks conglomerate Brown-Forman – owners of Jack Daniels and Old Forester, amongst other labels. As it happened, that same year, Brown-Forman acquired a trio of Scottish distilleries, GlenDronach amongst them. As it also happened, Kingsman director, writer, and producer Matthew Vaughn is a big fan of GlenDronach. The Kingsman Edition 1991 Vintage was thus released as a tie-in with The Golden Circle.
"It was one of these things where, you know, maybe just the stars align and things come together," explains Stewart Buchanan, Global Brand Ambassador for GlenDronach. "It was something that we, as a company, as a distillery, didn't pursue. It was actually the director coming to us. So, very unusual in that respect, actually, that it just so happened that GlenDronach was his favourite whisky, and he reached out and we were able to actually very quickly turn over the first one."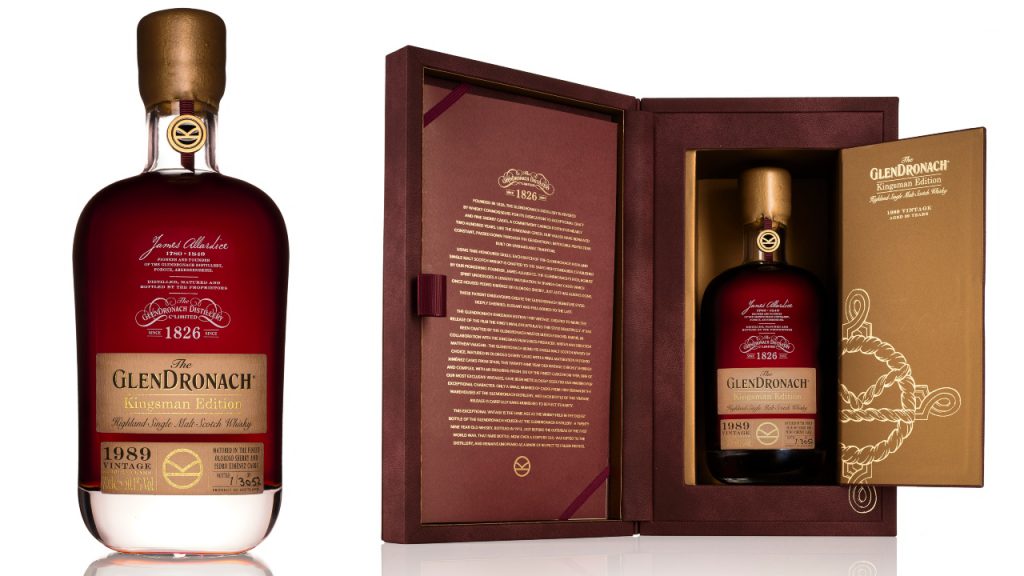 Vaughn knows his spirits, Buchanan says. "He likes to enjoy his whisky, you know. He likes to sit back, with friends, and just sip and savour, as we say. So I think he's definitely more into that sherry, rich style that GlenDronach is famed for," he muses of the London-born filmmaker. "GlenDronach, you can't rush it, especially when you get into vintage GlenDronach. You want to just sit there with that glass and take even half an hour, one hour… getting the full, big flavour profile and aroma from that."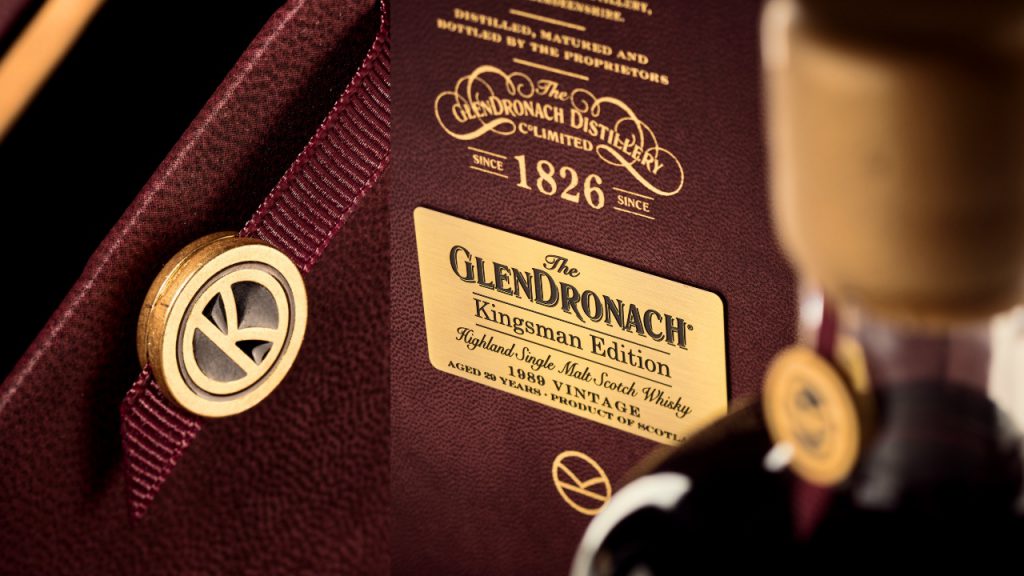 The tie-in with the new film is the Kingsman Edition 1989 Vintage, a 29-year-old single malt aged in oloroso sherry casks with a secondary maturation in Pedro Ximinez casks. It was crafted by GlenDronach master blender Rachel Barrie, with input from Vaughn. The GlenDronach's traditional, robust Highland style of spirit is married to the big, rich, dark fruit nature of the oloroso cask, picking up a hint of oaky spice in the process. "You're looking at that balance of the lovely old-school nature of the oloroso: tannins, big spice, dried fruits," Buchanan elaborates. "But then making sure you're bringing in the Pedro Ximinez, you're keeping the vibrancy and fruit, and that little bit of sweetness." 'GlenDronach' means 'valley of the brambles,' he reminds us. "It's the Pedro Ximinez that really accentuates that bramble blackberry note. So, beautiful combination of the two." The final bottling, of which only 3,052 examples were created, is offered at 50.1 per cent ABV, and is an exemplar of the full-bodied sherried whisky experience.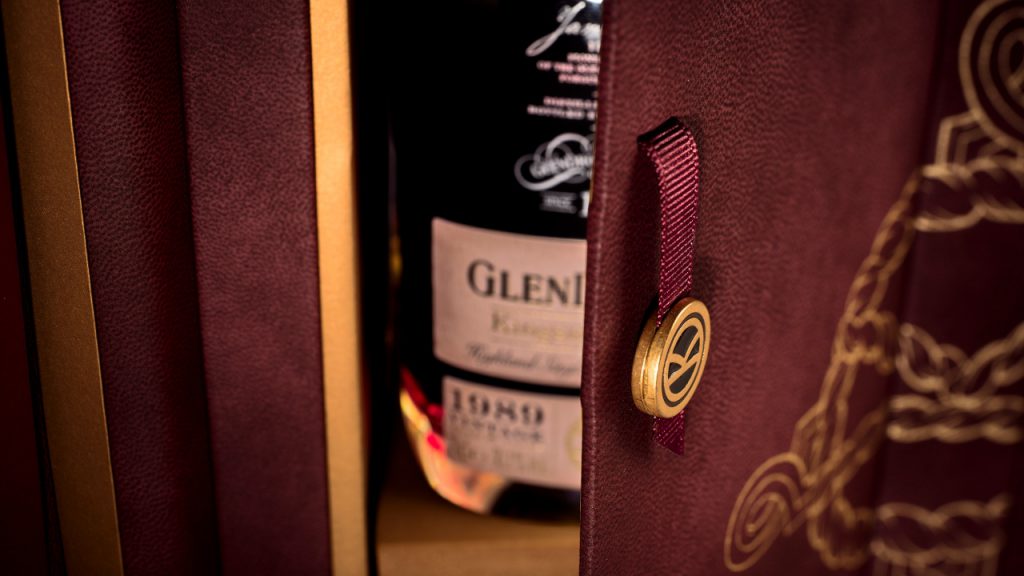 The whisky's 29-year-old age was decided in part as a tribute to the oldest bottle of GlenDronach in the distillery's possession. That is also 29 years old, and was bottled in 1913, just before the start of World War I. It carries with it a poignant story: a group of friends each bought a bottle of GlenDronach before being sent out to fight in what was, at the time, the war to end all wars. Only one returned. His bottle was later gifted to the distillery, unopened. It stays unopened, a tribute to the friends and lives lost during the conflict.
---