Self-proclaimed purists may well raise an eyebrow but trust us when we say The Macallan is as good remixed in an excellent cocktail as it is imbibed unadulterated. Don't believe us? None other than Speyside's finest itself has reintroduced a series of quintessential cocktails dating back to the 1800s with an unmistakable 2022 vibe in check.
For inspiration, The Macallan looked into its own handcrafted drinks cabinet housed in the label's spiritual home, Easter Elchies. The cabinet is the stuff of legend with its lip-smacking, comprehensive selection of the label's best and rarest, within which also houses The Macallan Double Cask.
The double casks in this instance refers to the hand-picked sherry-seasoned American and European oak casks where the precious golden liquid is stored and matured, developing its signature smooth Macallan mouthfeel coupled with a sweet intensity. Essentially, it is the perfect whisky to elevate this new series of libations. To not have its various vintages heighten these concoctions would be criminal.
Of course, the only way to see we're right is to try these cocktails at home for yourself. Herewith, dear whisky drinker, the hit list. You're welcome.
The Rusty Nail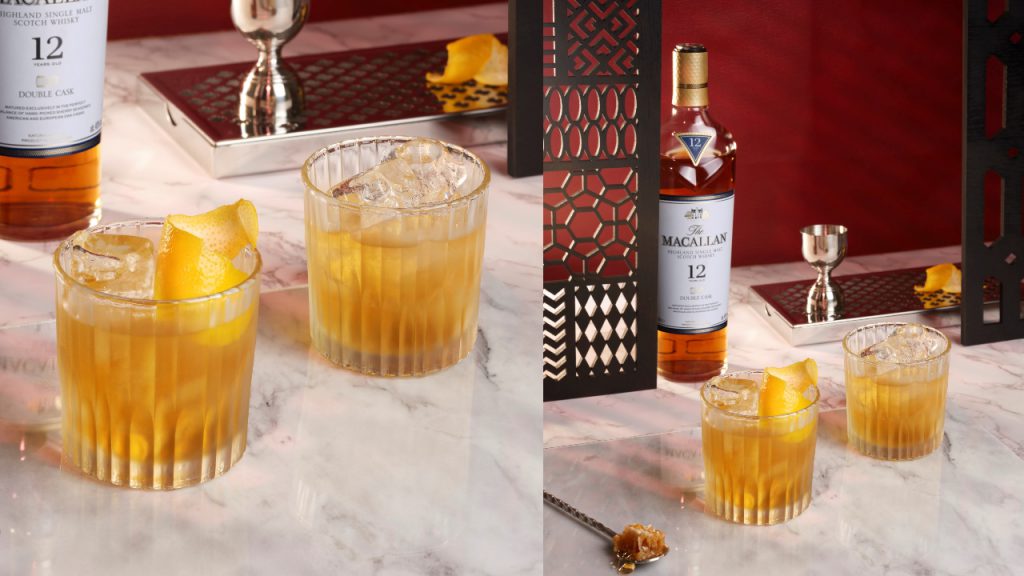 Sure, the Rusty Nail may sound like child's play in this age of mixologist one-upmanship, but you've not quite had it like this. A favourite with The Rat Pack, the Rusty Nail's origins see its resurgence mid-century with the nasty rumour that the drink was once made stirred with a rusty nail. For its obvious dangers, we do not recommend you try that at home! Instead, this decidedly more palatable recipe hinting at citrus and spice would have Sinatra and Co.'s instant approval. Pair it with The Macallan Double Cask 12 Years Old, a fully rounded single malt in perfect balance with notes of honey, citrus and ginger–and ring-a-ding-ding, you've got yourself a winner.
Ingredients:
35 ml of The Macallan Double Cask 12 Years Old
20ml honey, whisky liqueur
5ml almond liqueur
Clear ice block
Method:
Add all ingredients to a mixing glass and fill with ice.
Stir for 30 seconds and strain into rocks glass over one large cube of ice.
---
The Sour Serve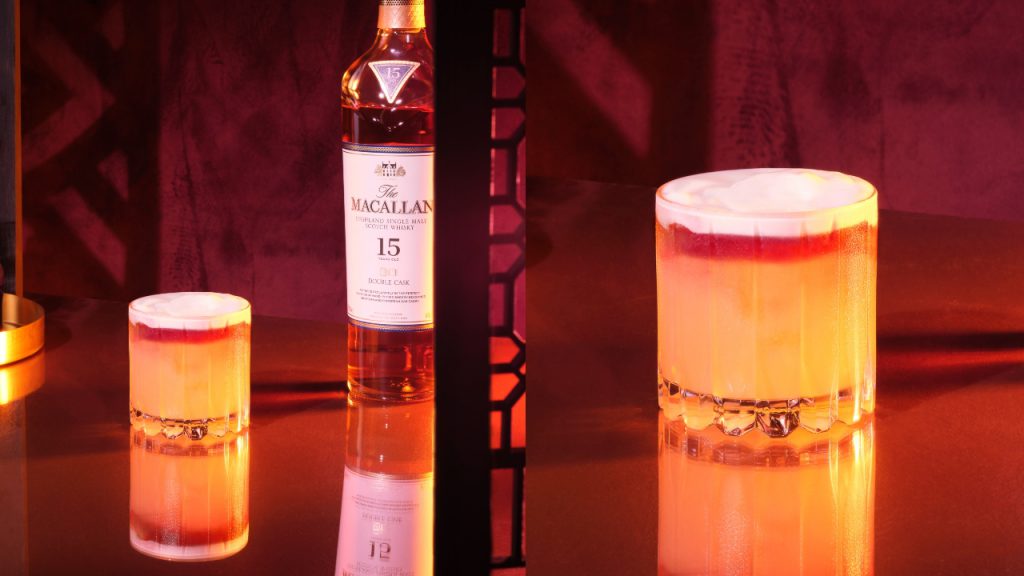 The Whisky Sour's place in history was secured when it was mentioned in The Bartender's Guide by Jerry Thomas in 1862, a far cry from its inspired albeit humble provenance as a sailor's delicious cure for scurvy. The Macallan Sour's smart, new take on this New York classic is an exercise in sheer sophistication and this mix calls for two requisites. The first, The Macallan Double Cask 15 Year Old, is essential in lending a complex base of subtle butterscotch, apple and sweet spice with an aromatic Sherry float. The second must-have calls for an Old Fashioned, or lowball, as the right glass to use. Serve the cocktail neat or over ice.
Ingredients:
40 ml of The Macallan Double Cask 15 Years Old
20ml lemon juice
10ml brown sugar syrup
Egg white
Oloroso sherry float
Method:
Shake all ingredients, except sherry, into an ice-filled shaker.
Strain into glass over ice.
Using a bar spoon, slowly layer the sherry over the top of the cocktail.
---
The Boulevardier Serve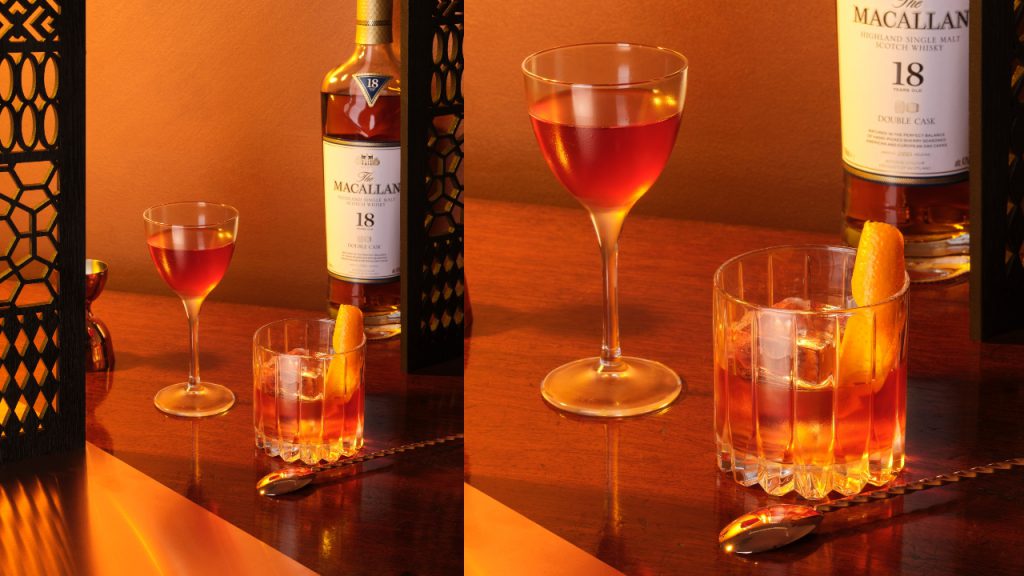 If not for the concerted efforts of two American transplants to Paris, the writer Erskine Gwynne and bartender turned cocktail authority Harry McElhone, the Boulevardier may have been lost in obscurity during the Prohibition. Whisky's answer to the Negroni sees single malt whisky featuring prominently in this cocktail. With an aroma of dried fruit, ginger and toffee and an alluring warm and long finish of oak spice with ginger turning to sweet orange, The Macallan Double Cask 18 Years Old is this cocktail's perfect star, its amber hue adding a rich and pleasing aesthetic to the drink.
Ingredients:
40ml of The Macallan Double Cask 18 Years Old
15ml Campari
15ml Sweet Vermouth
Orange twist garnish
Method:
Stir all ingredients over ice.
Strain into a chilled martini or rocks glass and garnish with an orange twist.
---