Of the movies made for car fans, none have quite the same charm as Pixar's Cars. Set in a world of anthropomorphic vehicles, the film was rife with references to real cars. Although Lightning McQueen, the protagonist voiced by Owen Wilson, was not based on any specific model, retired racer Doc Hudson was based on a 1951 Hudson Hornet. Then there's Mia and Tia, a pair of Mazda Miata race fans; and who can forget Michael Schumacher's cameo as a Ferrari F430. But in terms of screen time and contemporary relevance, none had more impact than Sally Carrera, the film's female lead. Cars was released in 2006; Sally was a then-current Porsche 911 from 2002, of the 996 generation. And now, grown-up fans stand a chance to own their very own Porsche 911 Sally Special via an auction taking place next week.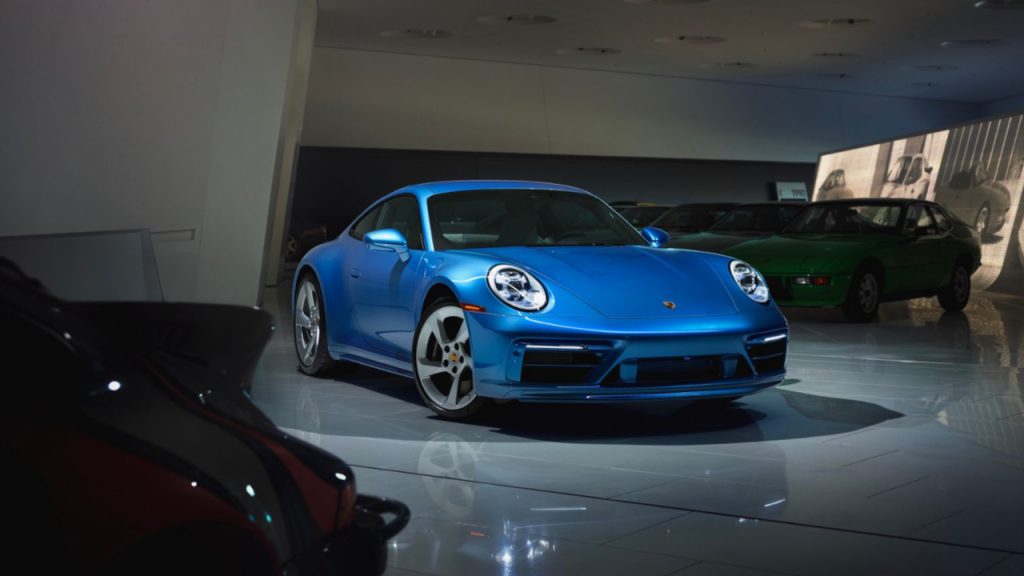 Porsche and Pixar have teamed up to bring Sally to life – not as a life-size display of the cartoon character, as has been done in the past, but as an actual road car, on a modern-day platform. The Porsche 911 Sally Special is a one-off customised version of the current-generation 911 GTS, the sportiest incarnation of the beloved, decades-old sports car lineage.
Almost every element of the car has been touched. Most obvious is the hand-applied external finish, in the specially developed 'Sally blue metallic' – which remains exclusive to this car. The wheels are customised as well, with the original five-arm design reinterpreted for 20- and 21-inch specifications. And, of course, Sally's tattoo is hiding underneath the rear spoiler of the Porsche 911 Sally Special. The interior has a rare three-colour makeup of Speed Blue, Chalk and Slate Grey, with the seat upholstery a matching houndstooth fabric. The driving mode selector knob on the steering wheel is marked 'Kachow!'.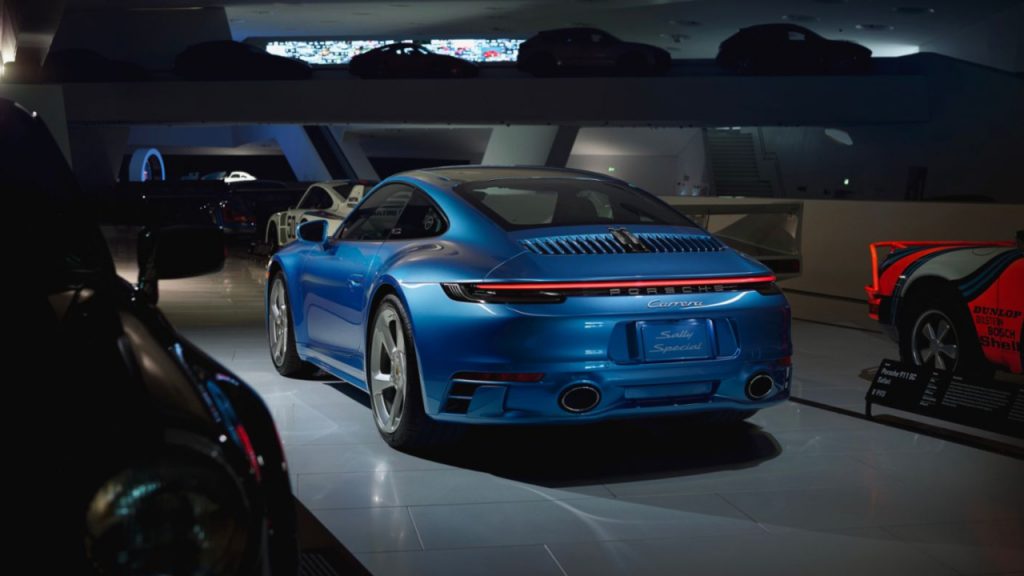 Pixar's customary attention to detail meant that the film's characters were well-matched to their choice of car, be it Italian tyre-shop owner Luigi as a Fiat 500, surfer dude Fillmore as a VW Bus, or racing veteran Strip 'The King' Weathers as a 1970 Plymouth Superbird. A lot of these were obvious choices, but Sally, as one of the film's leads, was a complex character that meshed exceptionally well with the 911. A take on the glamourous big-city professional who chose small town life, she was modern, stylish, a little glamourous without being too exotically inaccessible, and, most importantly, a real driver at heart. "She's a fast, spirited car. And in that way, she can keep up with McQueen," says Bob Pauley, Production Designer at Pixar and the one who first penned her design. "Making the cars into characters was very challenging. And we tried to stay true to the design and everything. She had a front end, and a curvaceous body, that was just terrific for accepting the character. And the 996 had headlights which we also thought looked good because they weren't round spheres that looked like eyes or something. It was a beautiful shape, you could concentrate on the expressions. The first few drawings we were doing, it was kind of like magic. It just felt so good."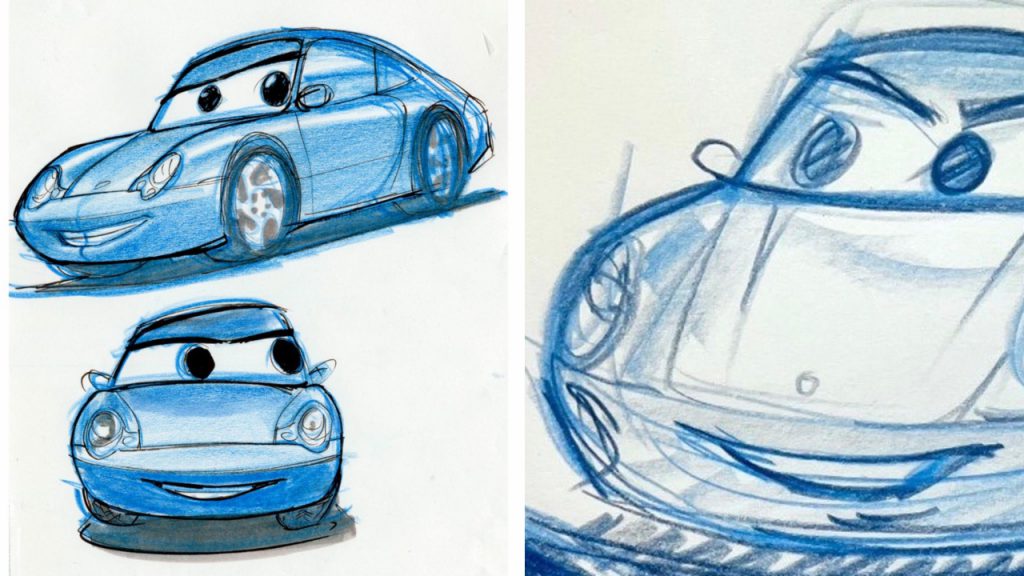 Not only is 2002 Sally's model year, it is also the year that began Pixar's collaboration with Porsche. It was the year Sally's design was proposed, and the year Pixar first reached out to Porsche. "We had to go to all the car companies to get these permissions, and with Porsche, you would think would be the hardest, maybe the most particular. They were actually the most accommodating!" recalls Jay Ward, Creative Director for Franchise at Pixar – and who worked on the film as character team manager and art department coordinator. He adds that Porsche appreciated that Sally was a female character, as the brand was looking to increase its female ownership. "So it actually made perfect sense that Sally would be a female car, and Porsche was so supportive. The relationship was just amazing," he says.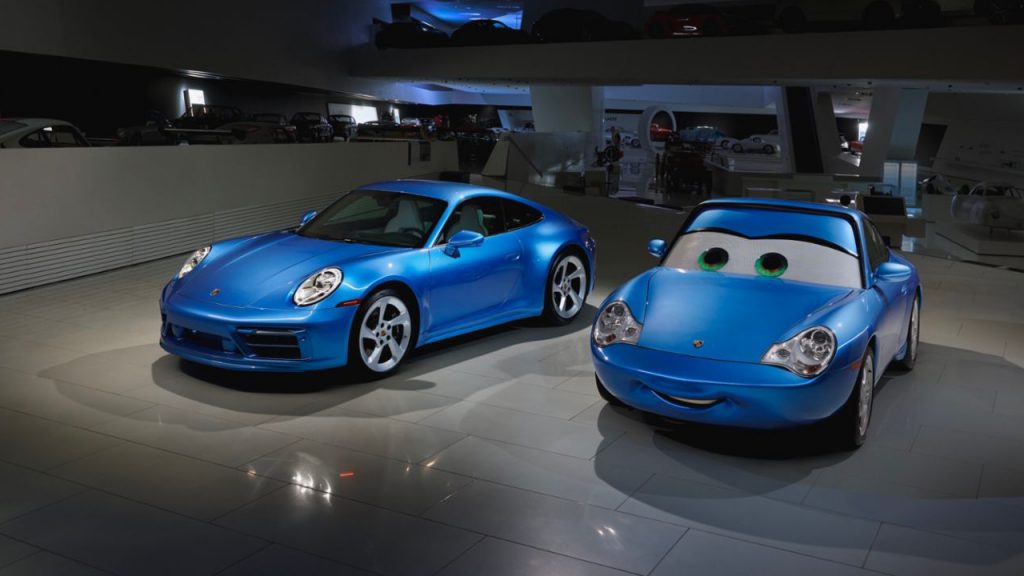 The Porsche 911 Sally Special will be auctioned by RM Sotheby's on 20 August 2022, in California, USA. Proceeds will be dedicated to Girls Inc, a non-profit dedicated to equipping girls with knowledge and skills, and the United Nations Refugee Agency (UNHCR), which is currently focusing its efforts on the Ukrainian refugee crisis – one that largely involves women and children.
---