There was a time not so very long ago when mentioning that you'd booked a hotel in Leicester Square would provoke raised eyebrows among well-travelled Malaysians familiar with the London scene. "Oh," they'd say. "Don't you know that only tourists stay around there?" Well, times have changed. Yes, tourists still gather in Leicester Square, but the arrival of The Londoner – sometimes referred to as 'the world's first super boutique hotel' – in September last year means you're now guaranteed to have the last laugh.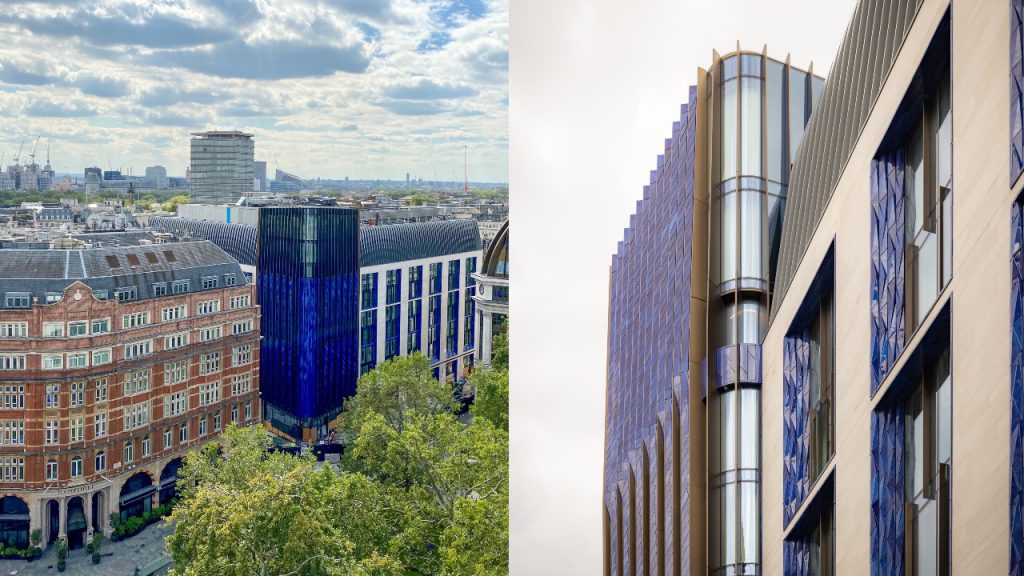 On paper, The Londoner is a 16-storey colossus. Not only is it home to 350 rooms and suites, but it also features an impressive list of hospitality spaces including six concept eateries and bars, an urban wellness retreat and a private guest residence. The moment you step through its doors, however, you'll realise it's probably the calmest, most intimate space in Leicester Square – a property in which you can seek refuge from the hubbub outside, and acquaint yourself with at your own pace.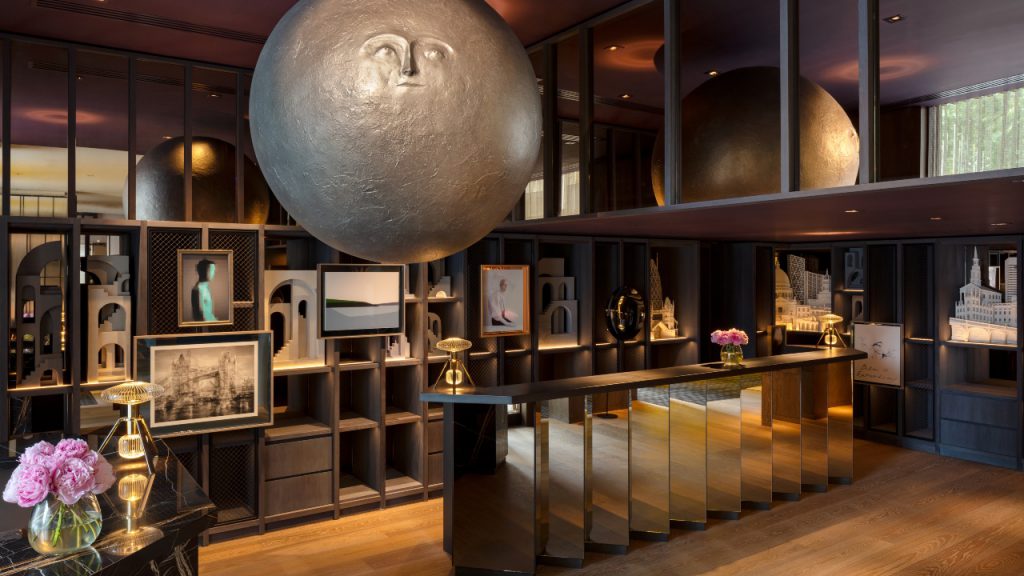 Much of The Londoner's character stems from its ability to provide discrete hideaways replete with creature comforts, but always with a healthy dose of British eccentricity. A Junior Suite (prices start from £940 per night) proffers a view of the West End's rooftops through its floor-to-ceiling windows with barely a peep of noise, allowing its residents to hunker down in a king bed laid with Irish linen. High-tech amenities – a Dyson hairdryer, a Swedish travel steamer, and an extremely smart TV through which you can order in-room 'refuelling' – are complemented by old-school treats such as moreish marmalade biscuits and a carved duck head-handled umbrella.
A stay at The Londoner grants access to The Residence, comprising The Y Bar, The Drawing Room and The Whisky Room. These three spaces are exclusively for guests to work and play in, with The Whisky Room – behind a secret door – playing home to a bottle of pre-prohibition 1903 Mammoth Cave Bourbon. At the very base of the hotel, meanwhile, is The Retreat: a subterranean wellness floor dedicated to relaxation and rejuvenation, where a sumptuous Tibetan acupressure massage isn't complete without a snooze in a cabana by the turquoise indoor pool.
Above ground, peckish guests needn't venture far if they're time-pressed or, frankly, far too busy exploring The Londoner. Whitcomb's, at the front of the hotel, turns out elegant French-Mediterranean fare throughout the day, including a sizzling skillet of saumon fumé with baked eggs at breakfast, and platters of boeuf au poivre and Dover sole that clamour to be eaten. 8 at the Londoner – a rooftop izakaya bar – pairs a highly respectable sake shortlist with a panorama stretching from Nelson's Column to Big Ben, while gin enthusiasts can follow a trail of pointing hands to the copper pipe-lined Joshua's Tavern.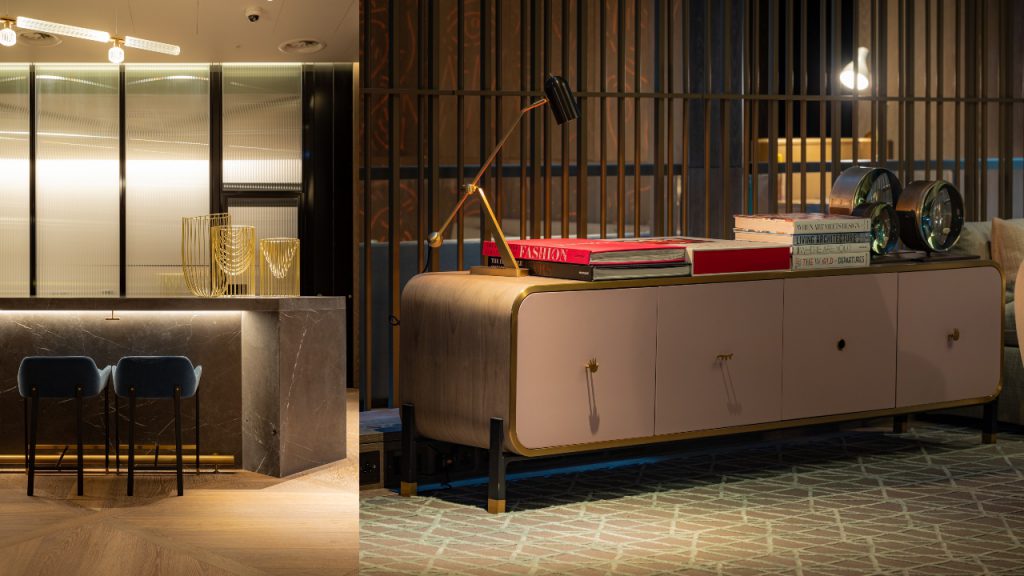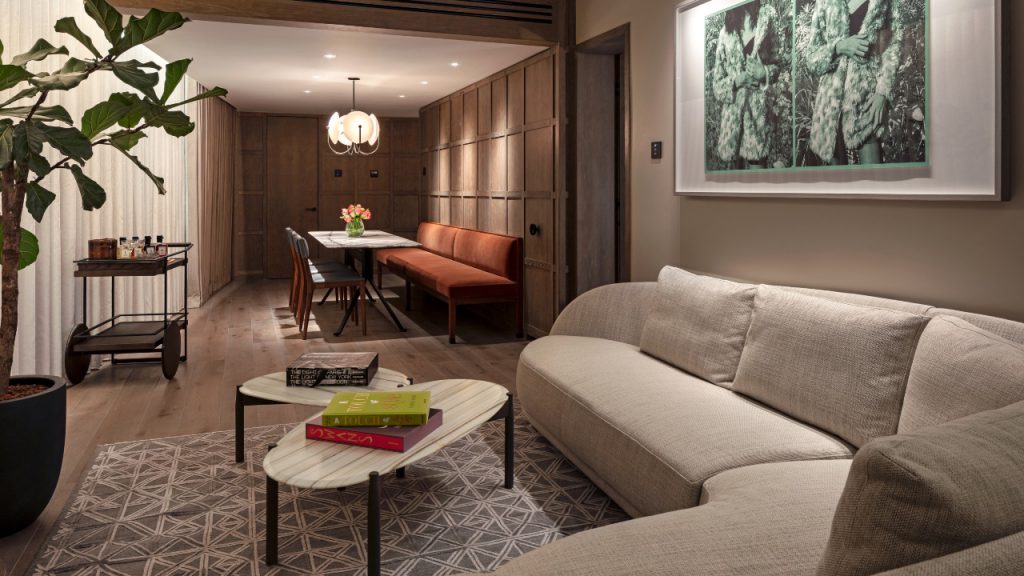 Perhaps the most important point of note for residents of The Londoner is to let their curiosity lead them astray, especially when confronted by the many pieces of original artwork installed around the property. Guests might find a framed, heavily redacted letter (courtesy of pseudonymous artistic duo The Connor Brothers) from former British prime minister David Cameron in their indigo-tiled suite bathroom, appearing to express his hostility towards the impoverished masses. In the hotel elevators, tiny peepholes at odd levels along the walls reveal monochrome erotic tableaus if you press your eye to them. Certainly not, one would say, your average tourist experience in Leicester Square.
---