According to the Chinese zodiac, this year will be the year of the Rabbit, which is often characterised as the luckiest of the 12 animals in the zodiac. The rabbit is also associated with values such as peace, mercy, elegance and beauty. In fact, those born in the year of the Rabbit are regarded as calm individuals who avoid conflict, are artistic and have good taste. Inasmuch the same way Johnnie Walker blends its finest whiskies to create exceptional blended whiskies, we should also mix together these values and carry them with us into the coming year. And it is in the same spirit of peace, elegance and style that Johnnie Walker has collaborated with designer Angel Chen for a limited-edition Lunar New Year Johnnie Walker Blue Label design as well as a limited-edition Lunar New Year John Walker & Sons XR 21 design.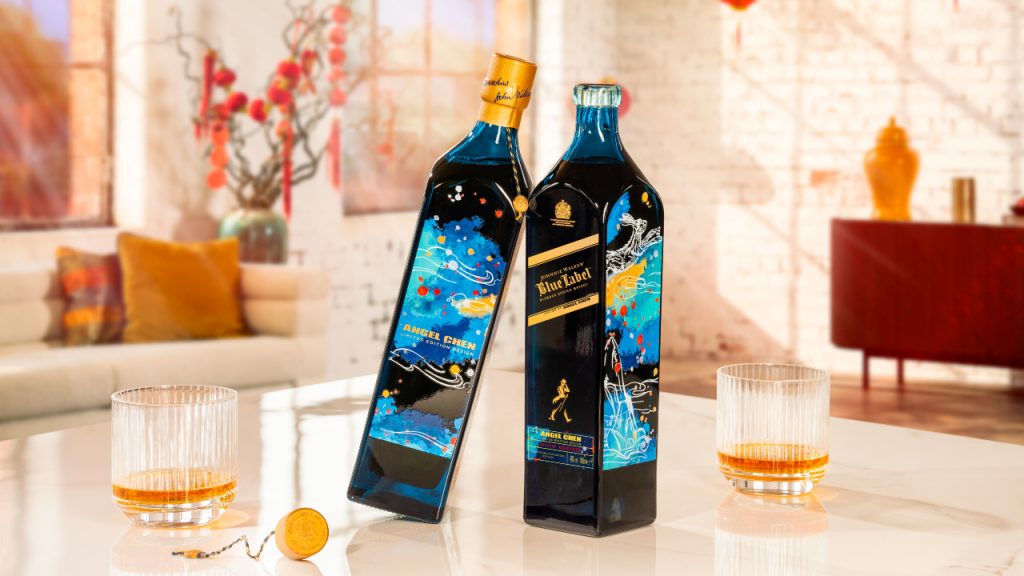 Chen is a fashion designer based in Shanghai, who graduated from the prestigious Central Saint Martins college of University of the Arts London. After interning at Marchesa, Vera Wang and Alexander Wang in New York and wowing the fashion world with her graduate collection, she launched her own label in 2014 and has been hailed by many as one of the best young designers in the industry today. Her menswear and womenswear lines are stocked all over the world, thanks in no small part to her uniquely colourful approach to fashion and fusion of Eastern and Western aesthetics.
To celebrate and commemorate the Lunar New Year and the year of the Rabbit, Johnnie Walker has tapped Chen to create an exclusive design of Johnnie Walker Blue Label as well as John Walker & Sons XR 21. "There's a defiant energy to my illustrations, which bring to life the vibrant spirit of the rabbit as it leaps across the design, symbolising how we need to keep moving forward, spreading goodness throughout the year to come," Chen explains of her inspirations behind her designs.
The Johnnie Walker Blue Label Lunar New Year Limited Edition features elegantly illustrated rabbits prancing and bounding among mountainous peaks on the packaging as well as the bottle. Effervescent swathes of bright colours as well as ephemeral clouds also adorn the designs, in a harmonious blend of traditional Chinese New Year elements and Chen design signatures. The overall aesthetic and movements of the rabbits also remind us of Johnnie Walker's motto: to 'Keep Walking', that luck is ours to create if we keep striving ahead. This exclusive, elegant design by Chen also pays homage to the fact that only 1 in 10,000 casks have the richness and character to be made into a rare bottle of Johnnie Walker Blue Label.
Meanwhile, Chen's designs for the John Walker & Sons XR 21 are all about celebrations – celebrating accomplishments achieved in the previous year (of the Tiger) and welcoming accolades in the upcoming year of the Rabbit. This time, though, you'll notice that vividly illustrated goldfish swim across the packaging and the bottle. According to Chinese culture, goldfish are believed to bring luck and fortune to its owners. Similarly, one often feels fortunate and thankful when savouring a glass of John Walker & Sons XR 21, which is matured through a three-stage blending process. The different layers of flavour come together perfectly, resulting in an exceptional, rare and incredible whisky with sweet, deep and balanced flavours.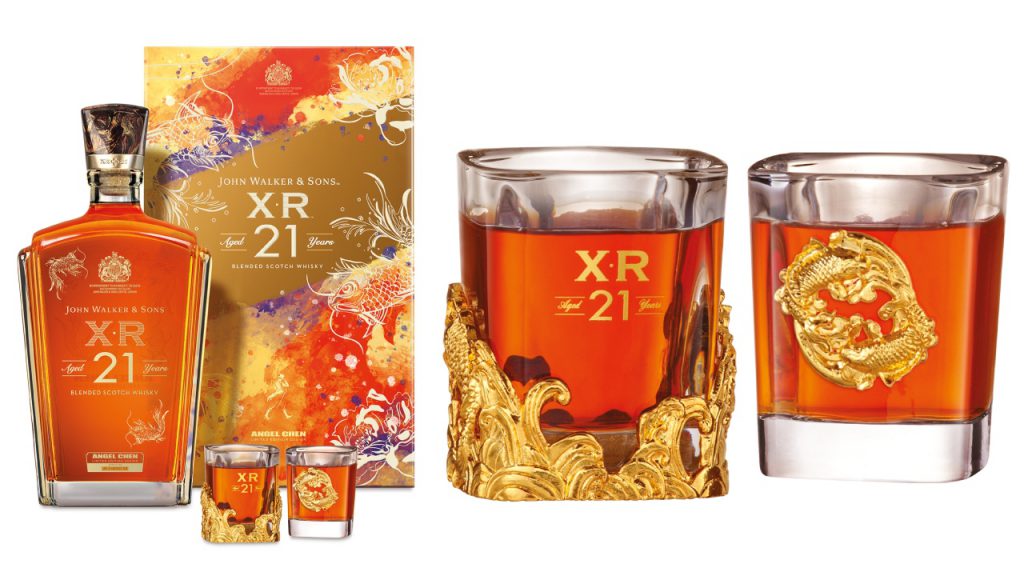 Chen's favourite works and designs are often inspired by different aesthetics, cultures, periods – though they may seem worlds apart, Chen is able to fuse them together to create a united vision and narrative, one that is uncannily familiar yet powerfully new. Hence, the Lunar New Year limited editions of Johnnie Walker Blue Label and John & Walker & Sons XR 21 by Angel Chen would make great gifts and even better drink companions this festive season, thanks to the harmony of styles, flavours and emotions.
---