Gourmets can now add one more dinner destination to their list of must-try restaurants in the ever-expanding culinary hotspot that is Taman Tun Dr Ismail, in Kuala Lumpur. The Bread Bar, known for its buttery croissants and top-notch sourdough offerings that beg to be turned into gourmet sandwiches, has recently launched its dinner menu. The debut of its curated menu of 14 dishes, from starters to dessert, showcases the quality in each of their dishes.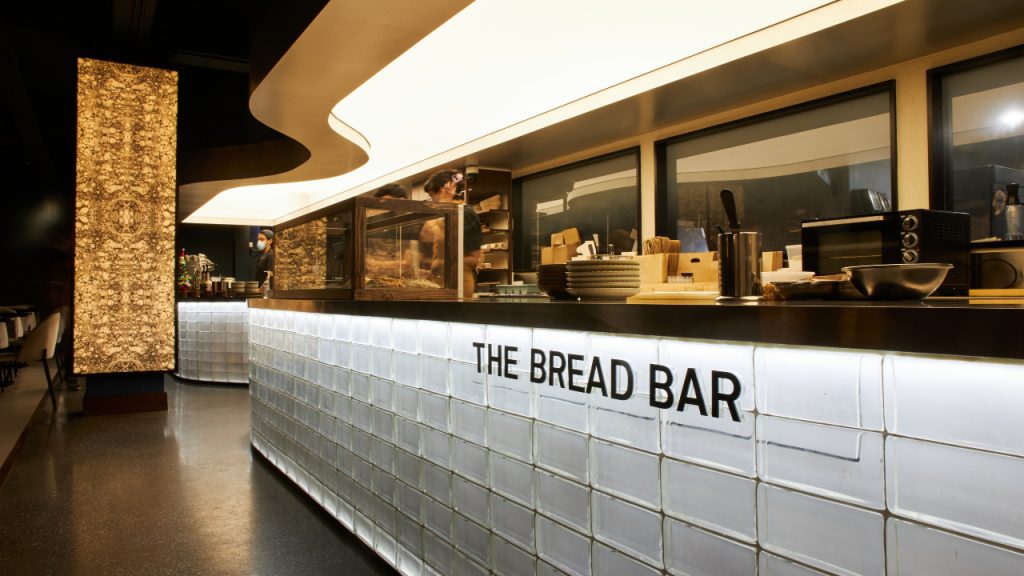 To start, you'd want to order a basket of toasted assorted sourdough bread slices served with salted butter, which as the establishment's name suggests, is their métier. Opt to upgrade to either the truffle butter for an earthier indulgence or kombu butter for that tang of sea.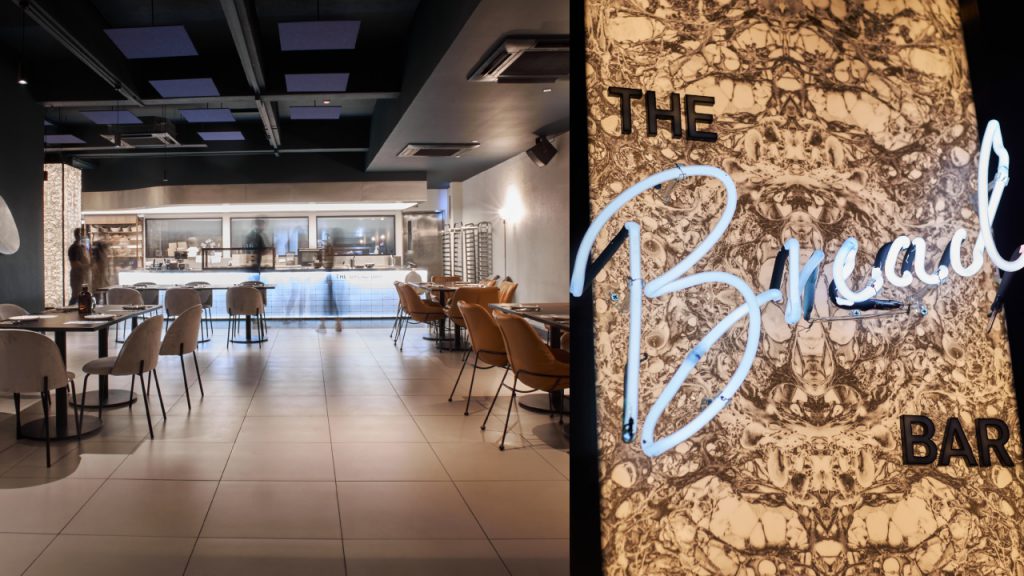 There's also the prawn toast – a slice of sourdough topped with prawn mix and crispy millet served with coriander yoghurt. Diners seeking a heartier starter can go all out with a charcuterie board featuring cold cuts, seasonal cheese, turkey chorizo, bresaola, marinated olives, sun-dried tomatoes, and sourdough.
Four vegetable dishes and three proteins populate the menu's respectable à la carte section, which serves as the central part of one's dinner at The Bread Bar. Charcoal-roasted spiced carrots with kombu, ricotta cream, and pomegranate are excellent for balancing out heavier-tasting proteins. The crunch and char of the carrots provide an added depth to the sweet and light orange vegetables, while the use of kombu and pomegranate shakes things up with sea essences and mild citrus.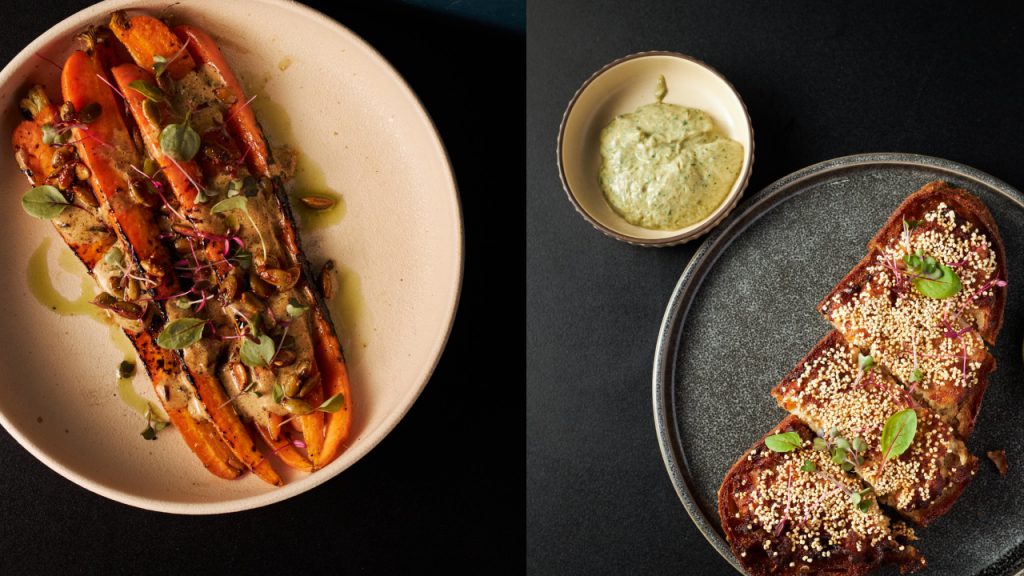 The carrots provide excellent flavour contrast to two delectable dishes – beef char siu and jerk chicken. The kitchen team has done an admirable job at getting charcoal-grilled brisket (served with pickled mustard seeds and watercress) to taste surprisingly like char siu. On the other hand, the roasted Jamaican-spiced jerk chicken is equally toothsome, served with a light jalapeño sauce and lightly battered corn fritters.
Heavier greens include broccoli with chilli oil and miso-roasted cabbage, two dishes that pack a punch. Oven-baked broccoli topped with a drizzle of chilli oil and labneh has a slightly bitter-umami combination that makes it an easy recommendation for the table. The miso-roasted cabbage, however, is suitable as a main, using sautéed mushrooms, barley, sourdough crumble and adjua sauce to add heft to its overall flavour profile.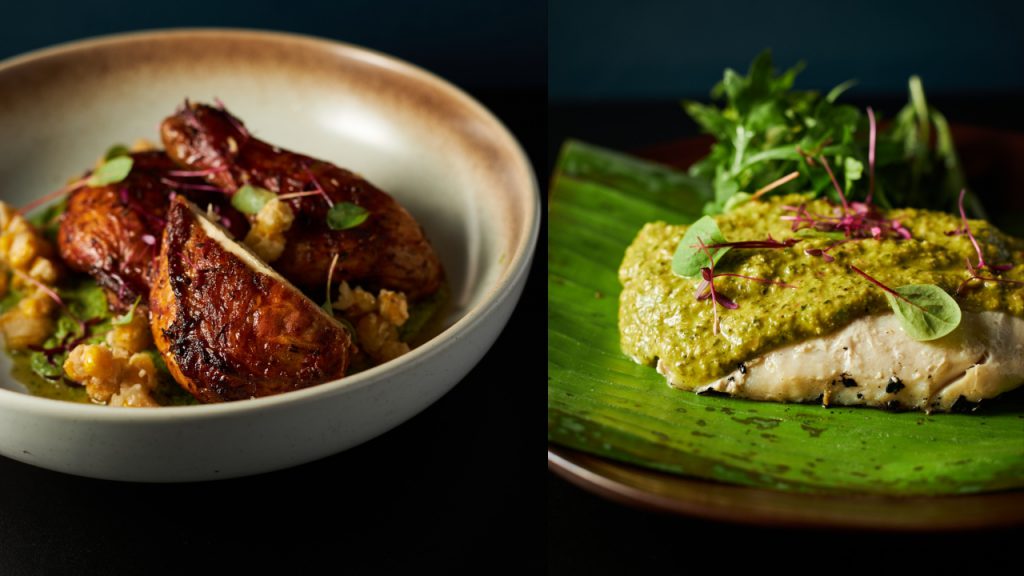 These two flavourful vegetable-forward choices pair well with the sea bass cooked with botanical pesto. Wrapped in a banana leaf, charcoal grilled, and then topped with an ulam salad, the lightly seasoned, perfectly cooked sea bass is flaky and juicy with a delicious herbaceous tang that refreshes and flavours the palate at the same time.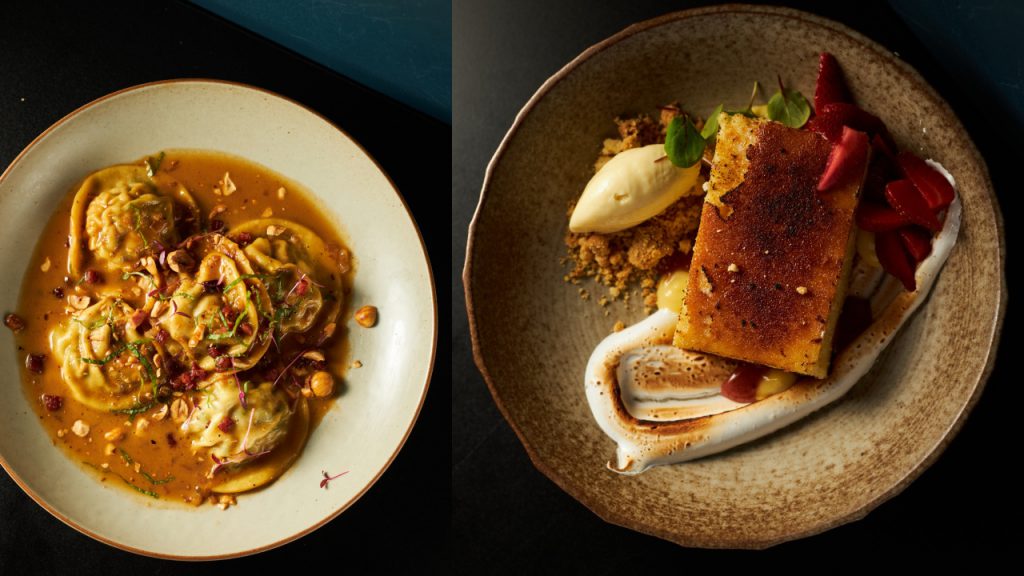 When it comes to dessert, there's either the chocolate fondant or the lemon cake slice. The fondant promises a rich, indulgent bookend to the meal with hazelnut feuilletine, 35 per cent dulcey crémeux, and a coral tuile garnish. Keep things light with the lemon cake slice instead, with meringue, macerated strawberries, white chocolate, and a refreshingly citrusy lemon curd crémeux. For its freshman effort at a dinner menu, The Bread Bar has shown that it is capable of expanding its repertoire far and beyond the breakfast and brunch crowd that has turned this corner of Taman Tun into a thriving, and buzzy place.
---