A hundred points, thrice in a row. Footie fans would call it a hat-trick and hail Hundred Acre as world champions and candidate for GOAT. Jayson Woodbridge, player-manager and owner, would be spoken of in the same breath as Diego Maradona, force majeure. Of course, the coveted wines of this cult Napa Valley estate would materialise here over a superb dinner organised by official distributor, Bordeaux Liquid Gold.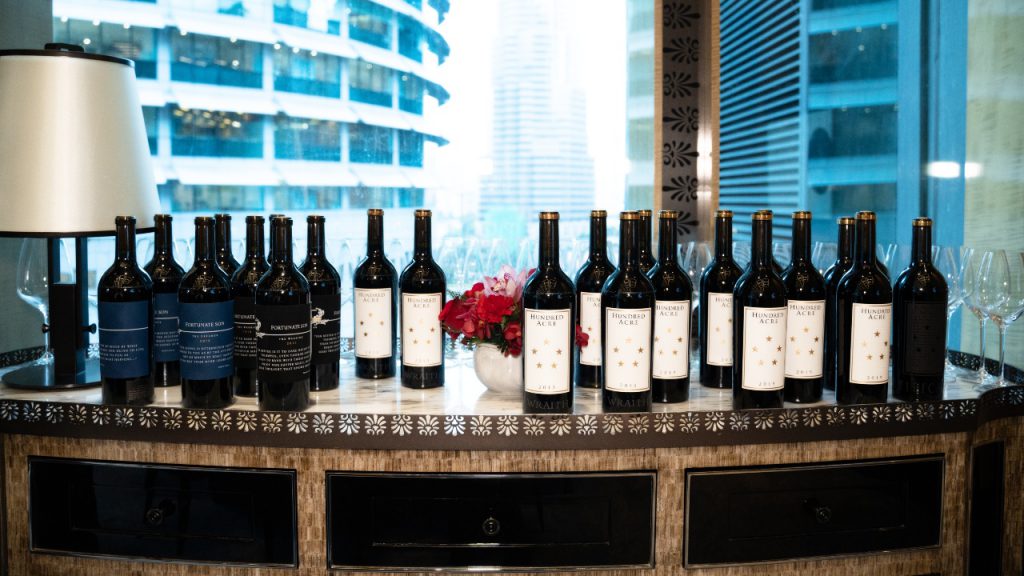 Those perfect scores? They were awarded by wine's head referee, Robert Parker Jr, for Hundred Acre Wraith 2013, 2014, 2015 – and since then, 2016 and 2018. Wraith is drawn from select barrels of what Woodbridge calls Hundred Acre's "three creatures": its Morgan's Way vineyard in St. Helena (nine acres); Ark (13 acres); and Few and Far Between (five acres).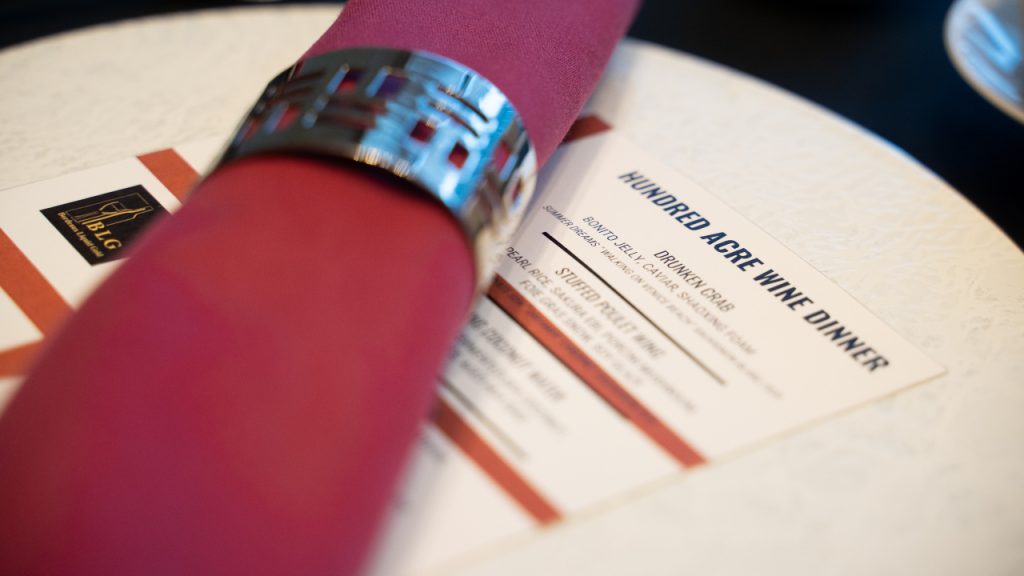 In case you're wondering about the maths, Hundred Acre is named after the forest in Winnie the Pooh. It has amassed 22 100-point scores from Parker for vintages 2002-2015. The current releases are 2019; and Hundred Acre's portfolio is expanding, so Robb Report Malaysia is no longer keeping count.
'More is more', is the Jayson Woodbridge ethos. Not one iota of minimal interventionism seeps into Hundred Acre's luxury barrels, assembled from staves of fine, tight-grain French oak air-dried for three years. It's one of numerous 'cost is no object' measures initiated by Woodbridge to maximise Hundred Acre's continued scoring prowess. Others: the use of misters in the vineyards to keep the long-ripening cabernet sauvignon cool; berry by berry sorting; and space-age air filters in the winery. He clearly has the wherewithal, paying a reported US$6 million for the Pickett Road Vineyard next to the historic Eisele Vineyard in 2008 that became Few and Far Between. With just five of its 115 acres under vine, the per acre price was US$1.2 million.
A cult winery needs its cult figure. Not having met the man, Robb Report Malaysia has compiled a truncated dossier: Woodbridge once farmed cherries, from where he got his multi-pass harvest technique (says Hundred Acre CEO Landon Patterson). He was born to a middle-class Toronto family, and semi-retired aged 36 as an investment banker, making his fortune in Canadian oil and gas. His lust for life is fuelled by an early brush with cancer; his organisation and discipline, from time as parachutist with Canadian infantry. The man cooks, among which, Thai green curry.
Hence the impatience of vaulting ambition matched by a mindset to do whatever it takes, political and non-political correctness of the day be damned. Woodbridge is a hands-on, self-taught winemaker who also briefly learned from Phillipe Melka, the Napa star formerly of Bordeaux. Unseen are the Hundred Acre wines that never made it to market. Woodbridge seems to have put his fortune towards a blue-sky enterprise that allows for and even encourages the making of mistakes towards discovery and comparative advantage.
Call it the pursuit of happiness by a Canadian in California, one that is far too expansive to be confined to its own signature vineyards, however selectively acquired. Hence Hundred Acre's newest two projects: Summer Dreams and Fortunate Son. According to Hundred Acre:
Fortunate Son focuses on small-lot heritage sites dating back to the vineyards planted at the new Fortunate Son winery in St Helena, especially the David Fulton Vineyard planted in 1860, "along with another ranch from the late-1800s, in partnership with other heritage family sites of exceptional quality across the valley", while "Summer Dreams brings Hundred Acre's expertise across the hills to the Sonoma Coast and other intriguing appellations (to) produce Pinot Noir, Chardonnay and Sauvignon Blanc in small production, micro lots from only the most exceptional sites".
---
Tasting Notes
Cult wine prices mirror that of contemporary art, being set by the anticipation of a new show, and the network of critics, collectors, galleries and purveyors. But Hundred Acre wines are the polar opposite of the contemporary art scene for the fledgling or even the seasoned collector. They are a direct, visceral experience; approachable instead of obtuse, sometimes even reaching out for a bear hug. Interestingly, the reds can pair well on the nose and palate with white meat and even fine, carefully conceived vegetarian dishes. Each one shows a family resemblance of clean, consistent aromas, rounded, lavish flavours, and a balance of sugars and acidity that can completely belie their potency. They can stand in for the traditional yam seng as well as a genteel evening around the hearth.
Summer Dreams
Walking on Venice Beach 2020
Sauvignon Blanc
A world debut in Kuala Lumpur at the Four Seasons' inventive and refined Yun House. "The first white wine made by a guy who doesn't know how to make a white wine," says the delightfully unthrottled Landon Patterson, Hundred Acre CEO. Sourced from Western Sonoma Coast vineyards at 1,900-metre elevation "overlooking the Bridge, sun and sea". Co-produced with Ashley Holland, whom Jayson Woodbridge, Hundred Acre owner, describes as potentially "one of the true great crafters of California white wines".
A hundred per cent Sauvignon Blanc; partial malolactic fermentation, aged on lees with occasional battonage, fined and filtered, then aged 11 months in 50 per cent stainless steel and 50 per cent French oak, 25 per cent new; "highlighted" with acacia puncheons and an unwritten secret sauce of walnut barrels.
Scent of ripe whole mango (Harum Manis, Black Gold); also of just ripening, thick-skinned Australian avocado. Clean, rich, creamy, whole, devoid of edge, ample, fleshy, Rubens-esque going on to Botero (like Ark and Morgan's Way). A different, versatile expression of a familiar varietal, perhaps de rigueur for California. A match for deep fried spring roll with truffle oil, pickled cherry tomatoes with sour plum, and crystal dumpling with morel mushroom. Yee sang beckons.
---
Fortunate Son
The Dreamer
Cabernet Sauvignon 2018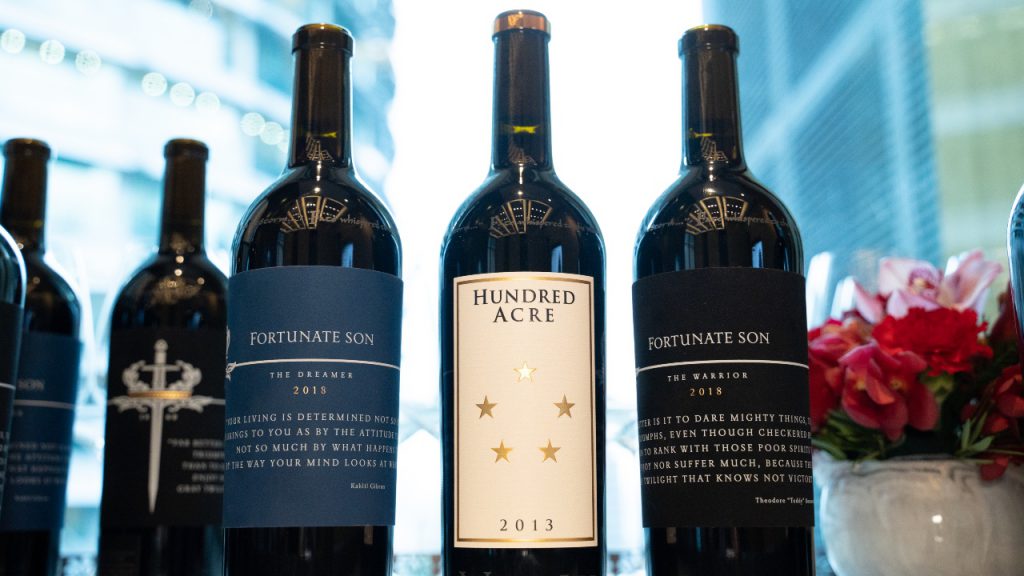 Sourced from small vineyards tended by seven farming families, some of which are three to four generations deep into the land, all of whom are paid a guaranteed price for their exclusive supply of otherwise hidden treasure. Combined with unspecified vineyard blocks to augment power and complexity, and aged 30 months in French barriques. Clean, clear nose of lightly cooked fruit complements a fragrance of roast chicken; strawberry, liquorice. "(T)he wine equivalent of a Wagner piece on a stormy night after unexpectedly making an enormous sum of money," Woodbridge writes. Tellingly, enjoyable with Golden Broth with Superior Bird's Nest and Matsutake Mushroom, as well as Wok Fried Celery, Lily Bulb with Tremella Frondusa Fungus in Yam Ring.
---
Fortunate Son
The Warrior
Cabernet Sauvignon 2018
As with The Dreamer, sourced from select family vineyards, some of which border Harlan Estate. Deeper tonality, a clear mineral spine. Poured with Wraith, below, and similarly matched with Stuffed Jumbo Asparagus with Bamboo Pith and Black Garlic, with success by virtue of its freshness, structure and developing complexity.
---
Hundred Acre
Wraith
Cabernet Sauvignon 2018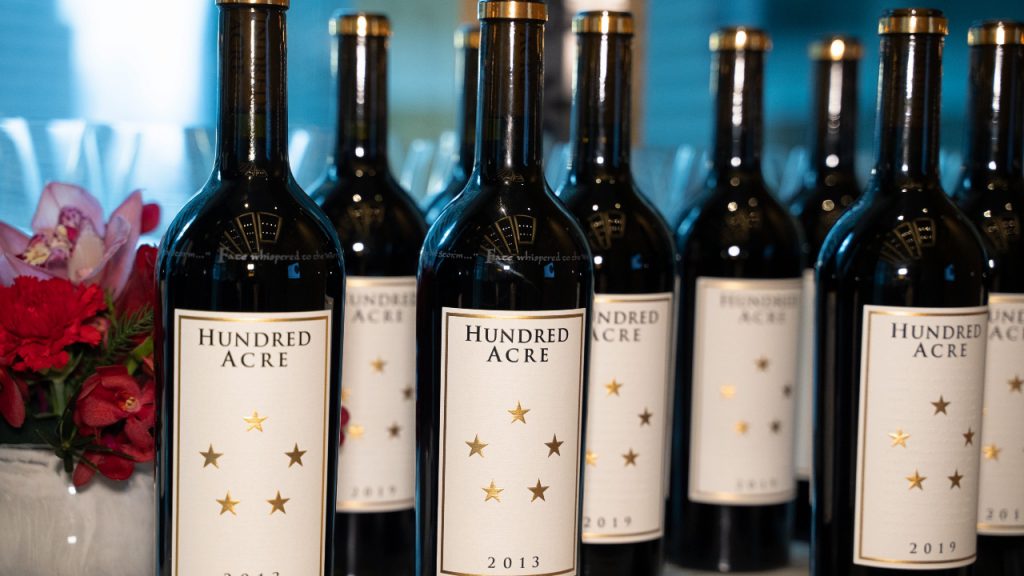 With its provenance of valley floor, hillside and mountain of Hundred Acre's Morgan's Way, Ark and Few and Far Between vineyards, the pampering that the grapes of Wraith receive make them the equivalent of Tajima-gyu cattle in Japan's Hyogo prefecture, source of pukka Kobe beef. A light and strong tannin and mineral structure contains the fine balance of deep fruit and evolving savoury flavours. Properly lightly bitter with graphite on the very long finish. Bears more than a passing resemblance to The Warrior, its striking partner in a championship winning team.
---
Hundred Acre
Morgan's Way
Cabernet Sauvignon 2019
Renamed from Kayli Morgan for this 20th anniversary vintage of Hundred Acre in "a slight nod to the power a little girl's love like hers has on me", Woodbridge writes in tribute to his only daughter. He paid a record figure for the vineyard at the base of Howell Mountain in 2000, and harvested the grapes a mere six weeks later to make the first vintage of Hundred Acre. Unusually, the cabernet sauvignon is planted in "chocolatey" clay which retains moisture, rather than in well-draining soils. Tasted before reading the notes, the wine's fullness and roundness of flavours, and fleshy, almost corporeal body are effusive and warmly embracing; it wears its fruit and chocolate (not cacao) scent like a familiar perfume.
---
Hundred Acre
Ark
Cabernet Sauvignon 2019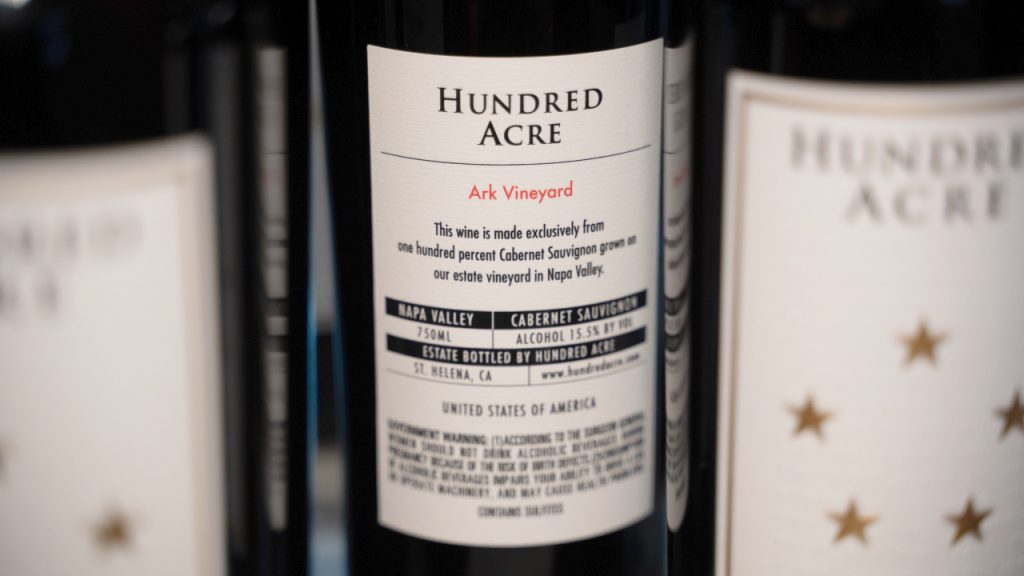 Also located at the base of Howell Mountain, and distinguished by a 180-degree formation shielded from the afternoon sun by Glass Mountain. First planted in the 1880s but required five years to restore because of the lingering effects from the Prohibition era. Comprises nine different blocks of 'cab sauv' "planted meter by meter in nine different volcanic soil strata".
Primary notes of sweet capsicum and cinnamon indicate youthful potential. Fleshy on the palate, its ample weight, like Morgan's Way, moves effortlessly, a torquey 12-cylinder engine. Poured with Morgan's Way, and a well-matched flavour profile for Wok Fried Luffa Melon with Assorted Mushroom and Sliced Black Truffle.
---
Hundred Acre
Fortification 2007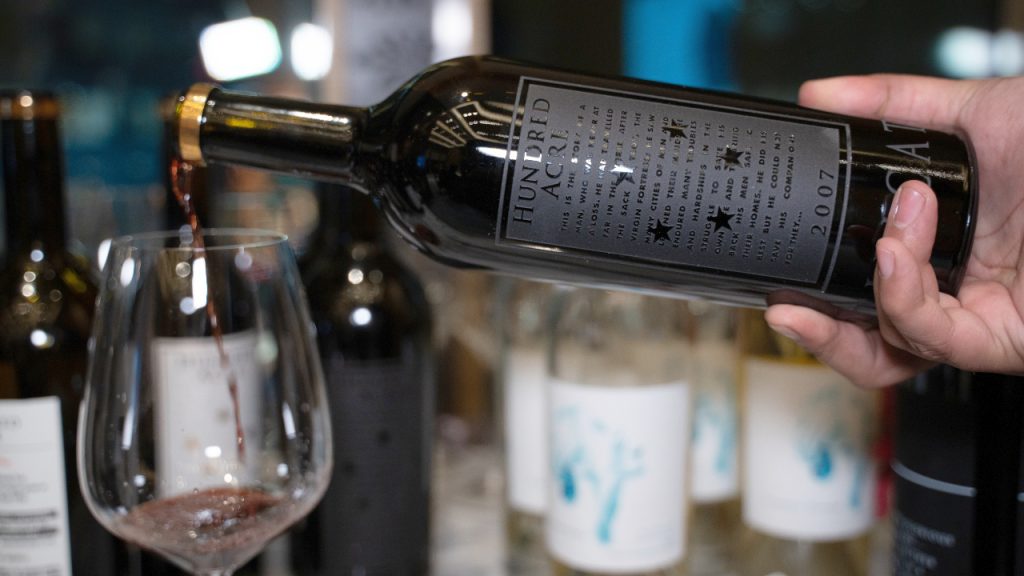 If the Hundred Acre wines have an X.O-like cast to them, then this is XOXO, a masculine and feminine creation of extraordinary depth of sweetness that nonetheless greets you like a light kiss on each cheek. A distilled single vineyard wine from (the then called) Kayli Morgan vineyard, fortified with brandy made from another single vineyard, aged in used wine barrels for six years or so. Extremely hard to resist on its own, it also went hand in glove with the evening's Poached Snow Egg of ginger cream, Asian pear granita, bird's nest and caramelised bamboo sugar. Perhaps the epitome of Hundred Acre's more is more philosophy. The bone marrow of dessert wines.
---
Photos: Kent Sim / Bordeaux Liquid Gold