Although its founder may have first made his name more than two centuries ago through its suitcases, Louis Vuitton has made waves in the gem world since its first foray into high jewellery art in 2008. Only 15 years on, the luxury house has cemented its standing as a powerhouse in the industry with the debut of Deep Time, the fifth high jewellery collection designed by Francesca Amfitheatrof, artistic director for watches and jewellery. In its largest high jewellery collection to date with a record number of precious stones, Louis Vuitton fuses the origins of geology and the geological legacy that is at the heart of jewellery and gemstones.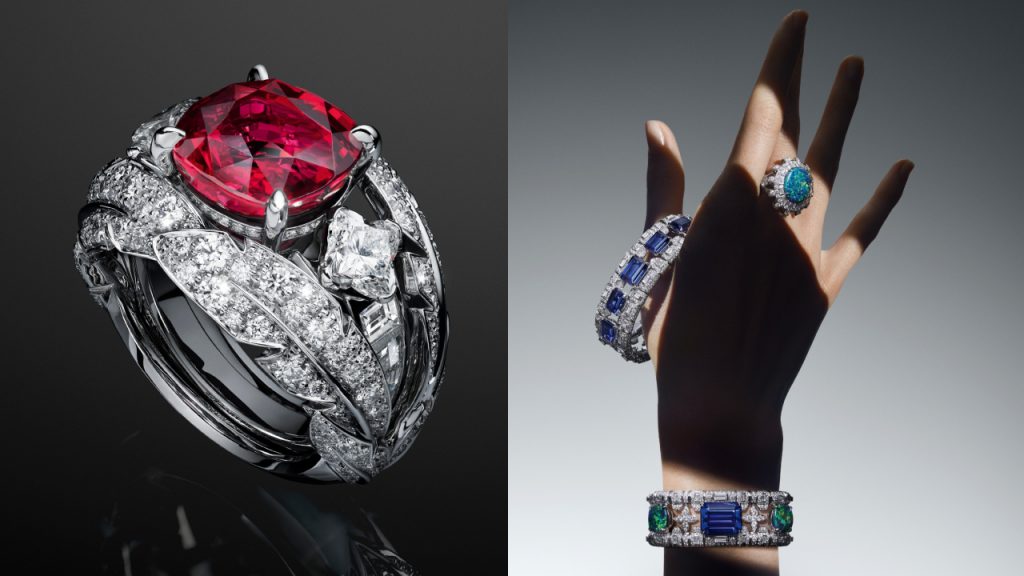 The first chapter, Geology, was unveiled on the world stage, fittingly at the Odeon of Herodes Atticus in Athens, the world's oldest and finest open-air theatre. Ana de Armas, the face of the campaign, as well as Léa Seydoux and Urassaya Sperbund, were in attendance to augment the prestige of the event. In a spellbinding display by avant-garde director Dimitris Papaioannou, the extraordinary pieces took centre stage with a captivating musical performance by French violinist Renaud Capuçon. Further elevating the presentation was an extraordinary selection of wonderous treasures from the natural world that was curated by Emma Hawkins alongside Amfitheatrof.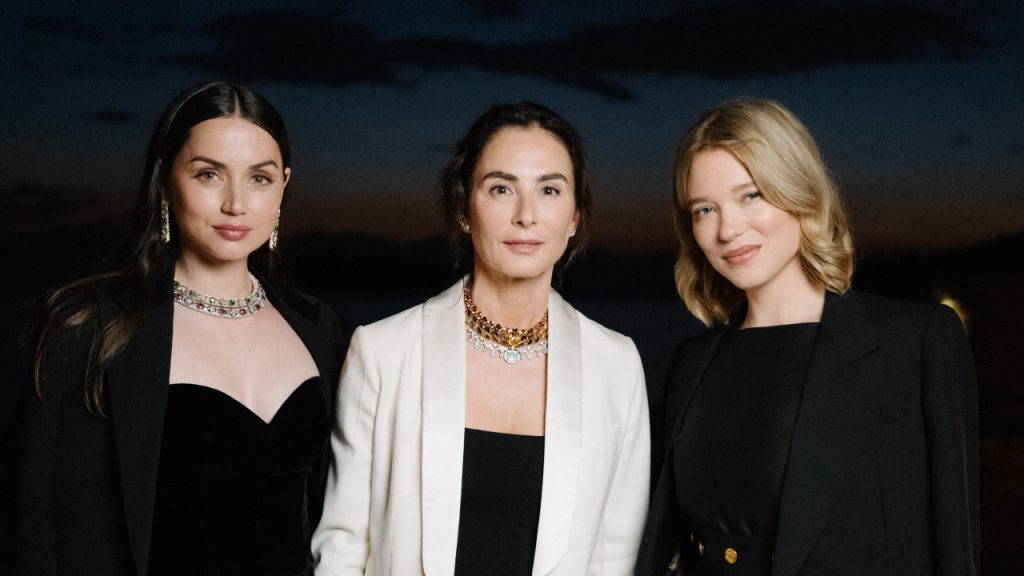 "We have this incredible ambition to find the most beautiful stones, which in Deep Time are all connected to a theme, whether formed from lava, hail from different continents or symbolise an idea," Amfitheatrof says. "Deep Time is a celebration of the past, but also the beauty of nature and the incredible fragility of life."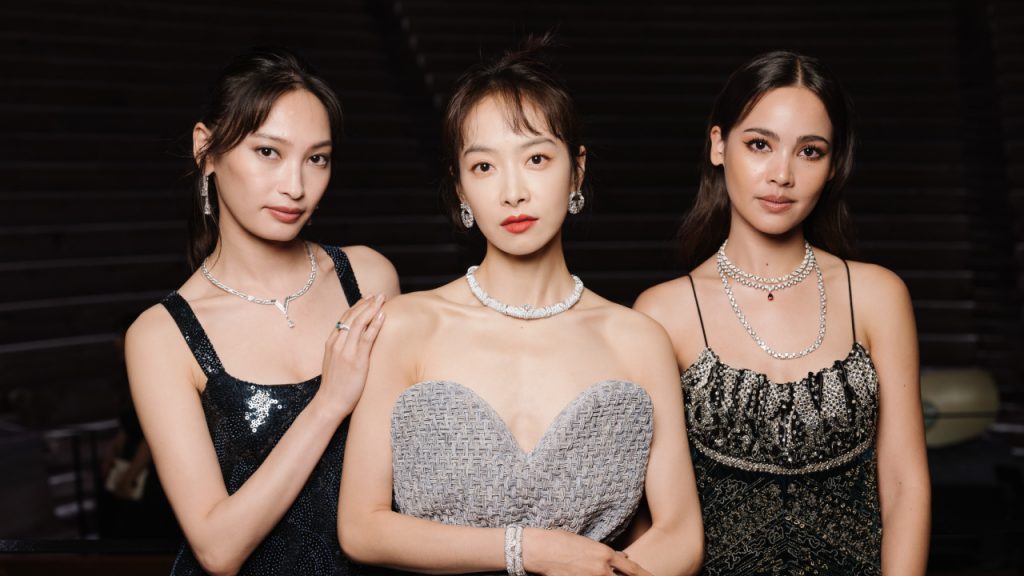 The debut of Deep Time saw the reveal of 95 pieces from 13 out of 16 themes. Come January 2024, the second chapter, Life, will be launched where the French maison's story began—in Paris, with an additional 75 pieces from the remaining themes.
Chapter 1: Glittering Gems of Geology
The first act of the collection, Geology, voyages millennia into the past and charts the planet's extraordinary evolution. Here, the natural forces of Earth are embodied through Louis Vuitton's savoire-faire including themes such as Wave, the power of the surging ocean, Rupture, the separation of the supercontinent, and Drift, an ode to the sea and sun through the magnificent pairing of aquamarines and yellow sapphires.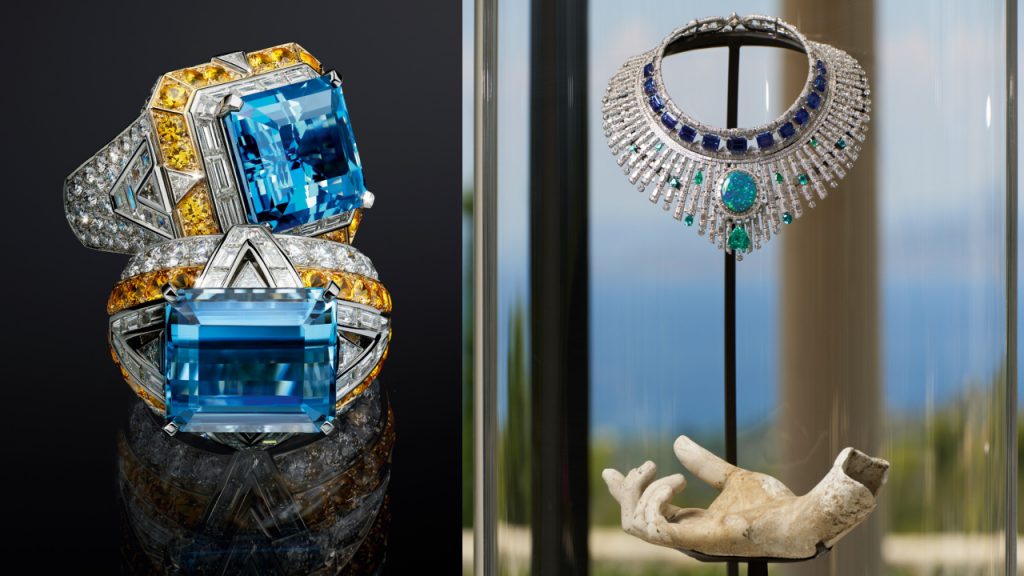 The chapter opens with the Gondwana set, named after an ancient supercontinent that covers present-day South America, Africa, India, Australia and Antarctica. Echoing the earth's circular movement is a spellbinding seven-row platinum necklace comprising concentric circles. These are accentuated with seven exclusive no-oil Colombian emeralds, which dovetail into the maison's signature V motif and culminate in a 4.51-carat emerald of a rare blue hue and impeccable saturation. Fused with 259 custom-cut diamonds set in symmetrical white gold bands, the result is a cogent signifier of refinement. This is complemented by a contemporary pair of earrings and an 8.08-carat emerald-cut emerald ring.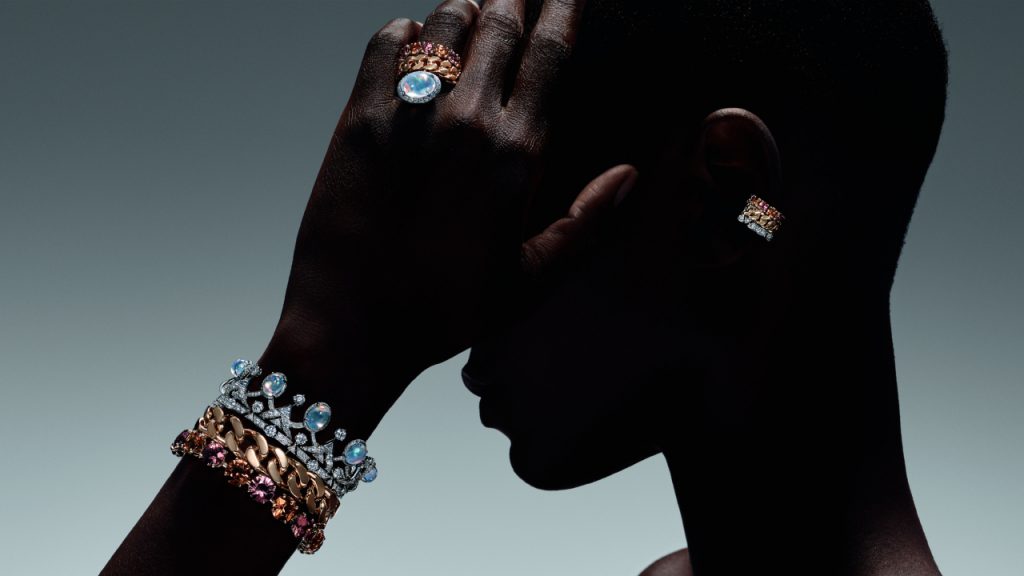 Next, the Volcano theme sets the collection ablaze with the designer's artistic imagination coupled with gemstones that naturally evoke imagery of volcanic eruptions and seismic activity. Utilising two stones befittingly formed in lava's intense heat and pressure, 168 carats of mandarin garnets and raspberry pink tourmalines form a high-collar necklace, a Louis Vuitton signature. Two thousand hours of meticulous work were poured into crafting the wearable work of art, a mix of fully articulated platinum and yellow gold bars sprinkled with 15 LV Monogram Star-cut diamonds. A matching dynamic cuff, a medallion-style necklace that is transformable into a brooch, and several stunning earrings complete the set.
Chapter 2: Breathing Life into Stones of Yore
The curtain rises for the second act, Life, a masterful dialogue between diamonds and coloured stones that allude to our complex and sophisticated universe. Eight themes illustrate an interplay of textures and versatility of the designs, with many pieces able to be worn in multiple ways. This begins with Origin, themed around a single cell that grows and multiplies, while Flight evokes the lightness of feathers. Consequently, Seeds, Flowers and Plants capture the beauty of flora with gems of vivid hues.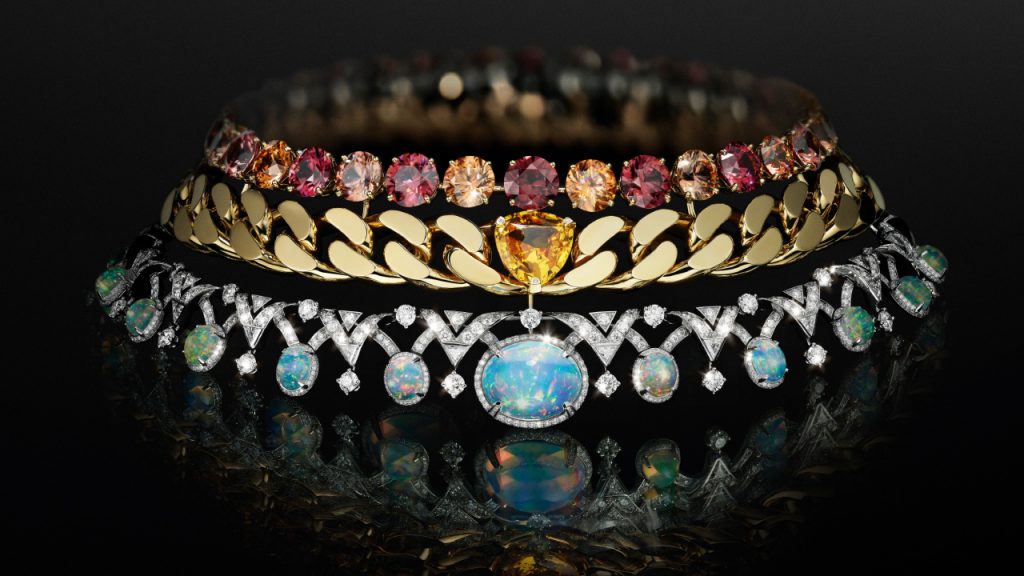 Meanwhile, Bones testifies to the miracle of evolution with the magnum opus of the collection donned by the muse of the house, de Armas. At the heart of the necklace are a 20.93-carat Paraiba tourmaline and a 43.58-carat opal, which was the most complex piece ever made by Louis Vuitton, requiring 4,500 hours of work.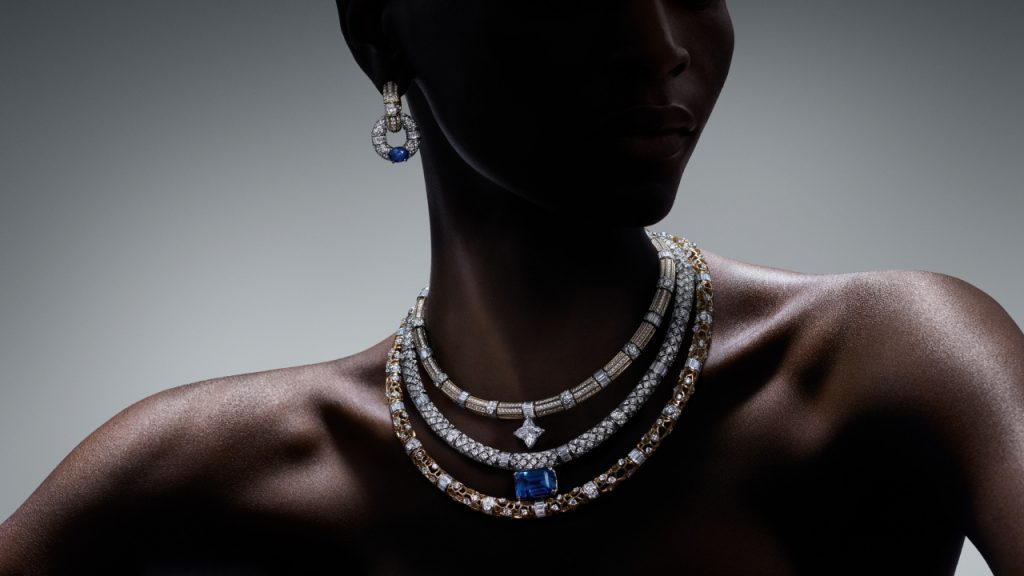 Fossils exhibits Amfitheatrof's dexterity at playing with textures to create an intoxicatingly alluring and exquisite arrangement of precious stones. "Fossils is really a roadmap, an imprint that tells us where we come from," she says. "Each strand of the necklace is unique and almost imprinted with a visual language that's left for us to read."
The suite features eight pieces in total, which embody relics of the past to trace Earth's origins. The necklace is a tour de force that required a total of 1,740 hours of work with three tubular bands of distinct shapes: Louis Vuitton's iconic Damier pattern in white gold and diamonds, white gold beads fashioned into a trellis pattern of pave diamonds, and a delicate honeycomb motif. Instead of a singular crown jewel, the piece boasts a duo of an enthralling 27.83-carat sapphire from Sri Lanka and a 5.52-carat Monogram Star-cut diamond.
Myriad is humanity reduced to its most basic form, with an undulating structure of diamonds alluding to the infinite movement of double-helix DNA curves. A row of individual bejewelled nails set en tremblant with its own diamond evokes piano keys being struck softly that shimmer with each movement of the wearer. Its ultra-modern design, which would not look amiss on a Renaissance painting, also features a detachable 4.11-carat LV Monogram Star-cut diamond that can be worn on a matching chain. The Myriad necklace comes with matching earrings in white gold and diamonds.
As Louis Vuitton's ingenuity and boundless creativity revolutionised the fashion industry over a century ago, Amfitheatrof's willingness to experiment and break boundaries in the world of high jewellery is a testament to the fact that the founder's visionary spirit lives on through his successors. With any of the avant-garde pieces, the wearer will be ready to take on the world and we, for one, are already breathlessly awaiting the second instalment.
---