Walk On The Wild Side
It's a cool March evening in Hong Kong, and I'm seated next to chef Akrame Benallal in Bibo – a terrific French restaurant filled with art pieces worth an emperor's ransom – awaiting the arrival of a dish of rose-pink pigeon. "Everyone has un jardin secret – a secret garden," he muses as we take in the sight of priceless works by Jean-Michel Basquiat, Banksy, and Mr Brainwash. "You, me, and especially Perrier-Jouët." And so begins Robb Report Malaysia's adventure in Hong Kong with the French chef – one of Maison Perrier-Jouët's Artisans of the Wild.
Engaging, playful, and brilliantly creative, Benallal seems to thrive on the energy of the city, sharing its irrepressible appetite for all that is new, exciting, and unconventional, as well as its penchant for living life at a rapid-fire pace. Although much of his time is spent at his eponymous Michelin-starred restaurant in Paris, he knows Hong Kong and its secrets well, given that he established a restaurant (also named Akrame) in Wan Chai five years ago. As part of a community of free spirits from creative fields tasked with the responsibility of exploring the different facets of Maison Perrier-Jouët, Benallal is an ideal guide to the island and Perrier-Jouët's hidden treasures within it.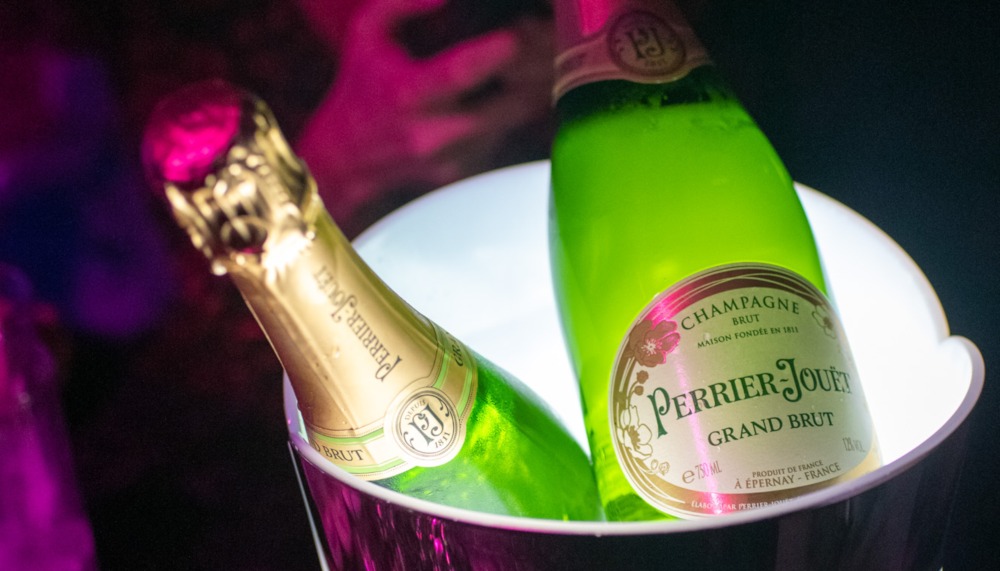 The next morning, we head straight for Victoria Peak and take a brisk walk along Lugard Road, which offers a tourist-free view of Hong Kong's buffet of skyscrapers, all wreathed in mist as the day begins. From there, we plunge back into the city and emerge in Tai Kwun, a former Hong Kong prison and police station that now serves as a centre for heritage and arts. It also houses HyperNature by fellow Artisan of the Wild, Bethan Laura Wood: a tree designed for the Maison in 2018, inspired by her visit to the family home of Maison Perrier-Jouët in Epernay. With intensely coloured petals that evoke the stained glass windows of the Belle Epoque era and graceful, curving branches that let you pluck champagne glasses from them, it becomes a charming champagne experience and tasting ritual.
Equally impressive is the lunch that follows in Akrame – a demonstration of the chef's deep understanding and appreciation of Maison Perrier-Jouët's distinct cuvees. A self-declared fan of their Blanc de Blancs, Benallal rises to the challenge of pairing a crisp yet intricate Perrier-Jouët Belle Epoque Blanc de Blancs 2006 with a robust, muscular combination of rice with cuttlefish and smoked eel. Ever one for making the most of a prestige cuvee, he also presents a disc of crab and paper-thin button mushrooms, accompanied by a hazelnut butter sauce to tease out the champagne's perfumed, honeyed notes.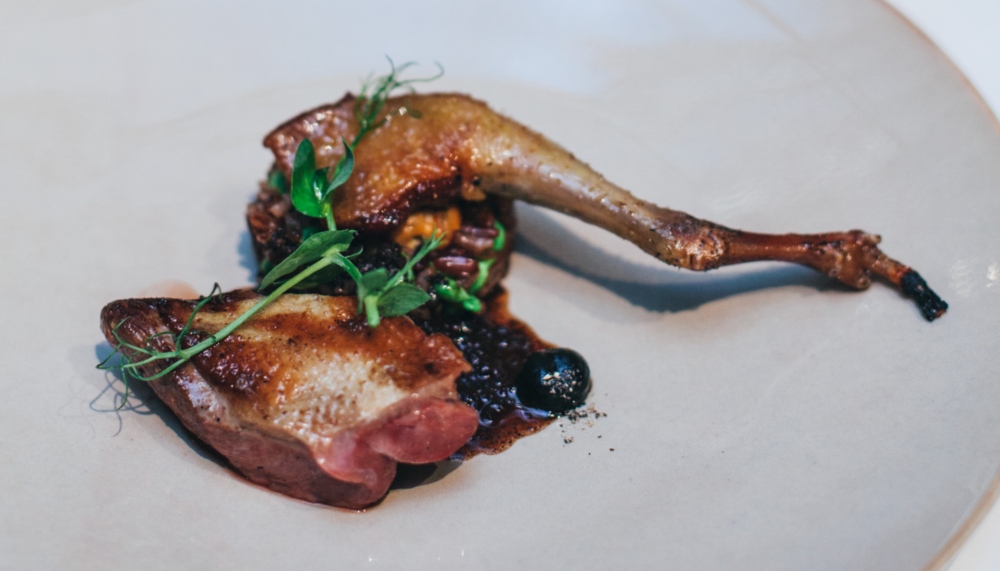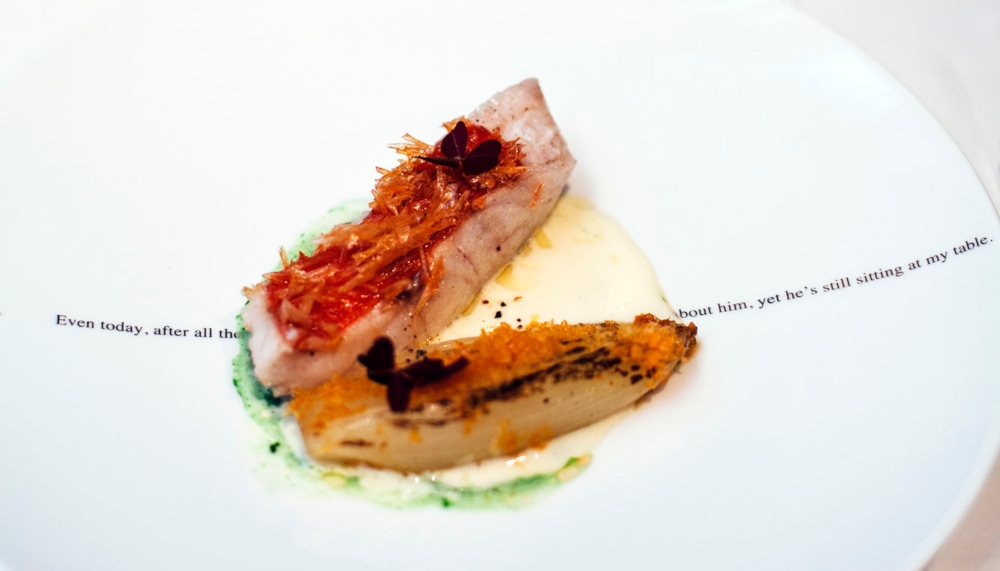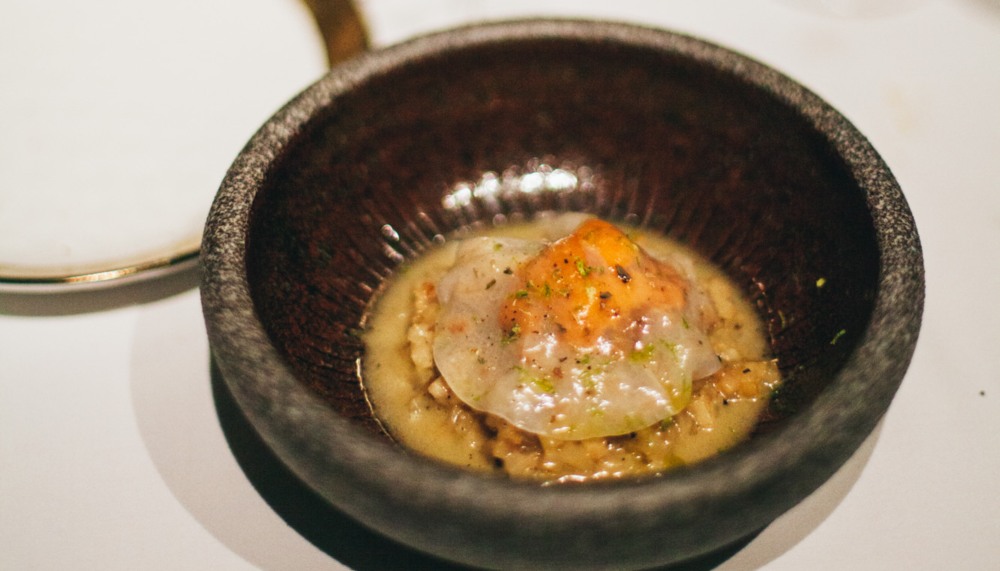 Hervé Deschamps, the Maison's Cellar Master, is also present to introduce the new Perrier-Jouët Belle Epoque 2012 cuvee, which he describes as "A true icon: a rare and alluring wine remarkable for its floral harmony and its richness." Perhaps as a contrast to the spray of white Japanese anemones that famously appears on the Belle Epoque bottle, Benallal serves us his multicoloured Jackson Pollock turbot, placing art on our plates to match the masterpiece in our champagne glasses. A main of spiced duck and pistachio cream highlights the richer, almost Christmas-like flavours derived from the Belle Epoque 2012's subtle incorporation of Pinot Noir and Pinot Meunier grapes.
After dessert – a glazed hazelnut parfait with yoghurt, savoured with a glass of Perrier-Jouët Belle Epoque Rosé 2006 – Benallal has just enough time to reward himself with a cigar (he's a fan of Cubanos) before we're whisked away again. We arrive in time to catch the closing stages of one of Hong Kong's wet markets, where the chef delights in peering at ingredients both familiar and unfamiliar – fish bladders, preserved eggs, and beef freshly hacked from the bone. "It is the same with myself and Perrier-Jouët," he remarks, "Everything comes pure and direct from the product."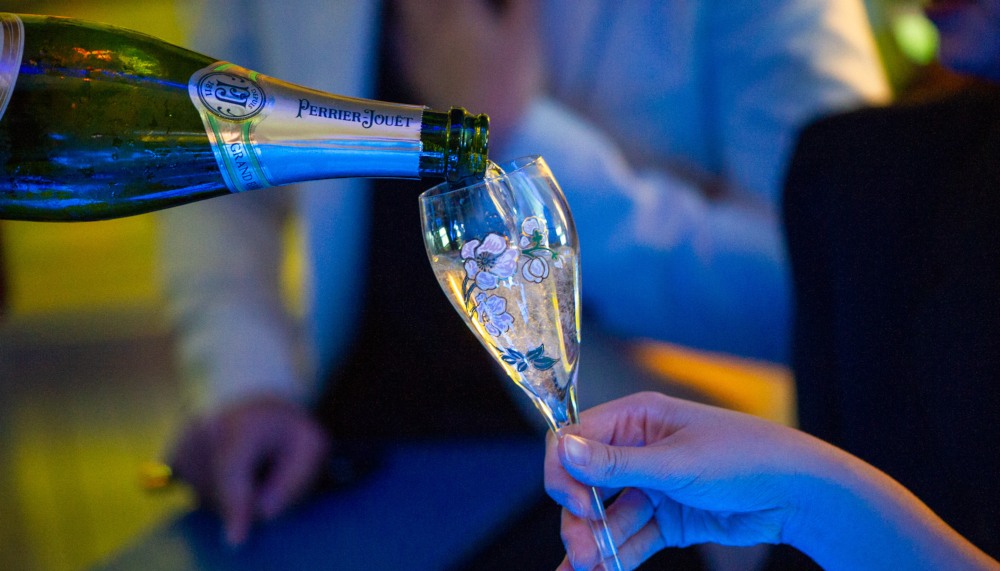 Evening falls, and we find ourselves up on a rooftop bar, making toasts with several more bottles of Perrier-Jouët to the past 24 hours and to Benallal's daring vision of gastronomy. It's been a whirlwind journey of art, nature, passion, and artisanal savoir-faire – and one gets the sense that Benallal wouldn't have it any other way.