Is there anything more hedonistic than cruising through the open seas in a luxuriously-appointed private vessel with the wind in your hair, two Rolls Royce Phantoms, a 24-inch sailboat, and a Bell 429 helicopter tucked away in a secluded wheelhouse and deck? Benetti's hybrid luxury yacht (model FB272 M/Y), called the Luminosity, is the ocean-based answer to that question.
Every aspect of this vessel has been thoughtfully designed to deliver a grand experience at sea. The Luminosity can accommodate up to 27 guests with 12 fully-equipped suites, is powered by an innovative hybrid propulsion system for a completely silent and vibration-free navigation, and boasts a sleek design that cleverly uses glass to distinguish its connection to the natural world. Over 800 square metres of 3-metre-high windows and exterior glass wrapping the main decks gives the ship an ethereal floating appearance, especially at night, offering uninterrupted views of the surrounding scenery.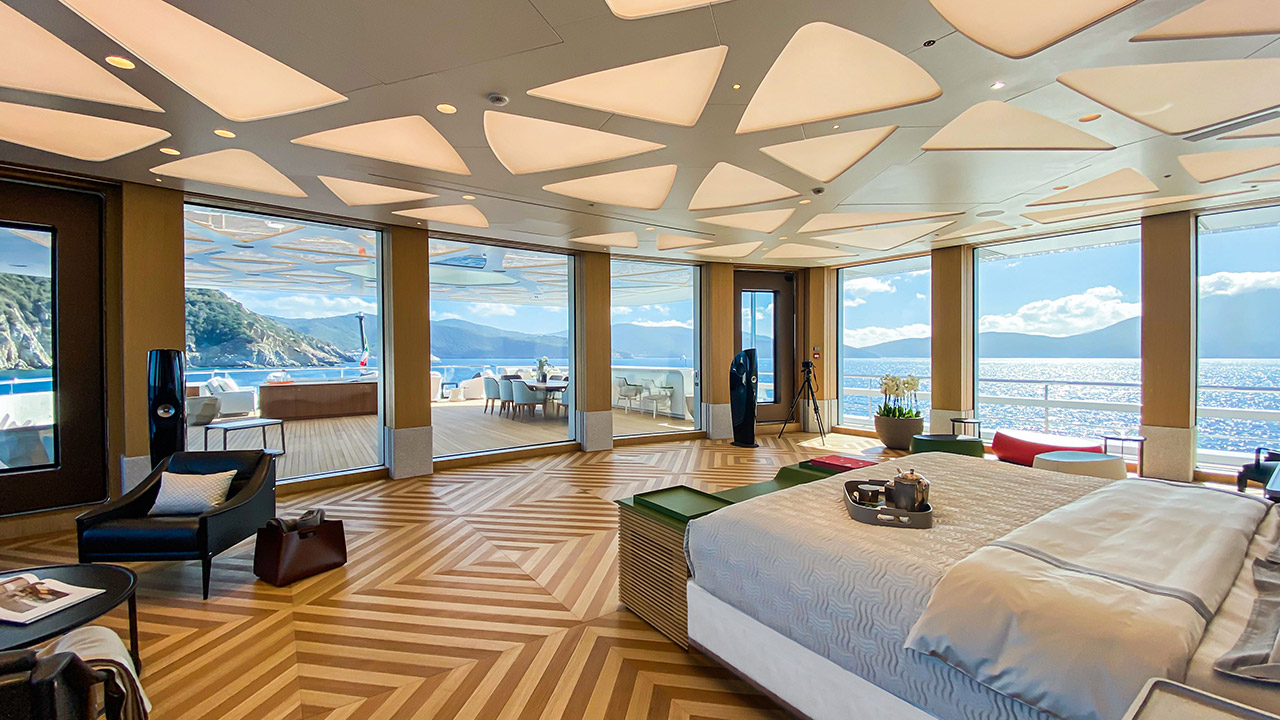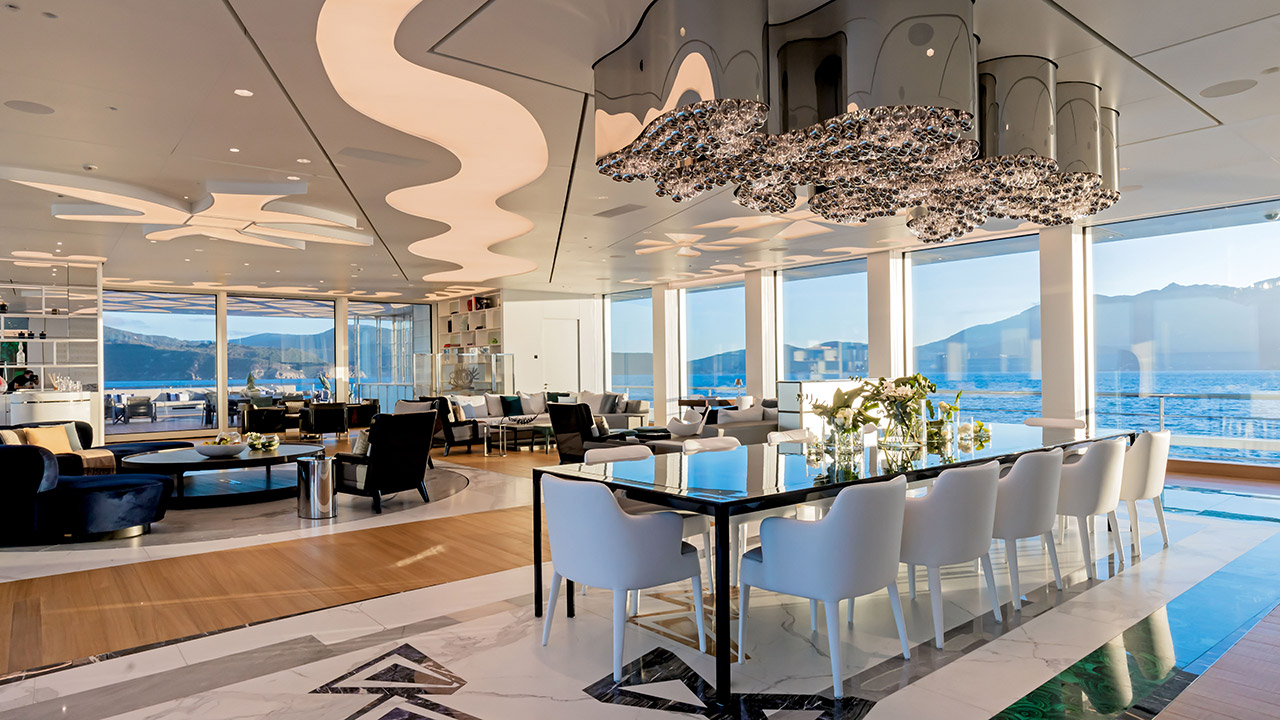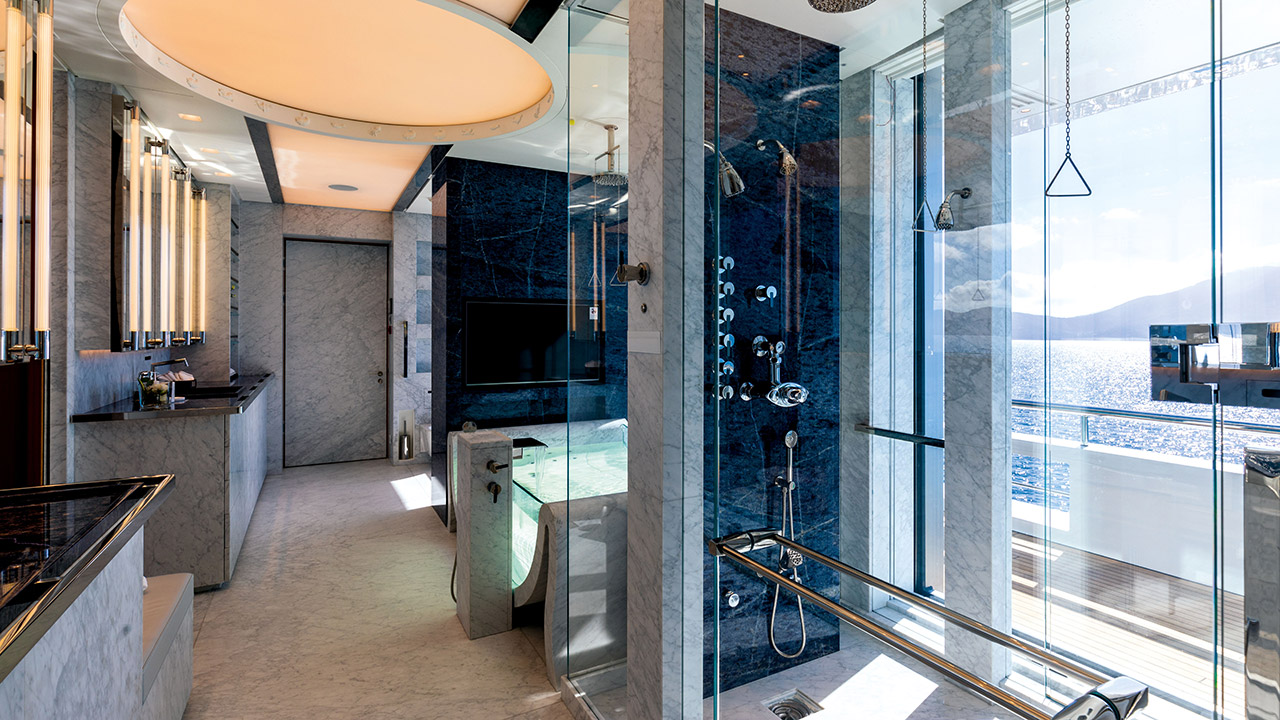 The luxury yacht's pièce de résistance is undoubtedly the owner's deck, an impressive space below the bridge defined by its commanding views. Down a corridor decorated with ten different types of marble is the stateroom, itself punctuated by granite details. To better soak in the scenery the owner's bed is capable of lifting electrically by 80 cm to enable an opportune viewing position. Behind the headboard is a virtual window displaying visible sights from the bow of the yacht via a hidden camera. A private massage room and an ensuite bathroom is accessible via a walk-in wardrobe, while the deck has three additional guest staterooms as well as a private study for the owner its own ensuite bathroom and a separate office for a personal assistant.
Up on the sun deck, a magnificent skylight fills the yacht with natural rays which bathes the 17-metre polished steel and glass staircase that passes through five of the yacht's six decks. Within the generously proportioned interior, a variety of glazed surfaces creates a constant impression of shifting light from the outdoors. A seamless continuity of indoor and outdoor spaces is possible due to clever use of materials and colours used to furnish and fit the yacht. A number of visual artworks designed to bring the natural energies of the organic world into the yacht's interior is also on display, with one such feat being the 370-square-metre panel depicting a moving forest which stretches along the height of the main lobby stairwell.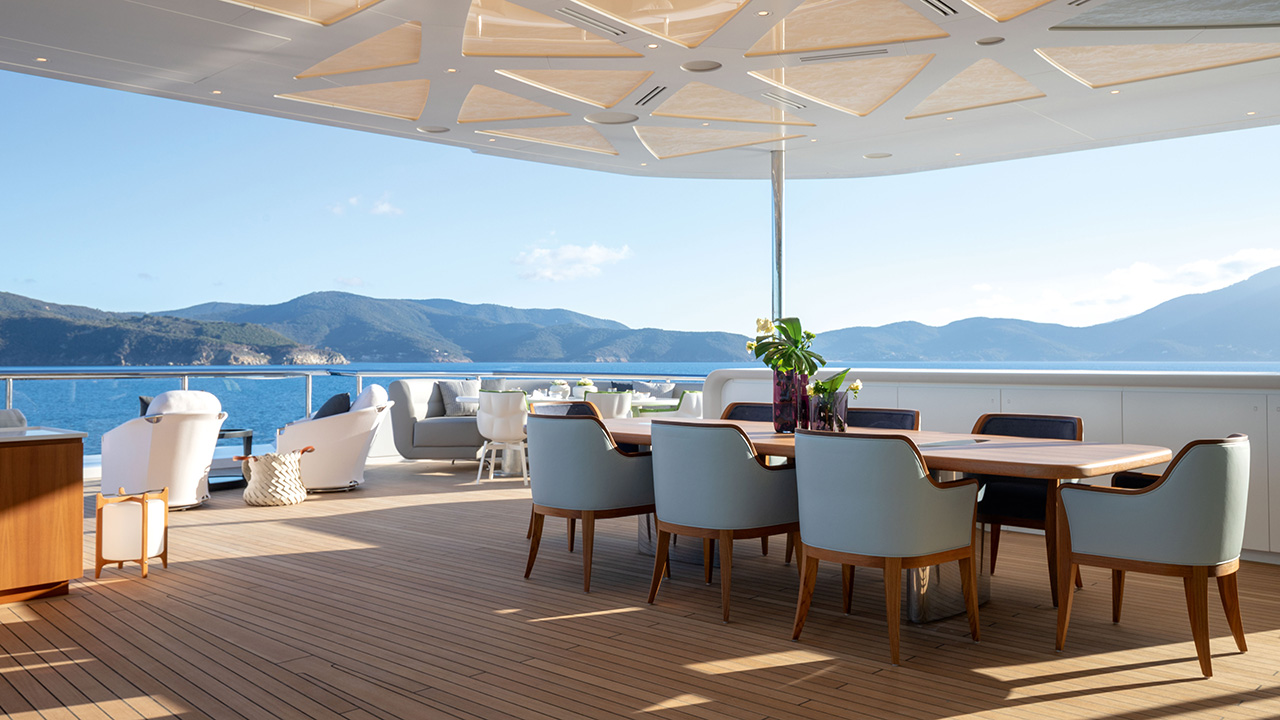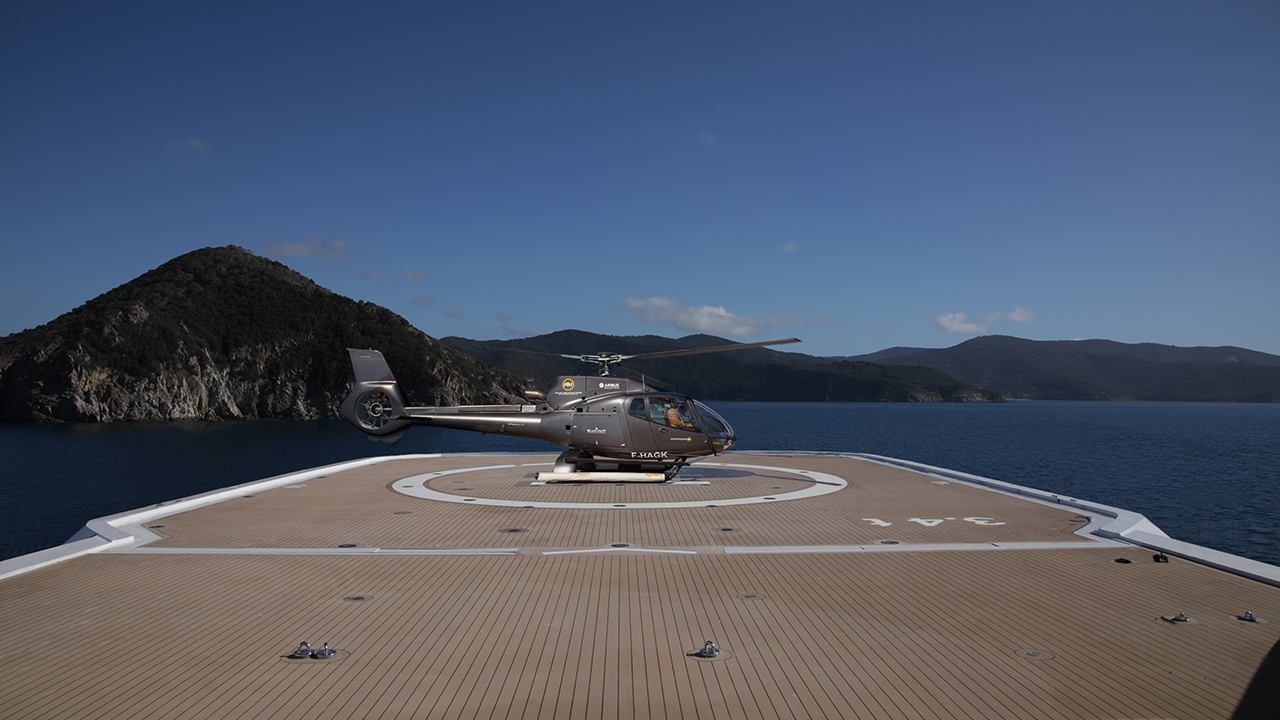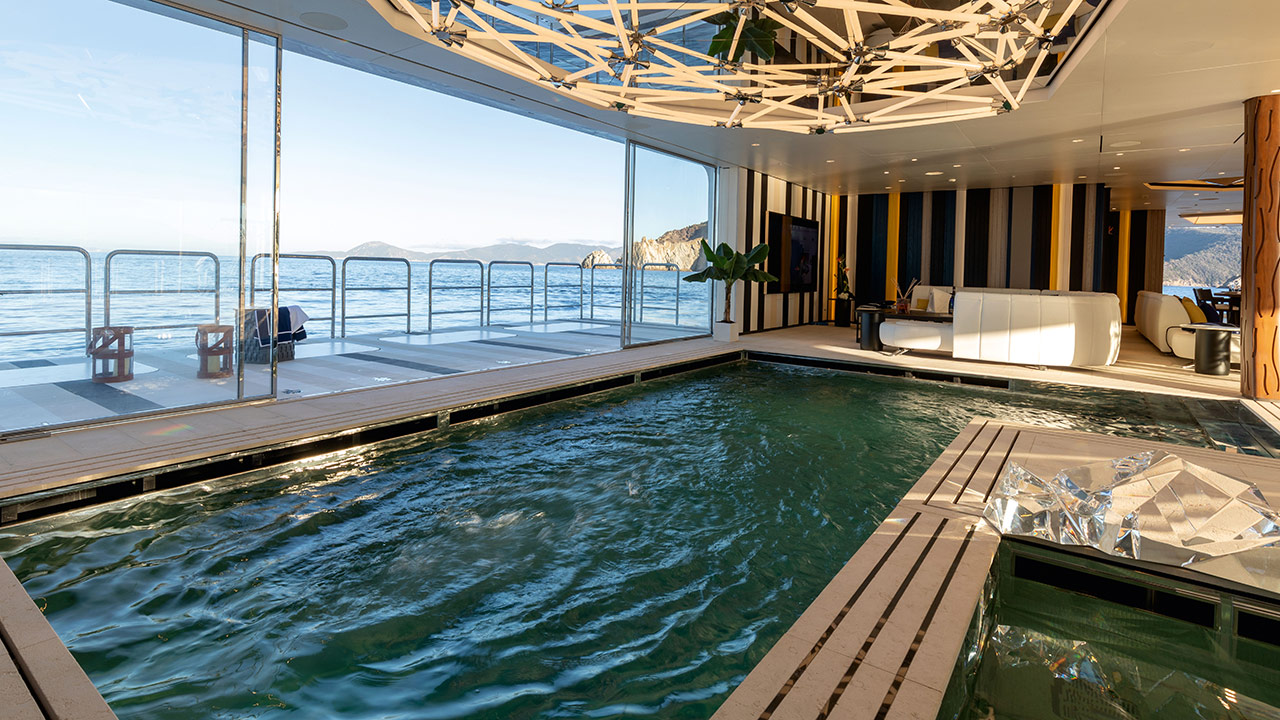 The communal main deck is an inviting area designed to enhance guest relaxation, with three staterooms each offering its own design and materials to give them each their own sense of identity. Adjacent to this area is a large galley equipped with state-of-the-art equipment one would typically find in the kitchens of world-class restaurants. Towards the bow is an enormous tender bay designed to accommodate a custom-built 40-inch limousine tender, 40-inch landing craft, and an additional 40-inch luxury tender. A private health club and an in-house spa is the place to be to rest the body and mind, while a fully equipped gym sits right on the water to allow for invigorating workouts thanks to the ocean breeze.
The yacht's main deck also features a 30-square-metre swimming pool perfect to soak up the sun during the daytime. Come nightfall, the ship lives up to its namesake and illuminates the night with a dazzling display of light, with the pool being able to transform into a dance floor with the push of a button, changing it into an entertainment area complete with bar space and social seating arrangements.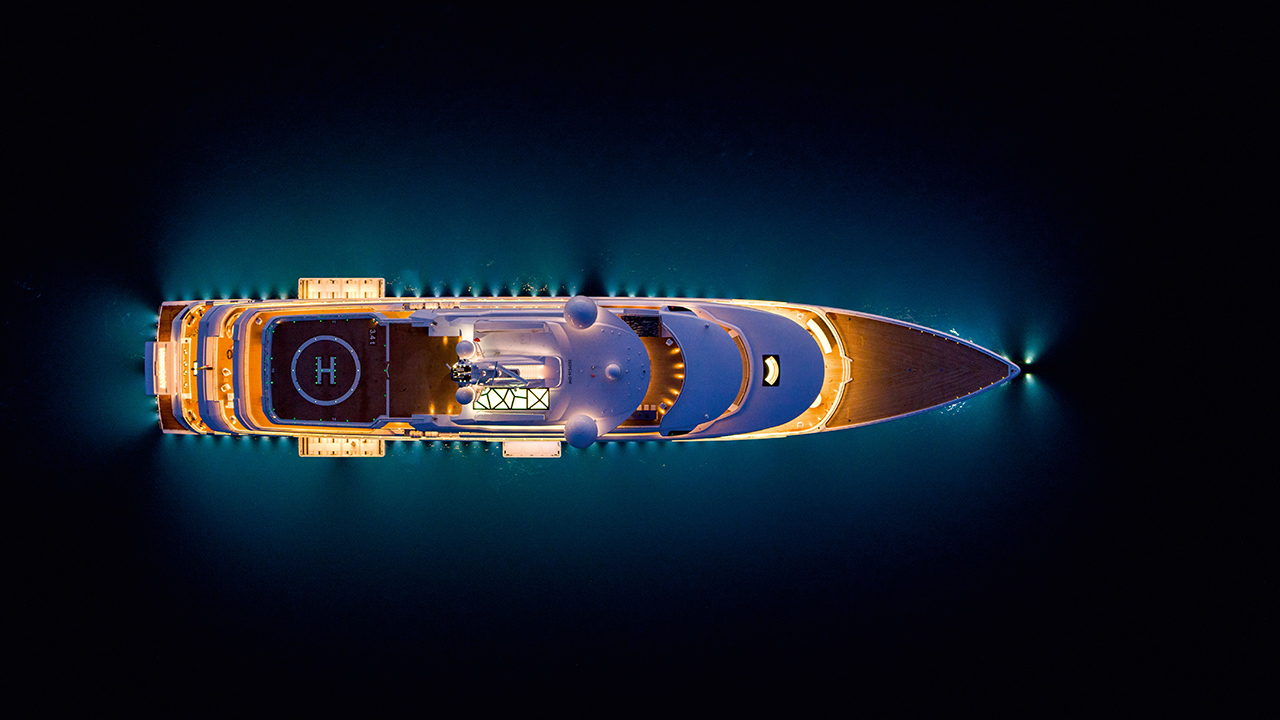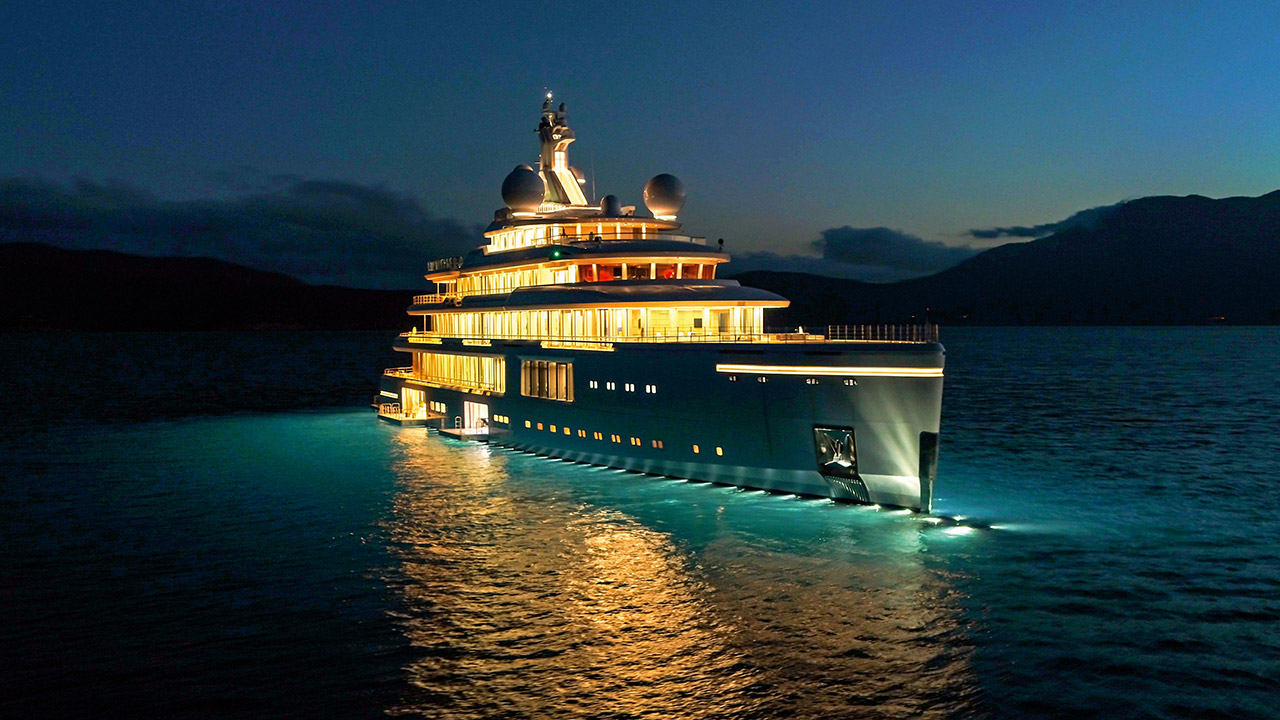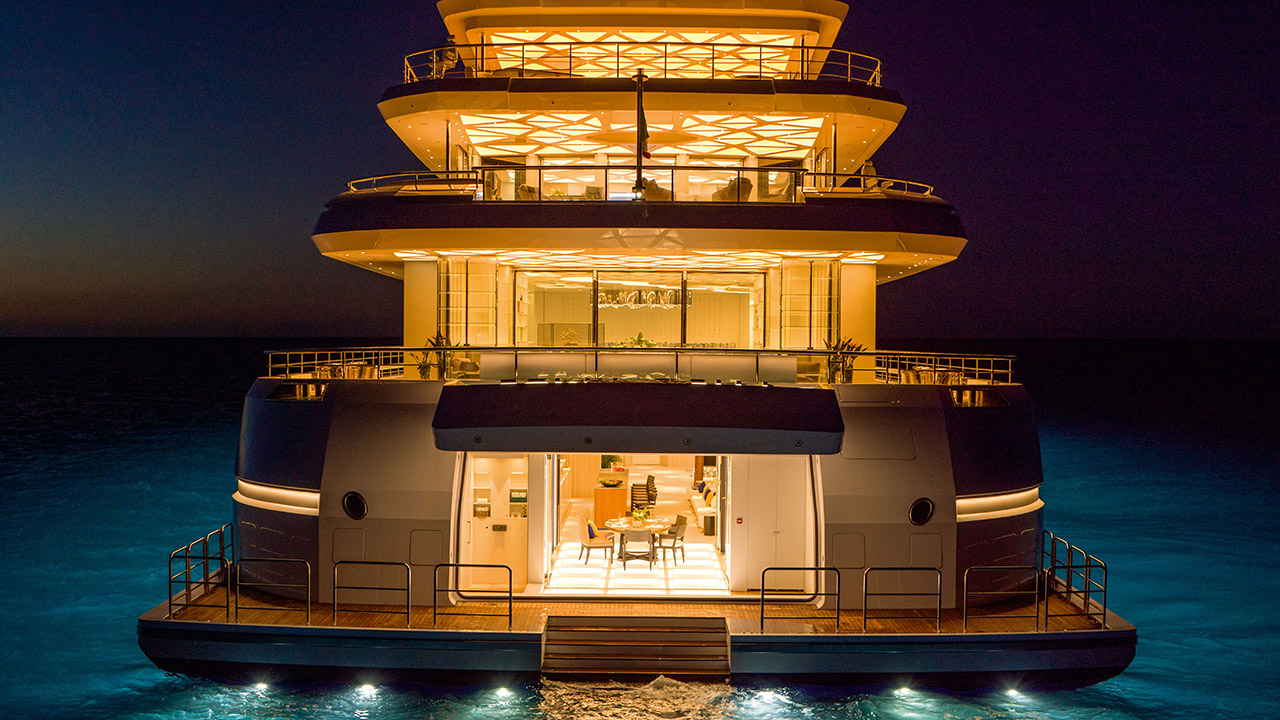 To ensure the Luminosity operates smoothly, its crew quarters can accommodate up to 37 members with their own galley and large mess. Built to the Passenger Yacht Code classification, Benetti went to great lengths to ensure that both the guests and hardworking crew can enjoy luxurious living spaces, with a large number of stringent safety systems in place to ensure a safe voyage. There's also a sophisticated medical centre that can cater to unexpected illness and injury, giving passengers peace of mind and yet another reason to extend their time at sea for yet another week.