At the recent International Luxury Travel Market (ILTM) Asia Pacific in Singapore, IHG Hotels & Resorts lifted its veil of secrecy over its brand-new pop-up immersive dining offering. Named the Regent Taste Studio after the Regent Hotels & Resorts (a component of IHG Hotels & Resorts), this interactive dining experience began with a cryptic location in the middle of an industrial park within Singapore.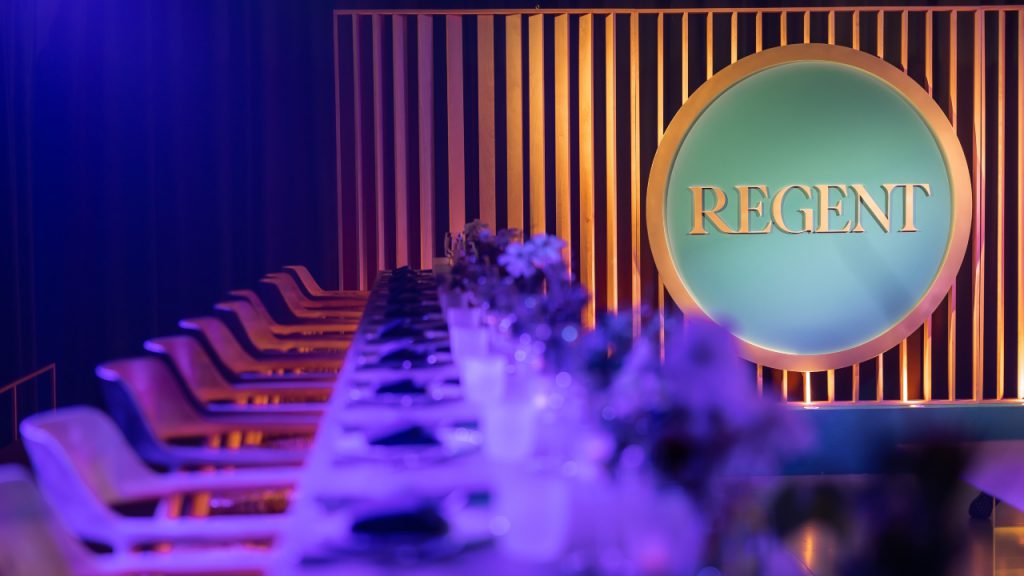 Upon arrival, guests were ushered into a beautifully fragranced lounge, where mixologists served up delicious concoctions. These drinks carried evocative names such as Coastal Topology; a pisco with herbal quina and floral gentian, accented with seaweed bitters for a hit of umami. Sunny Side Down (No-Lo) was the other drink, an homage to a favourite seaside spot with smoked agave syrup on a non-alcoholic spirit base, grapefruit cordial, pink peppercorn, grapefruit soda and squid ink salt to add marine depth.
The accompanying canapes which arrived would similarly bear marine-inflected characteristics and names. Sea Layers – a nigiri-style bite of nori mille-feuille, puffed tapioca, wagyu tartare and edamame. Puffins turned a humble muffin into a textured delight with sweetcorn, dill spinach cream, pickled cucumber and caviar, while Erosion recalled Vietnamese flavours with the Phu Quoc honey truffle on 24-month Iberico ham, burrata toast, thyme oil and lemon gel.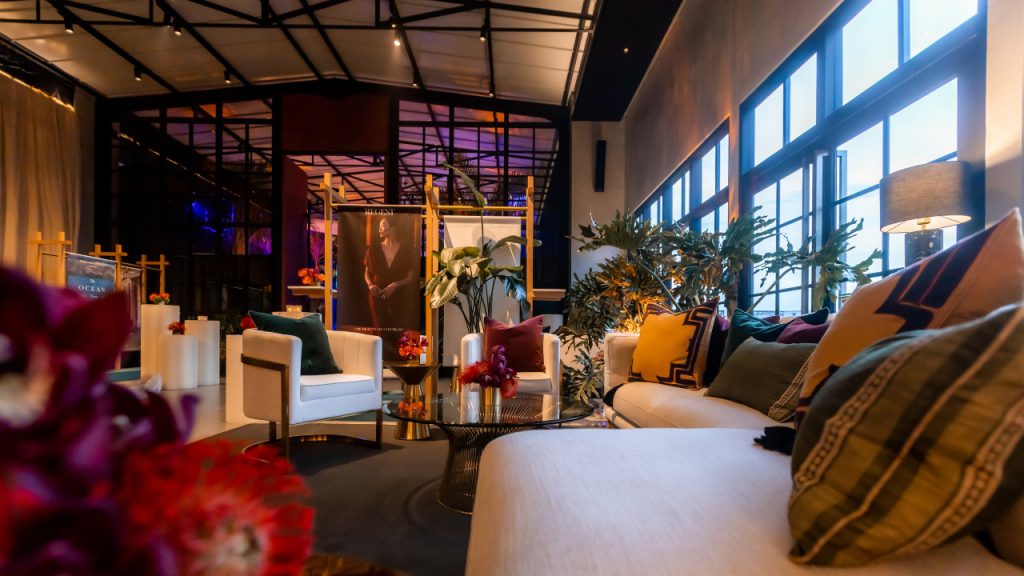 Naturally, various elements of the island escape of Regent Phu Quoc, the latest property flying the flag of Regent Hotels & Resorts, would come through most , given that the guiding culinary influence of the night was Bruno Anon, Regent Phu Quoc's Executive Chef and his Chef de Cuisin, Andy Huynh. For Anon, whose career journey has taken him through Michelin-starred restaurants such as L'Atelier de Joel Robuchon and Michel Roux Jr's Le Gavroche in London, he describes his cooking philosophy as: "based on sourcing locally and being influenced by my surroundings, so it banks on proximity and is constantly evolving because of my work in many different countries. For me, a vital element of my cooking is understanding the heritage and traditions of a destination, being inspired by the local culture, and creating experiences that will be contemporary and innovative but at the same time respect the raw produce and practices."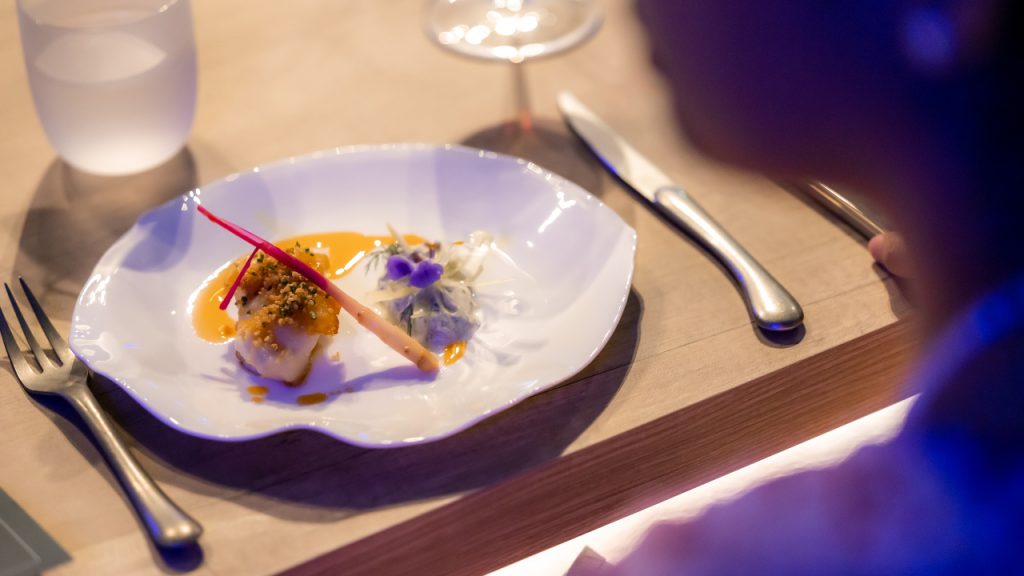 It would not be long before the bevy of hostesses at the Taste Studio would usher the guests through the doors, across a walkway and into a theatrical dining area. Here, guests were fully immersed and introduced to the novel pop-up concept of the Regent Taste Studio, a one-of-a-kind dining experience which revolves around a constellation of creatives; artists, fashion designers, film producers and musicians, in concert with Regent chefs to craft indelible moments.
On this particular night, Mark Rios a.k.a. Mr Dripping, a Spanish visual artist, was introduced to the audience. His unique dripping technique – in which his brush never touches the canvas – allows lines of paint to fall fluidly and create accurate and yet seemingly uncontrolled visuals. His work has endeared him to a range of celebrities such as Will Smith, Tom Cruise and the late Diego Maradona as well as notable footballing stars Sergio Aguero and Neymar Jr.
Before long, the culinary parade began, with Mr Dripping on one canvas and chefs Anon and Huynh at another station, providing a visual spectacle to their creations. "Our intention is to deliver unforgettable epicurean experiences, and we are delighted to introduce another aspect of the Regent guest journey with the launch of Regent Taste Studio," said Tom Rowntree, Vice President of Global Luxury Brands for IHG Hotels & Resorts.
"Combining emerging culinary talent and creatives across music, design, performance and visual art, the Regent Taste Studio is something pretty special," he continues, adding, "we created the Taste Studio to appeal to the most discerning guests – globetrotters and tastemakers who appreciate design and craftsmanship, and seek deeply sensorial, immersive experiences rooted in authenticity."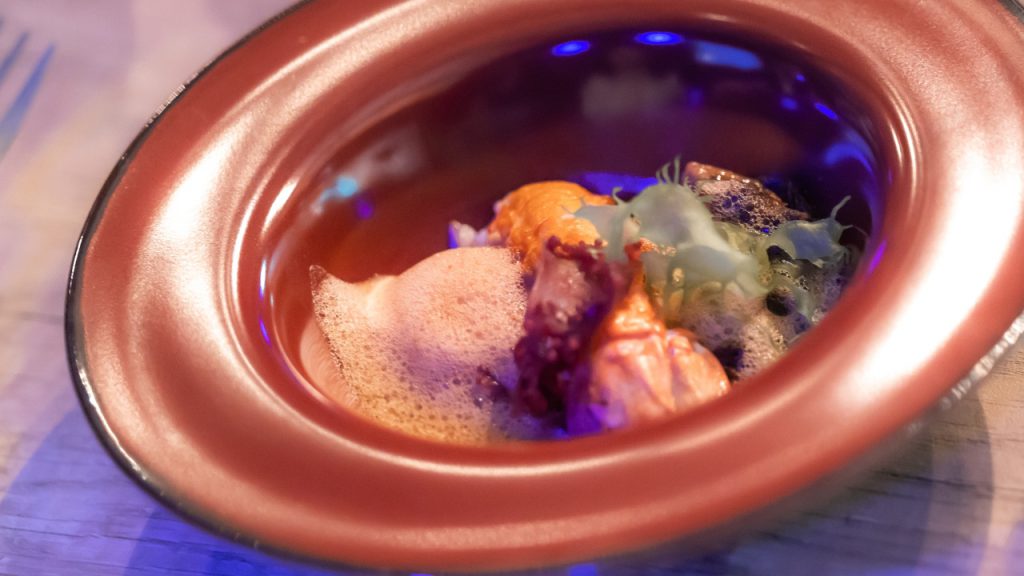 The diners at the inaugural Regent Taste Studio were soon lulled into a gastronomic rhythm of food, excellent wines and the hypnotic art of Mr Dripping. A chilled sweetcorn chawanmushi with corn espuma and parmesan crisp opened the evening. Dinner then segued into toothsome seared langoustine on manchego risotto and indulgent red prawn bisque. Then came the luxuriant Patagonian toothfish over crispy quinoa and a caper tzatziki sauce.
The biggest gustatory highlight of the evening was reserved for the fourth course, a melt-in-the-mouth matsusaka beef with white balsamic and anointed with punchy Phu Quoc chili yuzu kosho. The tender, juicy and marbled meat was heightened by a 2016 Jonata El Desafio Californian Cabernet Sauvignon, an estate wine from the people who produce cult superstar Screaming Eagle.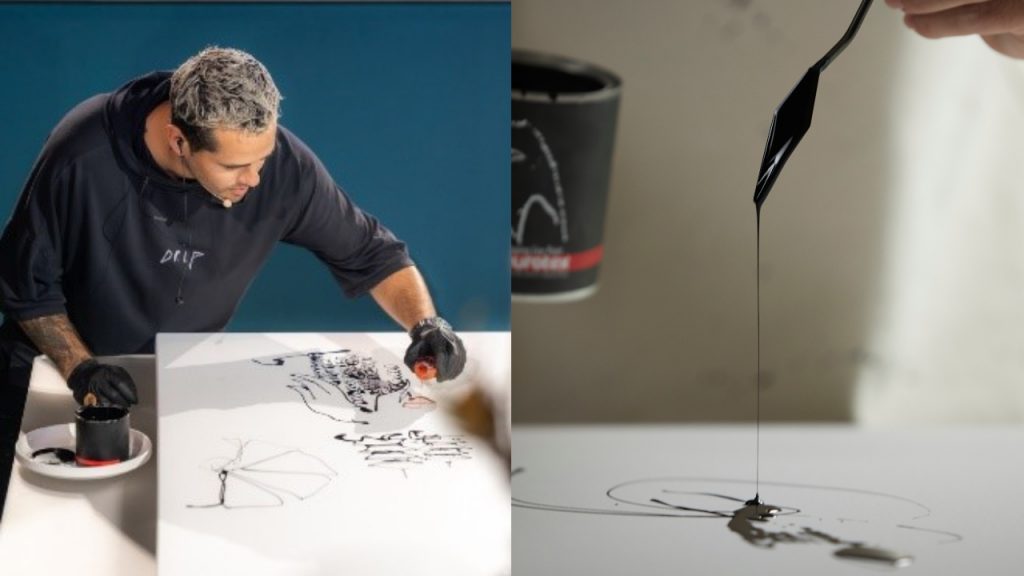 In between of the dishes, Mr Dripping's flourishing art would slowly but surely bring about a vision of separate parts forming a whole. 'When Life Gives You Citrus', was the dessert so named to bring up the rear. This Valencian lemon meringue pie with Vietnamese pomelo curd, sesame orange tuille and pine nut ice cream was ably matched to the effervescent Frederic Savart Les Pinots Blanc de Noirs Extra Brut Champagne.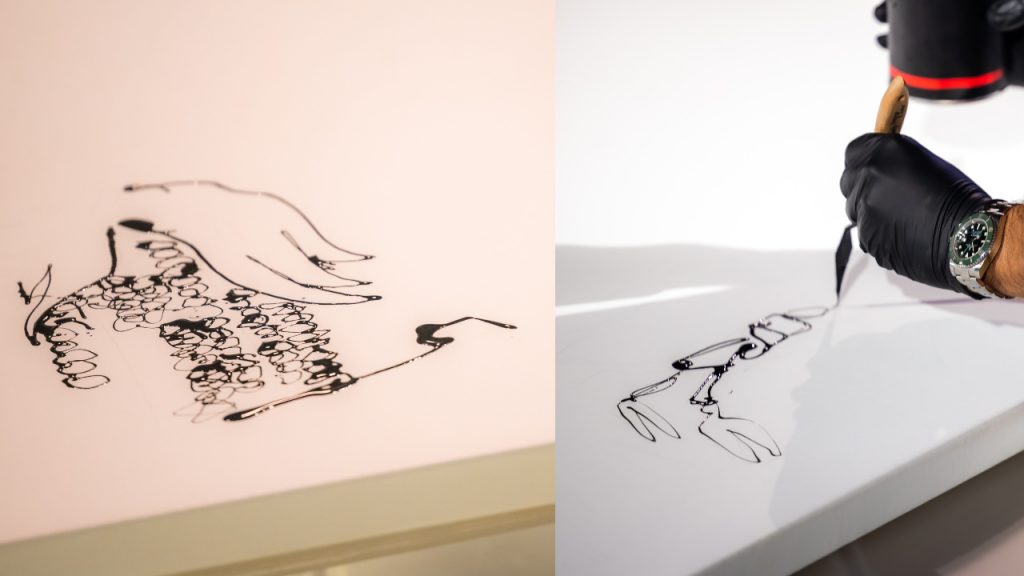 Just as the meal was about to end, Mr Dripping completed his artwork, depicting the many icons of the Marina Bay views and foregrounded by the Merlion, a fitting tribute to the place in which the Regent Taste Studio was first birthed and heralding the start of the Taste Studio's journey around the world, and Regent Hotels & Resorts' continued growth with another eight in the pipeline and more to be announced.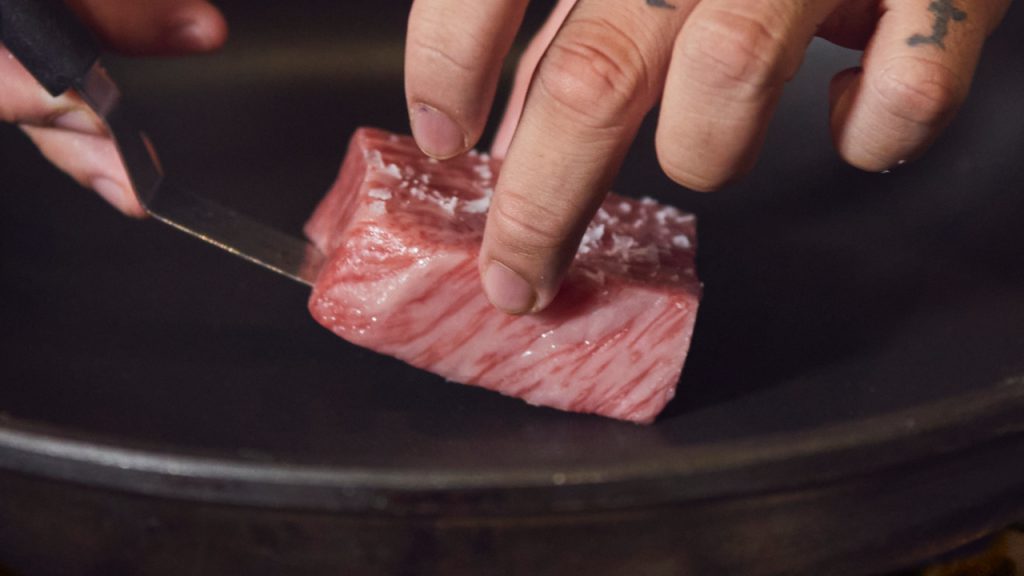 And as the end of the night arrived, another surprise was in store for guests. Carefully wrapped in velvety dark paper was an autographed and numbered picture by Mr Dripping, an artwork inspired by the concept of "Land Meets Earth" with elements of a knife, fork and plate, as well as a white dripped line symbolising a wave breaking on the shore.
---